Looking for Adobe Bridge Replacement? Explore alternative tool
Adobe Bridge is famous for its centralized access and management of all the files you need for creative projects. However, with the ever-growing library and slow speed while loading thumbnails, you are frustrated turning from organizing all your assets with ease to hardly organizing them.
If you are professionals who are looking for Adobe Bridge alternatives, capable of image management and more, then you have come to the right place!
Today we are going to introduce you to the best Adobe Bridge alternative, which is
Eagle offers many incredible features that are generally similar to Bridge but better and more satisfying with their great UX and UI so that you don't have to compromise on what you need. In this article, we will tell you what is Eagle, the features between Eagle App VS Adobe Bridge and help you evaluate whether Eagle is the right tool for you to replace Bridge including
TL;DR: Can Eagle App replace Adobe Bridges?

Intro: What is Eagle App?

Eagle App VS Adobe Bridge Review: Pros and Cons, Interface, Features

Other Eagle App's Special Feature

Is Eagle App the best Adobe Bridge alternative? Opinions & Expert Reviews

Eagle App FAQ

---
TL;DR: Can Eagle App replace Adobe Bridges?
The answer is Yes and No!
Hmm, Why is that? In terms of interface, UX, and image organization abilities, Eagle is way ahead of Bridge. Eagle tends to be more famous among designers as it is capable of processing different assets all at once, however, if you are looking for photo management-wise abilities in Adobe Bridge such as the following, unfortunately, Eagle App does NOT offer:
Photo editing features including effects enhancement
Adding metadata such as GPS info, DICOM standard info, Copyright Information
Publish to Adobe Stock Contributor and Adobe Portfolio
On the positive side, if you are not looking for those, but simply looking for a better images and assets management solution and the answer for you is a big YES!!! You will not be disappointed with Eagle.
Let us tell you all about it in the following full review!
---
First of all, What is Eagle App?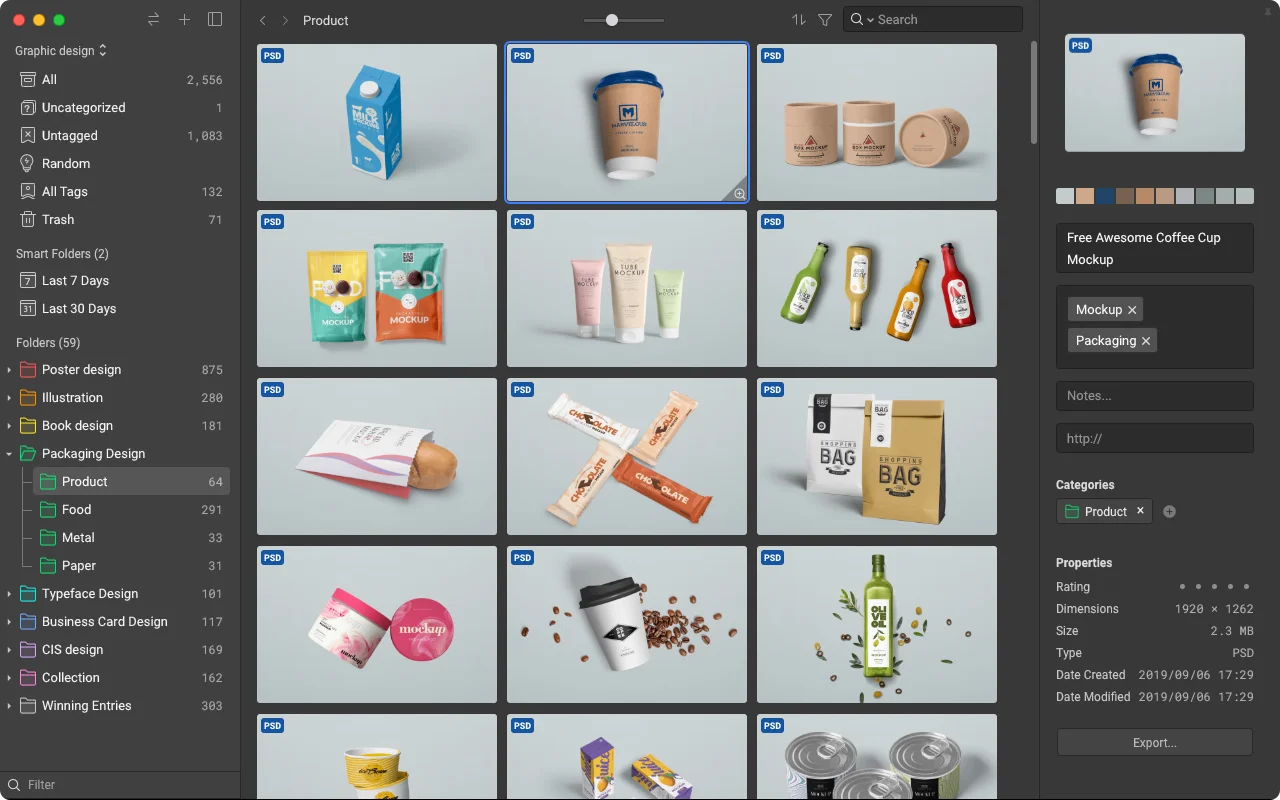 Image from Eagle App
Eagle App is a desktop digital asset management software that is developed specially for creative professionals as it is mainly focused on designers' daily workflow - collecting, organizing, searching, and browsing. It helps users unify all creative files in a new logical way with its browser extension and various sorting methods in the app.
People usually use it to capture online references, store inspirations for projects, batch process images, organize design sketches, mockups, create mood boards or preview and learn from GIFs, video clips and sound effects for games, VLOGs, etc.
---
Adobe Bridge VS Eagle App Full Review
We know that Adobe Bridge is famous for its image previewing, batch process and organizational ability, Eagle also shares a very similar system and features as well, today we will compare both with basic information, interfaces, and features namely the organizing ability, search features, preview and browsing capabilities to help you quickly identify the differences between Adobe Bridge and Eagle App.
Most of all gives you the understanding to compare Adobe Bridge's main features and how is Eagle presenting them.
Basic information
Same as Bridge, Eagle is also a local-based desktop software that is compatible with Mac and Windows systems. For cloud connectivity, Eagle is able to connect to the cloud of your choice while Bridge is only compatible with Adobe Cloud.
It can be an advantage if you don't want to commit all your Bridge library assets fully to the Adobe ecosystem, while with no other compatibilities it may be difficult to move them all out later on. With Eagle, you can sync Eagle Library very easily with any cloud sync services and interact with them on different devices.
Plus, Eagle App also comes with an image collection browser extension to help you store website materials spread out across the online platform.
| Basic Info | Eagle | Adobe Bridge |
| --- | --- | --- |
| Support macOS | ✓ | ✓ |
| Support Windows | ✓ | ✓ |
| Chrome | ✓ | 𐄂 |
| Safari | ✓ | 𐄂 |
| Edge | ✓ | 𐄂 |
| Firefox | ✓ | 𐄂 |
| Mobile Application | 𐄂 | 𐄂 |
| Cloud Sync | All Cloud | Adobe Cloud only |
Made by Eagle Team
---
Interface
If you're already familiar with Adobe Bridge you'll instantly be comfortable with Eagle's interface. The location of each feature is identical, compared to Bridge Eagle provides a very modern yet classy interface so you can easily get your hands on it instead of getting lost.
Sidebar
Like Adobe Bridge, in Eagle on the left panel is asset navigation and folder list, the difference here is that you are able to categorize files using the smart folder function here, you can also change folder color in Eagle, allowing you to identify similar folder types for in-depth classification.
Image from Eagle sidebar and import files
Image list and Filter Area
Unlike Bridge which offers limited viewing workspace and filter options, Eagle's provides a game-changer image list and filter panel that is located in the top middle panel, you can view assets and filter them directly. (later on, in the Search part, we will dive in more on this.)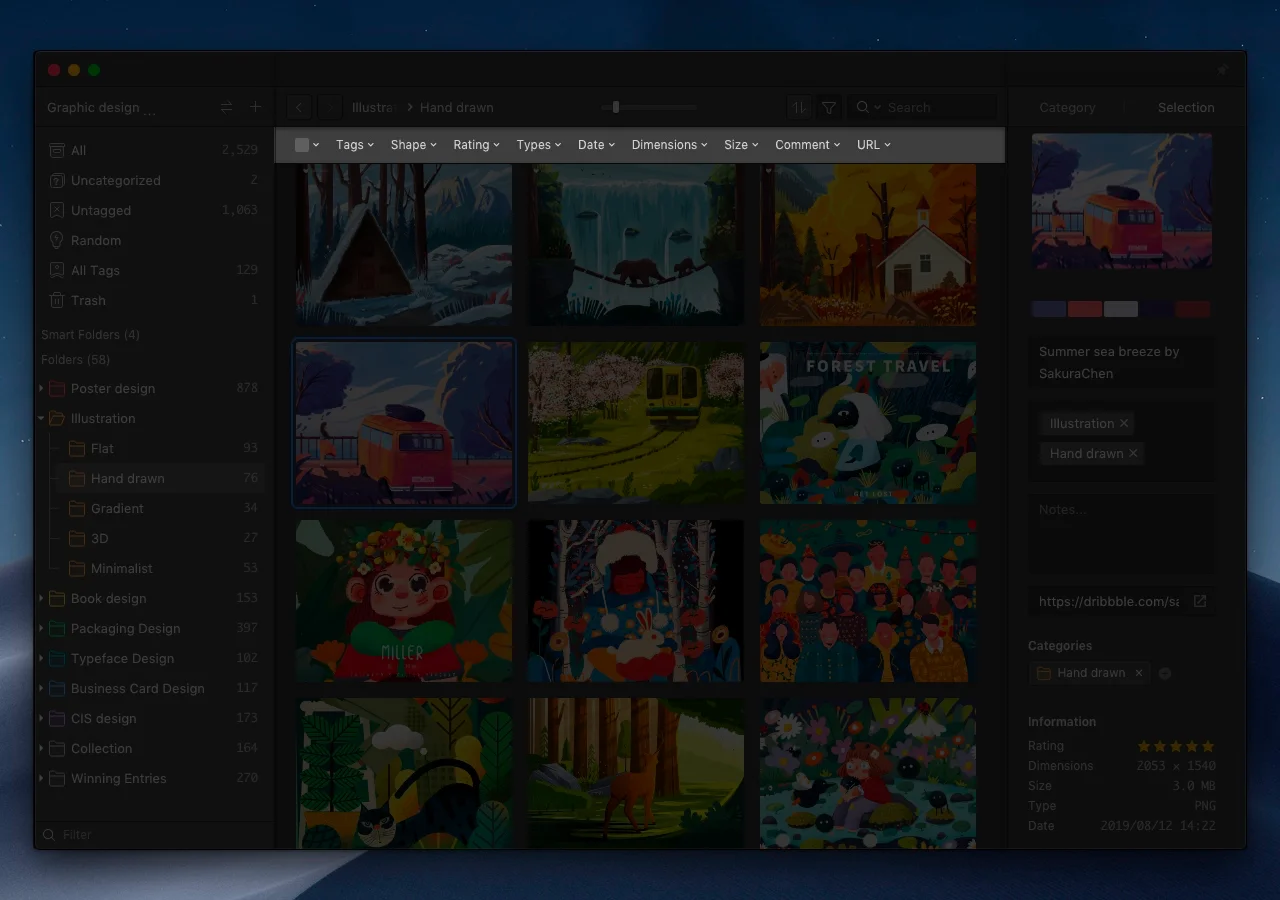 Image from Eagle App filter area/bar
You can also view image files in your workplace with 4 different layouts: Justified, Waterfall, Grid (fit, fill), and List mode.
Image from Eagle App image list
Inspector
In Adobe Bridge you are to adjust the image details and preview metadata in the Right panel, however, in Eagle, on the Right side is called the file inspector panel, which allows you to view selected images, metadata, and folder properties.
We have pointed out at first that Eagle does not provide as much metadata as Bridge, what Eagle provides here is the title, URL, tag, folder, note and rating, creation date, edited date, password protection, etc.
But what's new and amazing here in Eagle that Adobe Bridge doesn't have is the color palette. Eagle auto-generates every files with its build-in color analysis feature. You can copy color code PMS, CMYK, RGB, or HEX directly by left-clicking the color, searching for similar color files in your library using right-click.
So whether it is for printing, digital, or even video content, this is super handy for creative professionals!
Image from Eagle App inspector panel
Custom Interface Preference
Eagle offers a custom-able interface for your preference. There are 6 different themes available in Eagle, you can switch the theme based on your liking.
Image from Eagle App setting custom interface
Image from Eagle App setting custom interface
Learn more about Eagle App Interface
---
Features Comparison
While interface-wise, Eagle and Adobe Bridge both have their unique strong suits and different adjustable interface approach, here you might be wondering how about features? Adobe Bridge is also famous for its ability to organize, with an ever-growing library and projects, what are Eagle's cataloging options? Is it able to preview thumbnails easily as well?
I. Organize
Adobe Bridge follows the original operating system file directory, while Eagle provides its own centralized structure directory. This is to allow you to have a wider ability to manage files, such as save the same files in different folders, increasing speed performance.
More information: Can I browse the same directories on my PC in Eagle?
Other than that, Eagle provides multiple methods to help you categorize all the files, including tagging, annotating, batch-renaming, or even color filtering. You can categorize the pictures into different folders hierarchically depending on their uses or meta information.
Multiple Folder
Also, Eagle uses a cross-reference structure for library organization, which means one file can be added to multiple folders at once, imagine you have multiple images belonging to different projects for inspiration, you can utilize this function without duplicating files that may take up storage space.
Find Duplicate
We all know duplicate photos are a headache for us, especially when they are taking up space in our storage. In Adobe Bridge you can find duplicate photos or similar photos by right-clicking images, in Eagle, you can choose whether to scan all files or just current folders, whichever you choose they scan it all for you!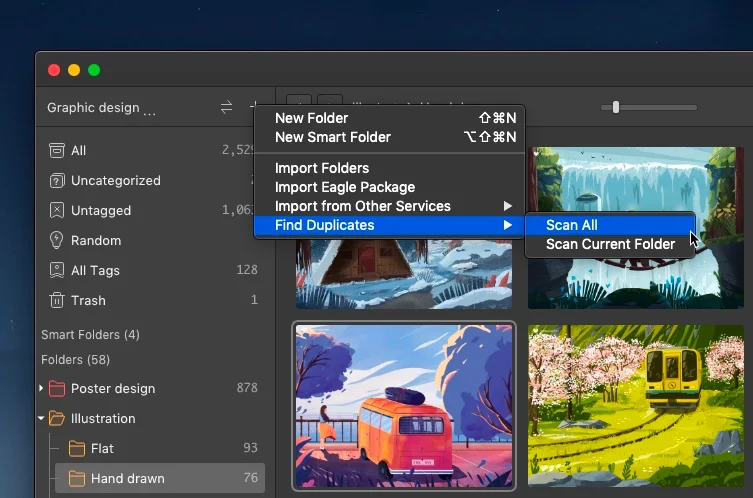 Image from Eagle App Find Duplicates
Batch processing files
Same as Adobe Bridge, you are able to batch process files in Eagle App like move, delete, rename, add tags, add folders, convert files into specific dimensions and/or resolution, give ratings and more!
If you have a workflow that you constantly use, in Eagle you can add an "Action" to speed up all the organization processes.

Image from Eagle App Action
Star ratings
You can rate your images and the stars can be one of the filter conditions, it will improve your search and category efficiency.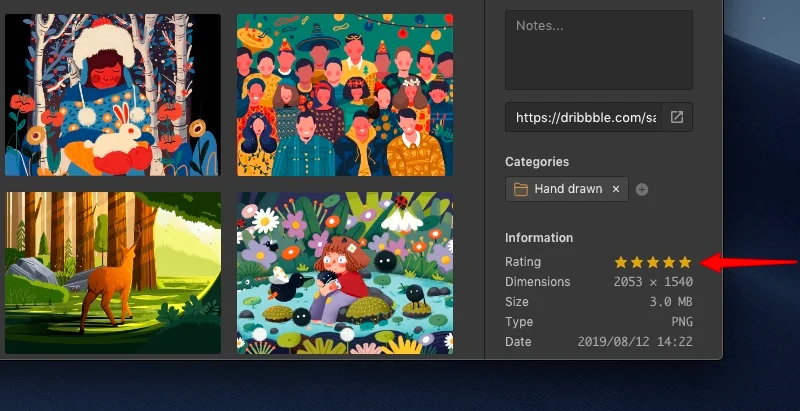 Image from Eagle App Star ratings
Tag Group
Tags come in useful for us to categorize files but what if we have too many tags?
As the number of tags increases, the tag group in Eagle can be a good function for organizing tags. After organizing tags you can find the tags you need easily.
You can even assign colors for tags!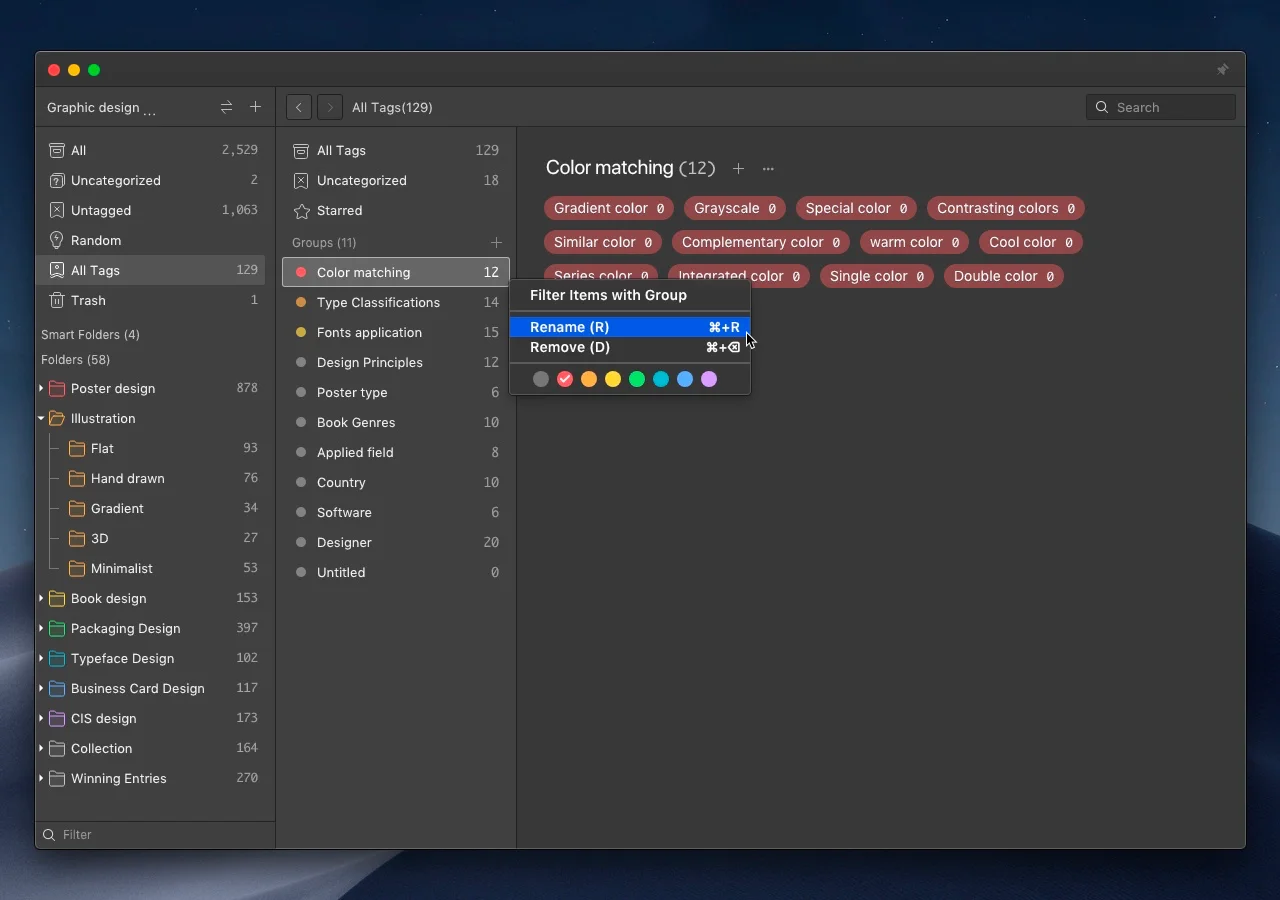 Image from Eagle App Tag Group
Customize the folder's Icon and Color
Eagle provides the feature to customize folders' icons and colors. With different icons and colors, you can find the wanted folders easier and have a better user experience.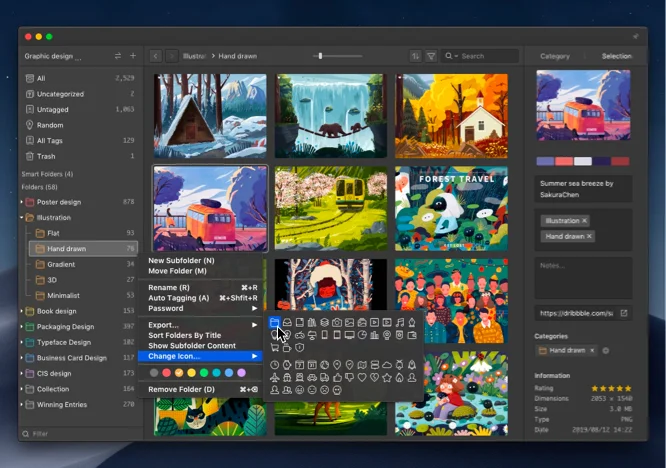 Image from Eagle App Customize the folder's Icon and Color
Like Adobe Bridge's smart collection, Eagle provides a smart folder as well, you can set criteria or tags for a smart folder to help you auto-allocate files by different attributes, such as
Creation time
Colors
Keyword
URL
Extension
Type of Formats
Tags
Width and Height — You can use this one to filter specific tablet sizes.
Image from Eagle App smart folder to auto organize files
Image Annotation
In Eagle, you are allowed to do image annotation right on the image. After adding these annotations, you can search for it directly making organization work so much easier.
Image from Eagle annotate on image
---
Organizing Features between Eagle App and Adobe Bridge
| Feature | Eagle | Adobe Bridge |
| --- | --- | --- |
| Tags | ✓ | ✓ |
| Folder classification | ✓ | ✓ |
| Automatically add tags | ✓ | X |
| Multi-level folder | ✓ | ✓ |
| Folder color adjustment | ✓ | X |
| Tag suggestion | ✓ | ✓ |
| Recent Tag suggestion | ✓ | X |
| Image Color Analysis | ✓ | X |
| Copy and paste | ✓ | ✓ |
| Smart folder | ✓ | ✓ |
| Keep the image URL | ✓ | ✓ |
| Image Annotation | ✓ | X |
| Enter notes and comments | ✓ | X |
| Picture group (grouping) | X | ✓ |
| Uncategorized images | ✓ | ✓ |
| Unlabeled images | ✓ | X |
| Batch rename¨C38C | ✓ | ✓ |
| Batch-add labels | ✓ | ✓ |
| Auto-import | ✓ | ✓ |
Made by Eagle Team
---
II. Search
The next feature is searching capability, this is something Eagle completely beats Adobe Bridge over and is outstanding for. In Adobe Bridge, only keyword search and metadata filer are available.
While within Eagle, you can search any specific file and folder by color, keywords, dimensions, ratings or even search all together!
Image from Eagle App Color Search
Image from Eagle Filter with difference conditions
Fuzzy Keyword Search
Do you have times where you just keep making typos or simply are just too lazy to input full keyword content in Adobe Bridge?
Eagle keyword search includes "Fuzzy search" and "Keyword Exclusion Search". This is to help you land in the correct folders even if your typing is incomplete or not in exact-match-order keywords.
For example, you can type "pd" in the search bar to find similar files that contain "pd", making the searching process effortless!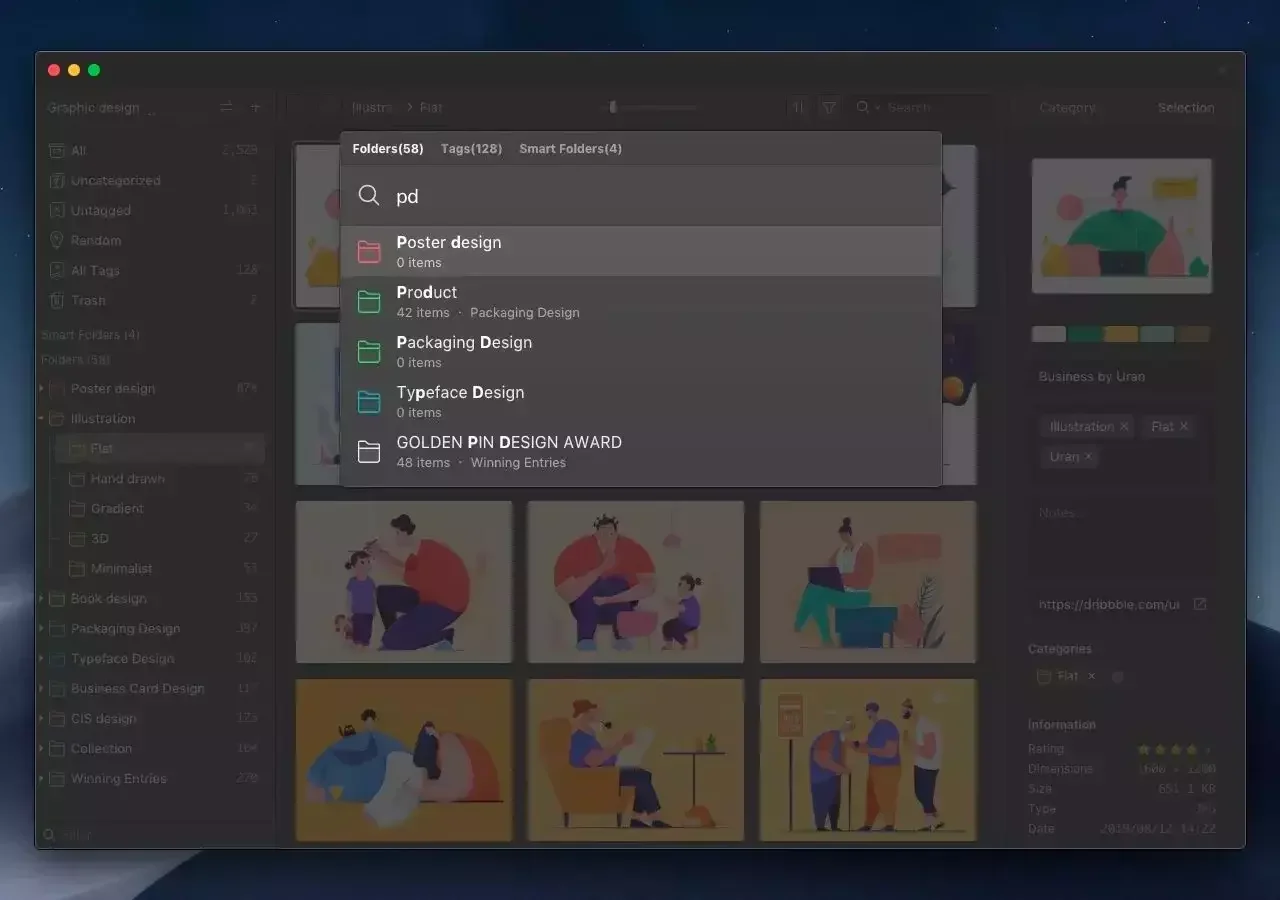 Image from Eagle App Fuzzy Keyword Search
Another special feature Eagle offers that Adobe Bridge doesn't have is reverse image search, somedays you might want to track the image use across the web, find the source or even authenticate an image. With this built-in feature, finding the related reference is going to be painless and help you enhance your creative workflow!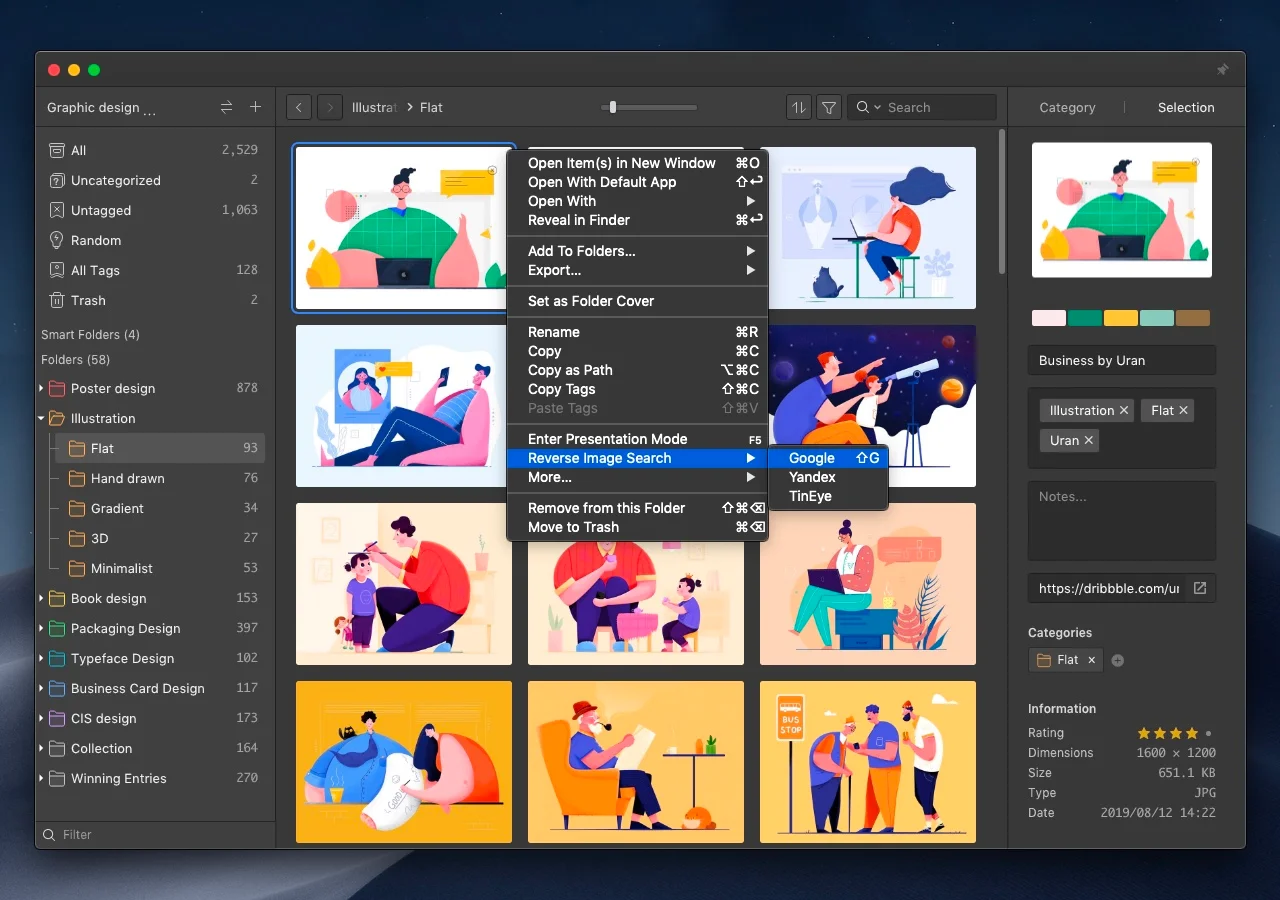 Image from Eagle App Reverse image search
---
Search Features between Eagle App and Adobe Bridge
| Feature | Eagle | Adobe Bridge |
| --- | --- | --- |
| keyword search | ✓ | ✓ |
| Autocomplete keyword search | ✓ | 𐄂 |
| Fuzzy keyword search | ✓ | 𐄂 |
| Fast switching of categories (similar to spotlight) | ✓ | 𐄂 |
| Color filter | ✓, Custom | 𐄂 |
| Shape filter | ✓ | 𐄂 |
| Type filter | ✓ | ✓ |
| Time filter | ✓ | 𐄂 |
| Resolution filter | ✓ | 𐄂 |
| Filter by URL, label and other attributes | ✓ | 𐄂 |
| File size filter | ✓ | 𐄂 |
| Reverse image search | ✓ | 𐄂 |
Made by Eagle Team
---
III. Preview and Browse
After all the image organization and search abilities comparison, it's time to browse all the amazing assets we own.
To be honest, as a designer, we all juggle between different formats daily. In this part, Adobe Bridge and Eagle App are very similar there is little to choose between them.
While Adobe Bridge focuses on RAW formats and other Adobe family formats thumbnails preview, Eagle supports RAW, images, videos, 3D, font office, and proprietary formats, in a total of 81+ file formats preview.
In Eagle, you can browse them simply by hover preview, spacebar preview, and smart zoom preview for easy access.
Image from Eagle App preview different formats
Image from Eagle smart zoom preview
Video Preview
You might also possess lots of video assets. In Eagle, you can preview video materials straight away like in Adobe Bridge. You can play, pause, forward, backward, adjust playback speed (0..25x - 2x), loop, and even add notes!
It's not just the original adding notes, it's adding notes on the specific timestamp of the video! Just like image annotation, you can search it later for revisiting purposes!
Image from Eagle Video Asset Preview
Audio Preview
Sound assets management is something Eagle provides as well, like video assets you can hover your mouse to preview immediately, it supports loop play and it auto-generates audio waveform to help you boost the viewing efficiency.
Image from Eagle App Audio Asset Preview
In the beginning interface part, we already show you Eagle is able to view media in 4 different layouts. Compared to Adobe Bridge, Eagle is a designer focus software so it is capable of previewing a little bit more details to suit designer workflow.
Eagle has a built-in GIF frame-by-frame preview, allowing you to view the frame separately to study details. So next time you don't have to keep asking how many images that cool GIF consists of? Just check and use the GIF preview function!
Image from Eagle App GIF frame by frame preview
---
Preview/Browse Features between Eagle App and Adobe Bridge
| Feature | Eagle | Adobe Bridge |
| --- | --- | --- |
| List presentation view | ✓, 500px | ✓, square fit |
| Support GIF hover preview | ✓ | 𐄂 |
| Support Video, Audio and GIF hover preview | ✓ | ✓ |
| Support image zoom view | ✓ | ✓ |
| Support drag and drop view | ✓ | 𐄂 |
| Support focus zoom | ✓ | 𐄂 |
| Support smart zoom | ✓ | 𐄂 |
| Slideshow | ✓ | ✓ |
| Pin to top | ✓ | 𐄂 |
| Support Video URL preview | ✓ | 𐄂 |
| Suports Video Management | ✓ | ✓ |
| Support Audio Management | ✓ | ✓ |
Made by Eagle Team
---
Other Eagle App's Special Feature
Since Eagle App is made especially for designers, it covers a great variety of other important features too! What features does Eagle do better? What other features does Eagle have that Adobe Bridge doesn't offer?
Collect inspirations with Extension
While the collection feature in Bridge is only available while connecting to Adobe creative cloud then sync or drag and drop to Bridge library.
Eagle's image collection ability uses an extension browser with an extensive way to collect and screenshot any images you find directly from the web:
Save single image

Right-click on the image
Drag and drop
Press "alt" key and right-click

Batch save images
Image from Eagle App extension drag and drop or batch save images from websites
Screenshot


Capture AreaImage from Eagle App capture area
Capture Visible
Capture Fragment
Capture Full Screen
Image from Eagle App capture area from extension
Save URL — Preview Youtube and Vimeo URL while connecting to internet
Import Pinterest/ArtStation Board
Tag/Folder suggestion
Organizing while you collect is something Eagle can do as well, after collecting URLs or images, Eagle automatically pops up a panel, which you can categorize directly. This is like a no-brainer for you, you never have to worry about accidentally typing the wrong keywords or forgetting where to categorize the images, Eagle provides Tag/Folder Suggestions here.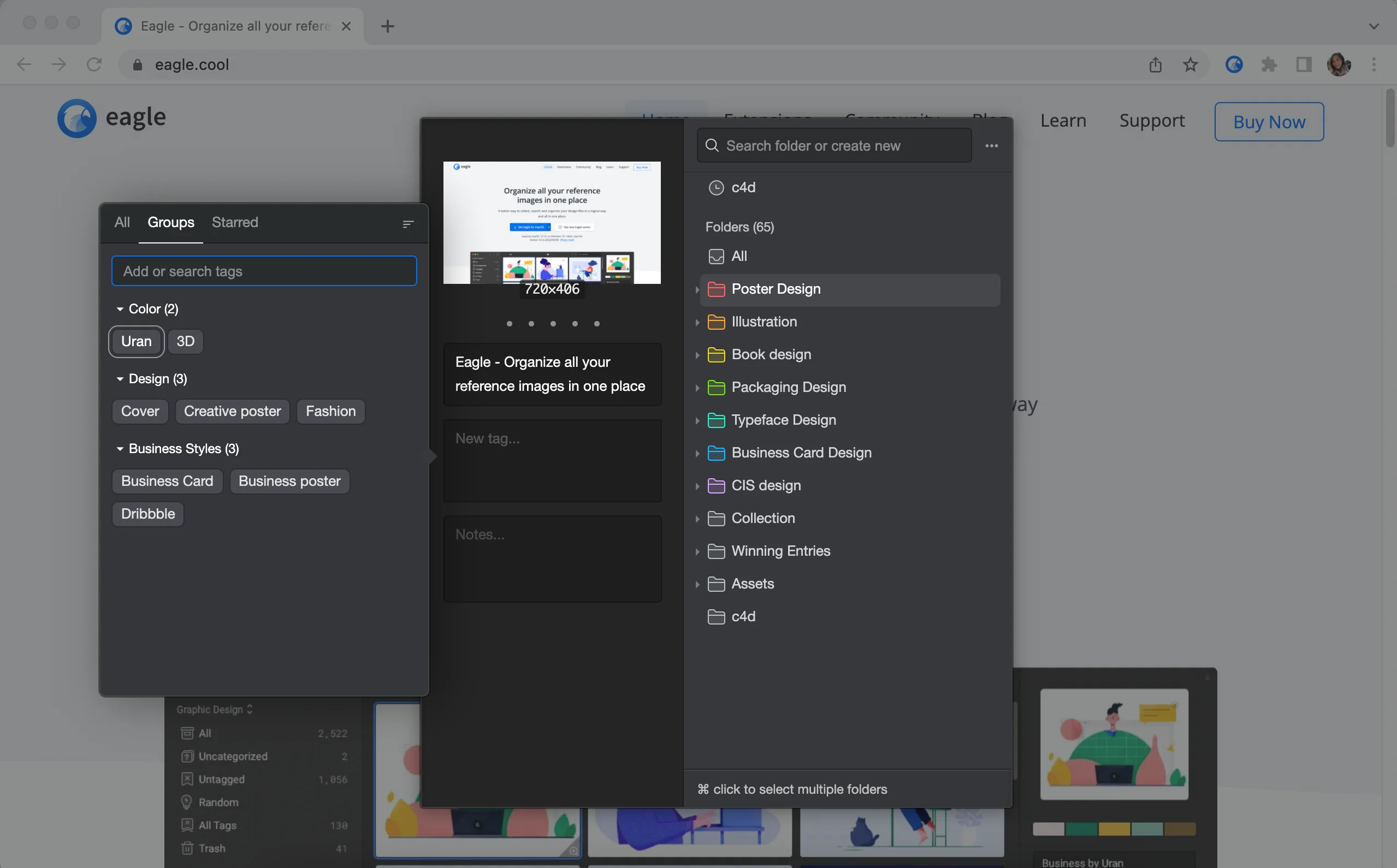 Image from Eagle browser tag suggestions
Eagle Extension

Full tutorial:

https://youtu.be/ceNJMjSYTpA
Adobe Bridge font management is very limited while Eagle manages fonts flawlessly, you can thumbnail preview fonts in the list or press the font to access font previewing mode to view font with different backgrounds or sizes. Or you can add a custom text to check that font too!
You can click on the dot on the top right corner of the thumbnail to activate or deactivate the font on your system also.
Image from Eagle App font management
Integrate with Other Design software
Integrate Eagle with other design software is a piece of cake too! Just drag and drop the assets to the designated software then it's done!
Or uses Copy link feature to integrate with note-taking software is also available too!
Eagle is not just an image management tool or collection tool, like Adobe Bridge Eagle has its own resources-sharing community as well. Currently, Eagle Community provides exclusive design resources and design tool databases ranging from UI, graphic, illustration, game and interior design, where you can explore, share and learn ideas from!
Image from Eagle Community
---
Is Eagle App is the best Adobe Bridge alternative? Opinions & Expert Reviews
From all the above feature comparisons, you can have confidence that Eagle App has the full potential and all the management and previewing ability to replace Adobe Bridge.
What's more, Eagle's maker said once he tried Adobe Bridge himself and understood the pain points everyone was facing. Plus, he has a design background so you can rest assured the user experience won't be compromised
Learn more about Eagle founder interview and Why Eagle?
Eagle App Reviews Online
Let's take a look at what others say about Eagle App online!
The software is very easy to use and does what it is supposed to near perfectly. It has a lot of features you would not expect, like the excellent browser extension companion. What really sold us was the very good price and uncomplicated way in which users can access the same library. Never has organizing images and other assets been so quick, effective, and fun. So far everyone who started using Eagle as part of their workflow was instantly hooked.
— Armin S - UX Designer, Capterra
My favorite app to manage my visual assets currently. Bought it a few months ago. Has been a joy to use for organizing since. Couldn't find a good app to manage my ai, svgs and eps files previously. Tried Lingo, IconJar. This is, by far, the most reliable, fast and stable. Love the folders and subfolders. Also able to sync the main library data file with my dropbox so that all the different machines can get the latest copy.
— Yi Xin Ang - Design Architect, Product Hunt
I've used so many things in this product space: Ember, Littlesnapper, Inboard, Pixave. Eagle is in a class of its own. Extensive organization features, ridiculous speed, multiple libraries, auto-import, and non-subscription pricing. If you work with visuals (or just like collecting pretty things) this is a must-have.
— Jonathan Zhan - iOS Developer, Product Hunt
Eagle App Review Video
---
Eagle App FAQ
While you are convinced with all the features and replacements Eagle App are able to offer on the table. But really? I understand there are still some critical answers you would like to know, and we are going to answer you all!
How is Eagle App speed? Is it fast when loading thumbnails?
With a growing library, it can be a nightmare to open or preview files in Adobe Bridge.
How fast is Eagle? See for yourself, we have taken one of the Eagle users Andrei from JeFawks Spaghettorium where they make 2D games mainly. They use Eagle App version to manage 112.066 assets in a total of 78GB including:
graphic files (.png .jpg .psd .ico) - mostly sprites, backgrounds, and GUI elements we use in game dev, screenshots for marketing, icons for websites, etc.
document files - game design documents, spreadsheets, pdfs with books we often check to apply certain algorithms, licenses, etc.
audio files - game music, sound effects, meeting voice recordings, etc.
video files - game trailers, marketing materials, bug reports, etc.
fonts
3D objects
memes
How long does it take to learn Eagle App?
If you have tried Adobe Bridge, then you can get your hands on Eagle with no time. Eagle provides video tutorials and a knowledge base with picture guides to get you started.
It also gives everyone 30 days of free trial in case you are a slow learner, giving yourself familiar with Eagle within 30 days is doable! Moreover, if you have any queries, you may just send an email to their support team. They usually reply within 2-3 working days.
How many languages Does Eagle App support?
Eagle App supports 7 languages such as English, Spanish, German, Spanish, Korean, Japanese, Traditional Chinese, and Simplified Chinese.
Their customer service is available in English, Traditional Chinese, and Simplified Chinese.
What is Eagle App customer support like?
Quoting one of the Eagle user's reviews about their customer service:
One of the things that I also liked about Eagle is their team, I have reached out to them through emails, Twitter and on their website to share questions, doubts or request new features and they have a very nice time responding to each communication channel of the brand.

Not every software is open to hearing feature requests about their users and not every developer shares their roadmap, that's a totally good sign when you are getting a new tool because you are not only a customer, you can feel like you're part of the development. and the evolution of the tool to make it better and better.
What's Eagle App pricing? Does it have a free trial?
Compare to Adobe Bridge which is free for personal usage but for team usage pricing depends on the features and the number of people who will be using and working with the software.
Eagle App is an affordable paid product at $29.95 for a license and is a one-time payment only, you can pair the license on two different devices no matter Windows or Mac.
And YES, Eagle offers 30 days free trial for all users. No subscription, no additional cost after that. It also comes with free lifetime updates!
👉🏻 Get free trial -> Eagle App
Can I import Adobe Bridge Library to Eagle App?
You may be excited to move on to Eagle app with all your libraries, but can you move all the metadata like keywords, and tags forward as well? The answer is YES!
If you have Bridge metadata export in IPTC attributes, you can import all of your files plus keyword and tags to Eagle App painlessly.
More information: How to import images with IPTC attributes?
---
Conclusion
Simplifying your work while being creative is something both Eagle and Bridge try to emphasize in their software. Whether after all this, you've decided that Adobe Bridge is still the best fit for you right now. Or maybe you're excited to rebuild your personal image management system and begin organizing your design in Eagle.
No matter which one you choose, we can all agree that as long as it's a place where you are comfortable storing images and files, it's a good Adobe Bridge replacement!
I'm sure there are so many other features of Eagle we did not even touch on in this Eagle Vs Adobe Bridge review. That's why utilizing the Eagle free trial is always a great idea. Play with the software and make sure it's something that will help you in your day-to-day creative workflow! Cheers!