How to Get Graphic Design Clients: Tips & Freelance Site Review
Are you thinking of shifting your career as a freelance graphic designer or making the best use of your free time with your professions to get extra money? In some situations, obtaining freelance clients is easy, but it's quite challenging to keep doors open, do what you love and find long-term success. Let us take an early look at these things and plan your freelance job today.
In this article you will learn:
Places and channels to find clients.
A quick review of the top freelance sites
The details and tips you should keep in mind
---
First, How to be a Freelance Designer?
If you want to earn additional income as a freelance designer but don't know where to start off, you can try freelancing. It's many people's dream jobs, not only because it allows you easily allocate the time to work or to rest, but also lets you decide wherever to work on.
However, you need to consider and prepare 3 points before diving into designing as a freelancer:
1. Figure out what design skills you can provide
2. Build your design portfolio
The portfolio is a must for freelance designers. Through the portfolio, you can showcase your services and design styles, providing a quick introduction to the clients of your specialties and skills.
3. Find your own designer-client
Don't be afraid of self-recommendation. Sometimes surprise comes the most unexpected! You may experience rejection at first, but taking it as your fuel and trying to find the employer proactively is usually the most effective way. On the other hand, this also means you can pick your own boss! Isn't it amazing?
---
Possible Channels to Find Designer-Client
1. Referrals
Based on Hubspot's statistics, over 90% of people trust their friends over traditional media.
Most of the sales happen when people are having a conversation about a product or service with their friends, family, and to whom they have close relationships. So you can rely on your close ones, make them your first clients and let the word of mouth spread!
2. Portfolio/ Blog
As the above paragraph mentions, a portfolio is always an important channel to land cases and it must be fully prepared. It speaks for your professional abilities, quickly lets clients understand your strengths and even showcases the possibility of potential future collaboration.
Sometimes even professionals from other industries will set up their own portfolio website to share their works, and the same effect can be achieved.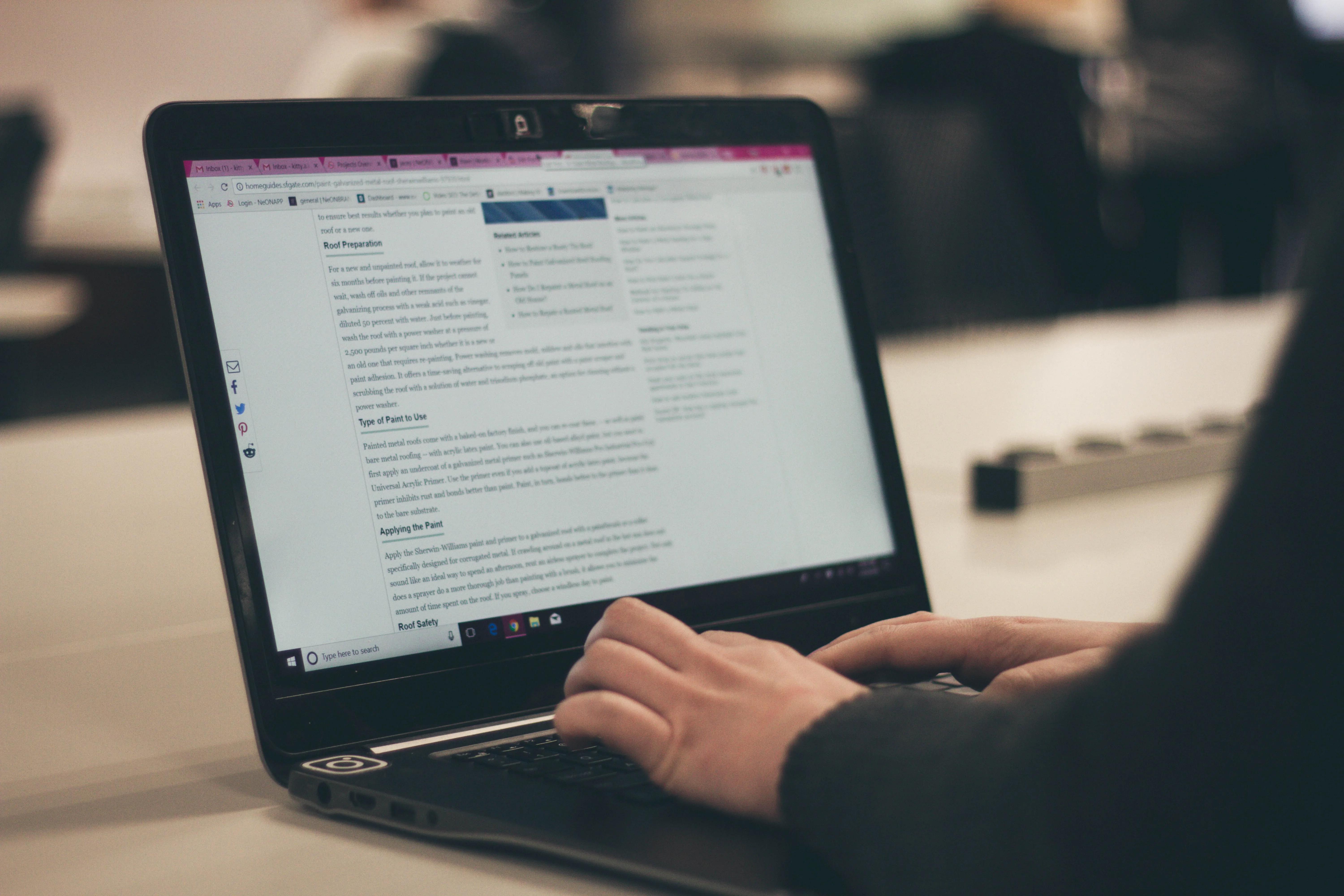 Image from NeONBRAND on Unsplash
Many see a community for asking questions and bonding with others; and social media for showing your life. However, these could be the places where you have strong potential to reach out to new clients!
You can show your abilities during talks and posts, then expand your visibility so that more and more people will know you better. And eventually, help you to land a designer-client!
4. Events, Festivals, or Conferences
If you are not afraid of speaking in front of crowds, speaking engagements are a great way to generate publicity and positive exposure. Participating in different design events and exhibitions are giving the same effects as well. Go and try self-recommendation in those activities to get new opportunities in the future!
5. Cold Emails
Emails are a quick way to reach thousands of cases with just a simple click.
They're bound to create connection emails and impress others when you are not close enough, like sending a development letter to investors or a cover letter for job openings. Either way, don't miss out on this channel for new clients.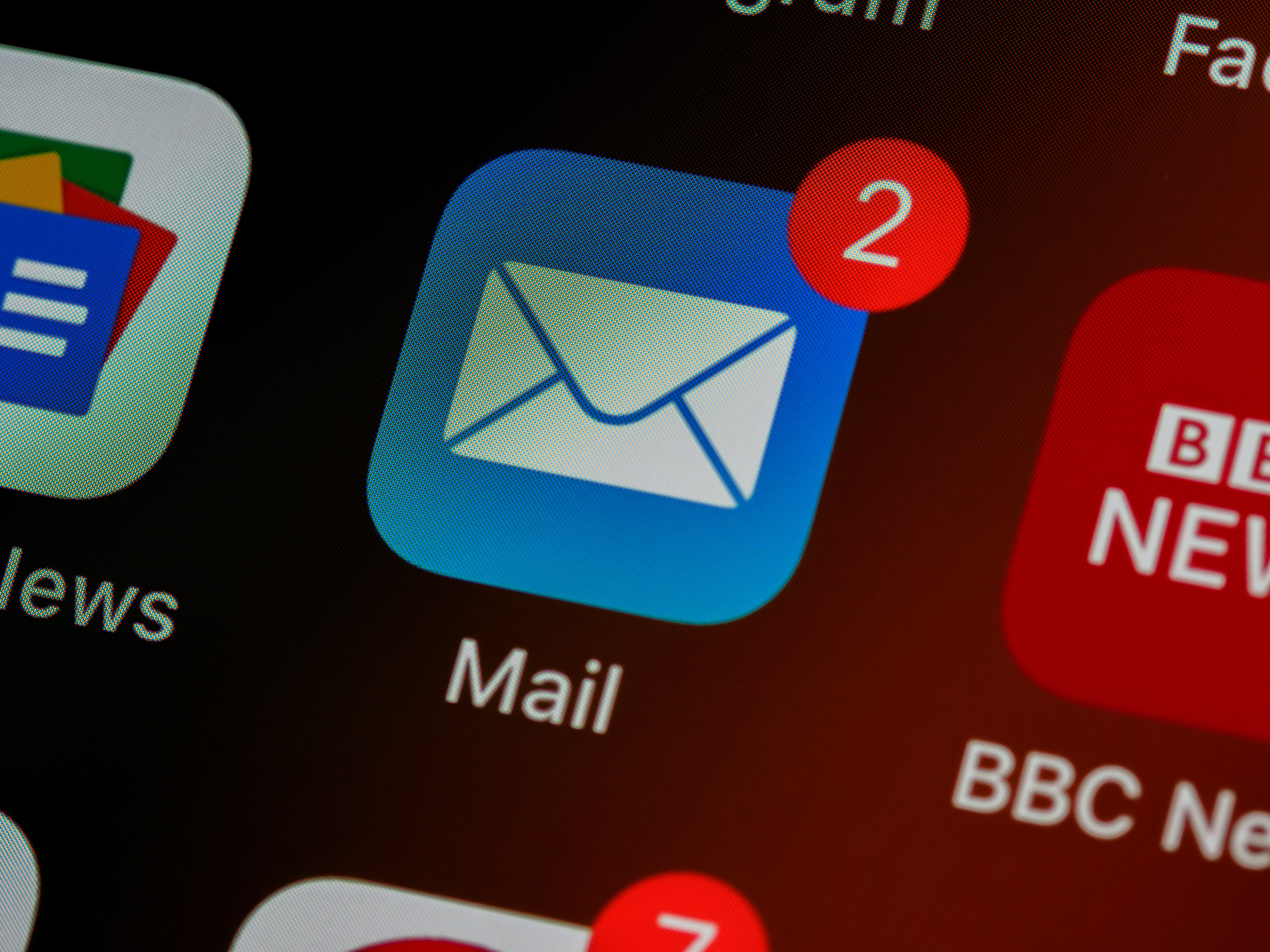 Image from Brett Jordan on Unsplash
6. Collaboration, Free Advice and Discounts
Try doing a collaboration with different designers or people from all walks of life, new sparks may bring new clients too! Here are some collaborative strategies you can refer to, such as hosting a free advice service as a design consultant or offering a referral bonus to your old clients and etc. Keep the doors open!
7. Freelance Websites
As Internet shrives, websites for finding designer clients are becoming a more important channel. Below, we'll introduce and review 10 sites to help you find suitable clients:
UPWORK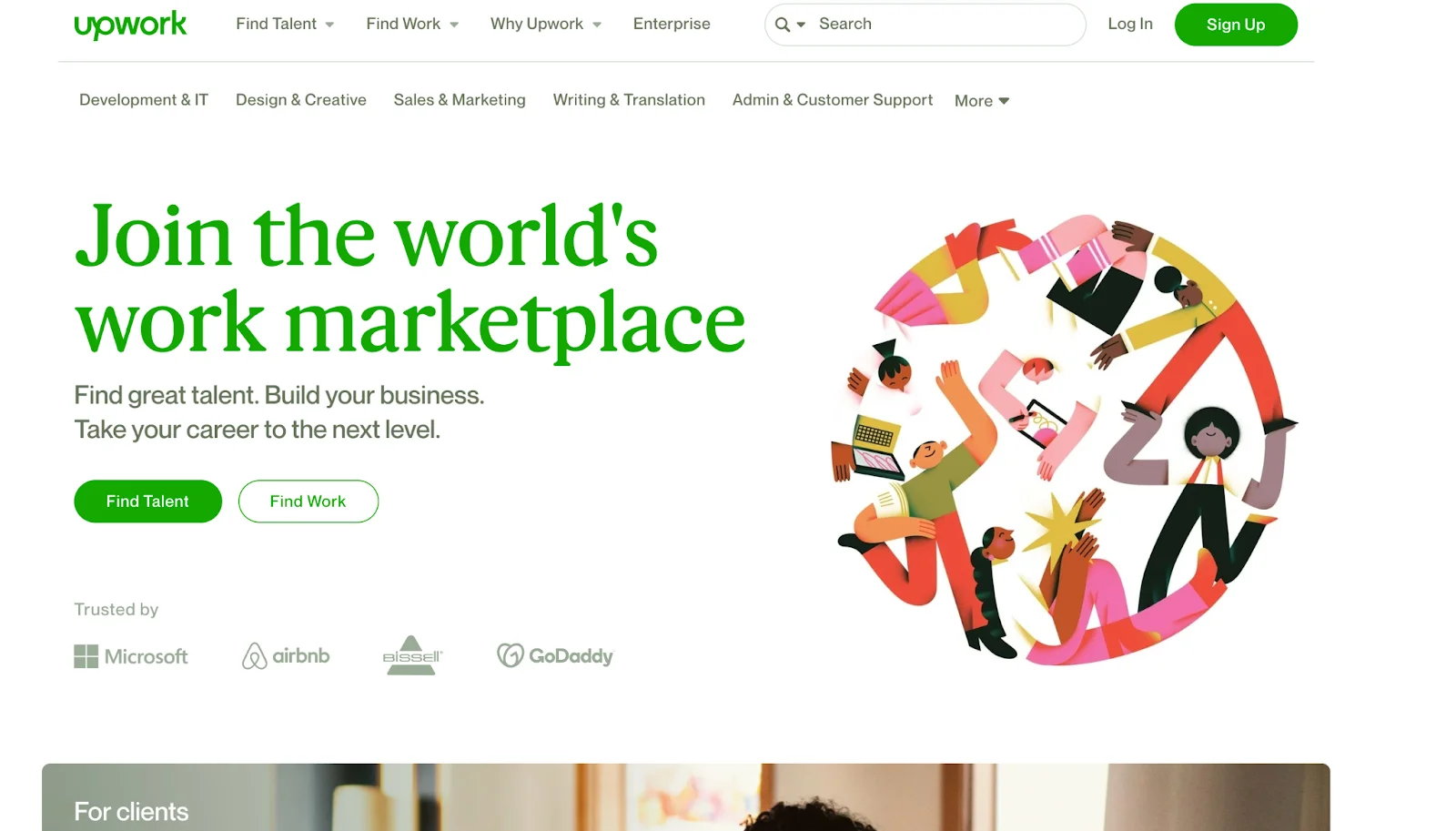 Image from Upwork
Upwork was formed by the merger of two major freelance websites oDesk and Elance. It currently has 18 million registered freelancers and 5 million employers. You can also choose different contracts from short to long-term based on your needs.
Pros: Variety of work available, Getting paid easy and reliable, Secure payment protection, High volume leads.
Cons: Difficult for beginner, High commission
Pricing: Service fees are taken as a percentage of earnings
20% for the first $500 you bill your client
10% for total billings between $500.01 and $10,000
5% for total billings over $10,000
Website: https://www.upwork.com/
LinkedIn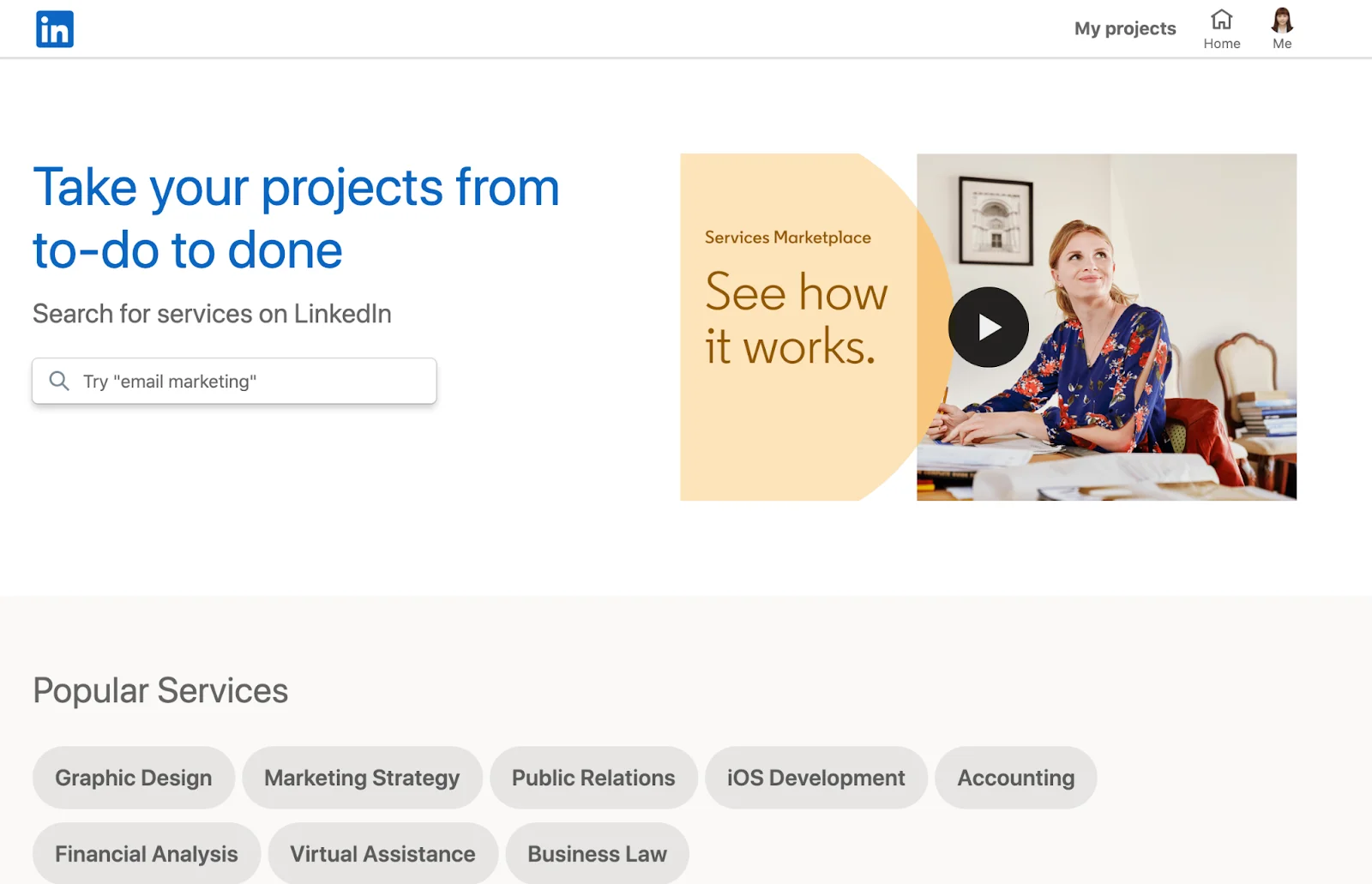 Image from LinkedIn
Linkedin can not only help you find a job but also provide you with an additional place to earn more money. Get your profile ready and create a service page to have all the companies reach out to you for services such as graphic design, marketing, Ux research, etc, which is suitable for freelancers with multiple skills.
Pros: More Networking opportunities, Easy to sign up, Easy to Learn more about your target audience.
Cons: Lack of upfront clarity on price, It's time-consuming to build a connection with real clients.
Pricing: Free
Website: https://www.linkedin.com/services
Fiverr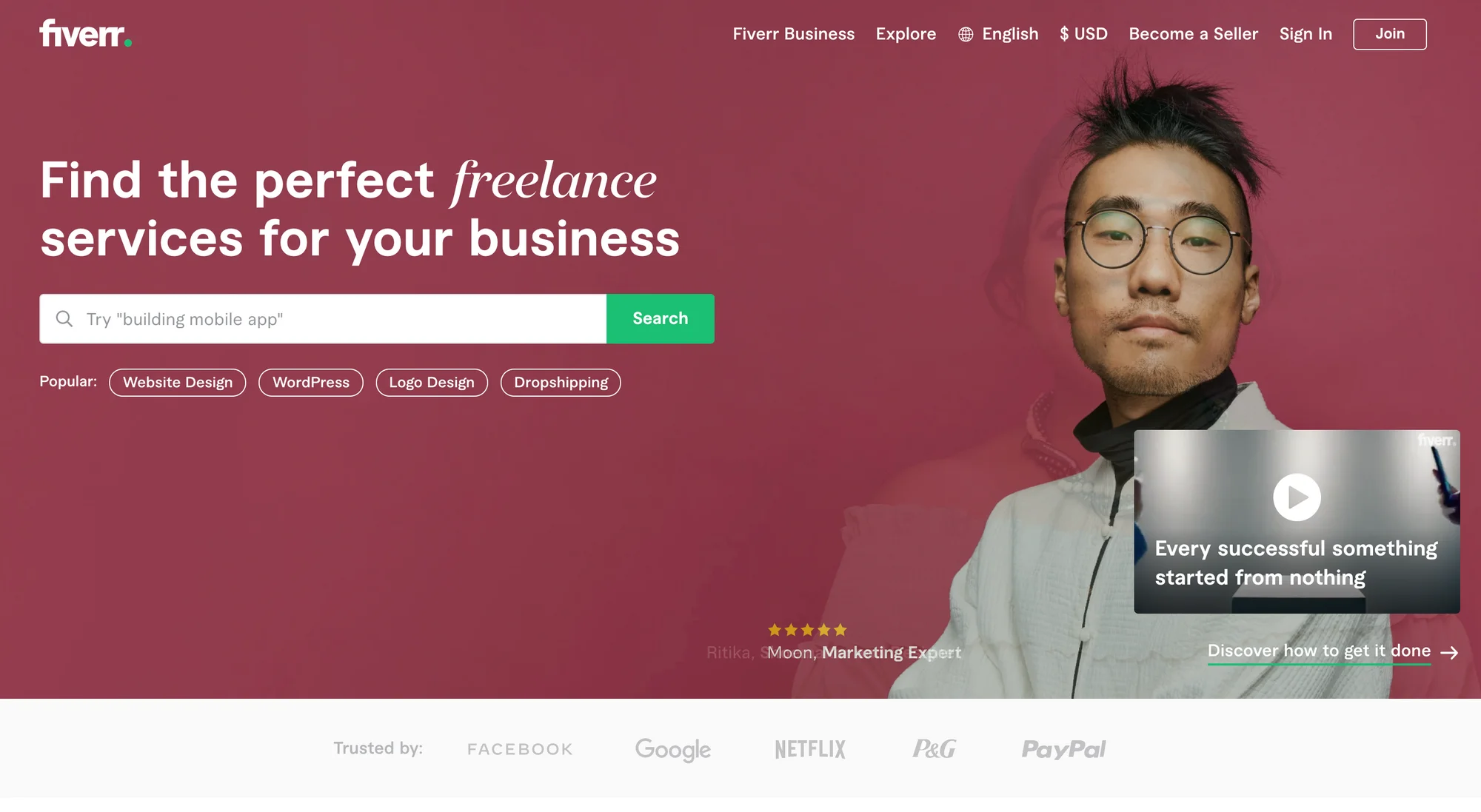 Image from Fiverr
Fiverr is one of the biggest freelancing websites, freelancers can set up service packages to sell to different audiences. All the communication, work and payment can also be completed on the website.
Pros: Packaging tiered services provided, Variety of projects, Best customer support
Cons: High commission, Difficult for beginners, Hard to make constant money
Pricing: The platform will take 20% off freelancers' earnings.
Website: https://www.fiverr.com/
Freelancer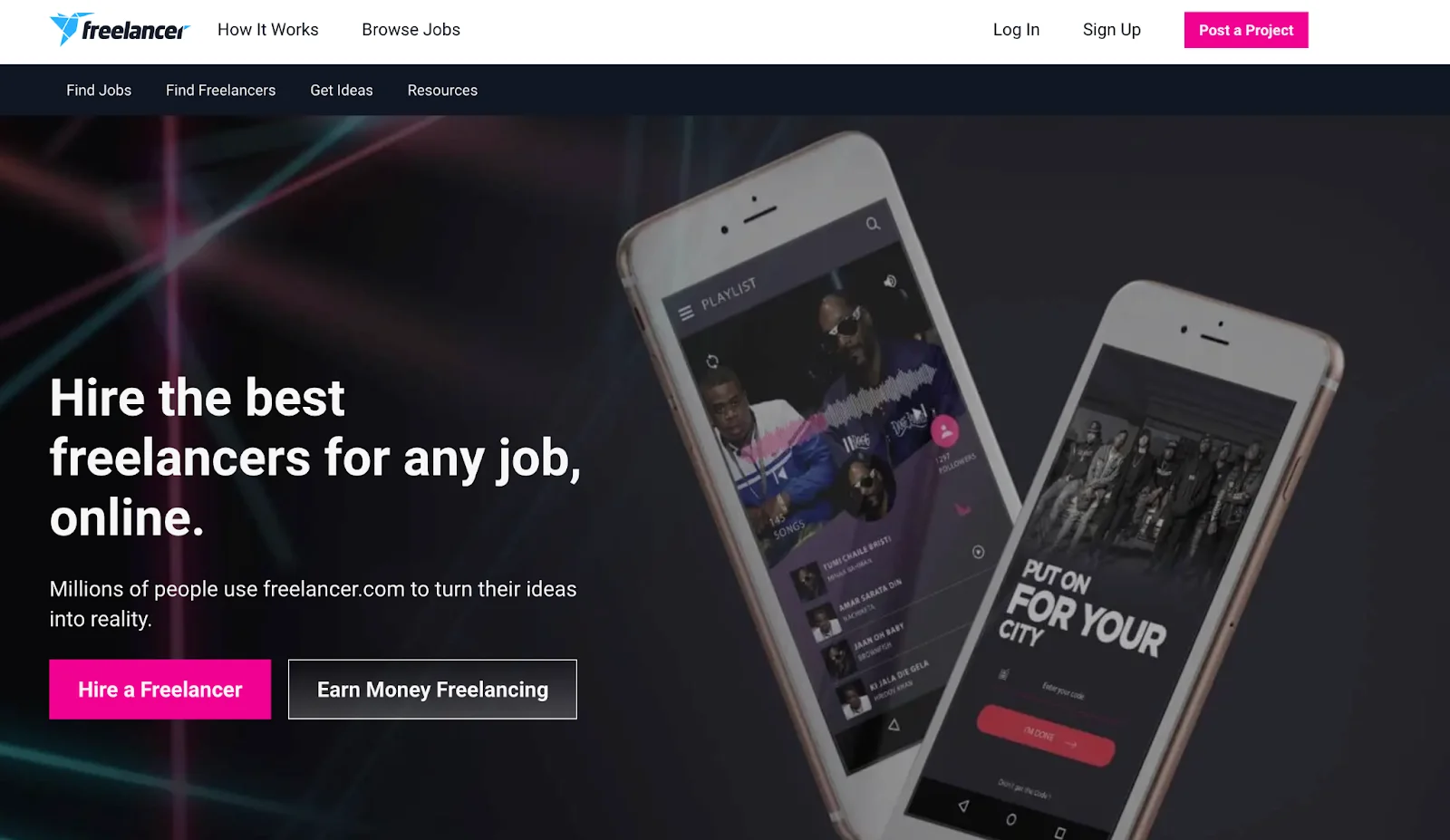 Image from Freelancer
Freelancer is a well-known freelance website, the number of registered users worldwide is close to 40 million, and cases have exceeded 15 million. If you want to seek lots of opportunities, you might as well go to Freelancer to take a look.
Pros: 24/7 customer support, Easy to navigate, Multiple money withdrawal options
Cons: Low-quality projects, Mobile app not friendly
Pricing: Charging freelancers "Bids" to apply to jobs.
Website: https://www.freelancer.com/
Thumbtack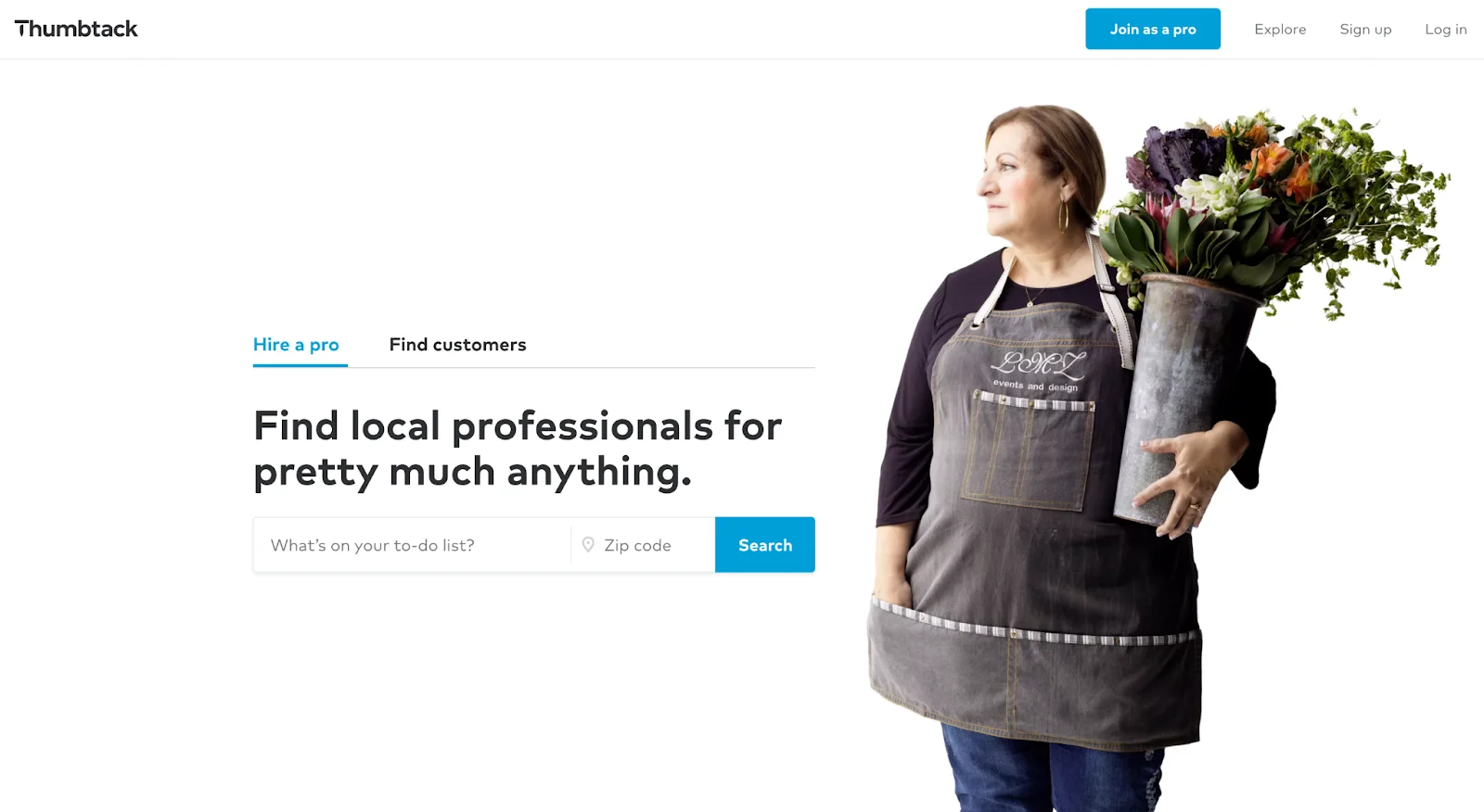 Image from Thumbtack
Thumbtack focuses on small businesses and local communities, if you want to try to find different types of employers, you can visit this website to find out your dream freelance job.
Pros: No fee or a monthly subscription, You only pay when an interested client reaches out to you – from $1.50 per lead, Application fee refund is provided if the client doesn't respond quickly enough.
Cons: Sometimes you must pay for the lead, even if they don't hire you.
Pricing: Every time a potential client reaches out to you, you need to pay a fee of $1.5 to the platform
Website: https://www.thumbtack.com/
Toptal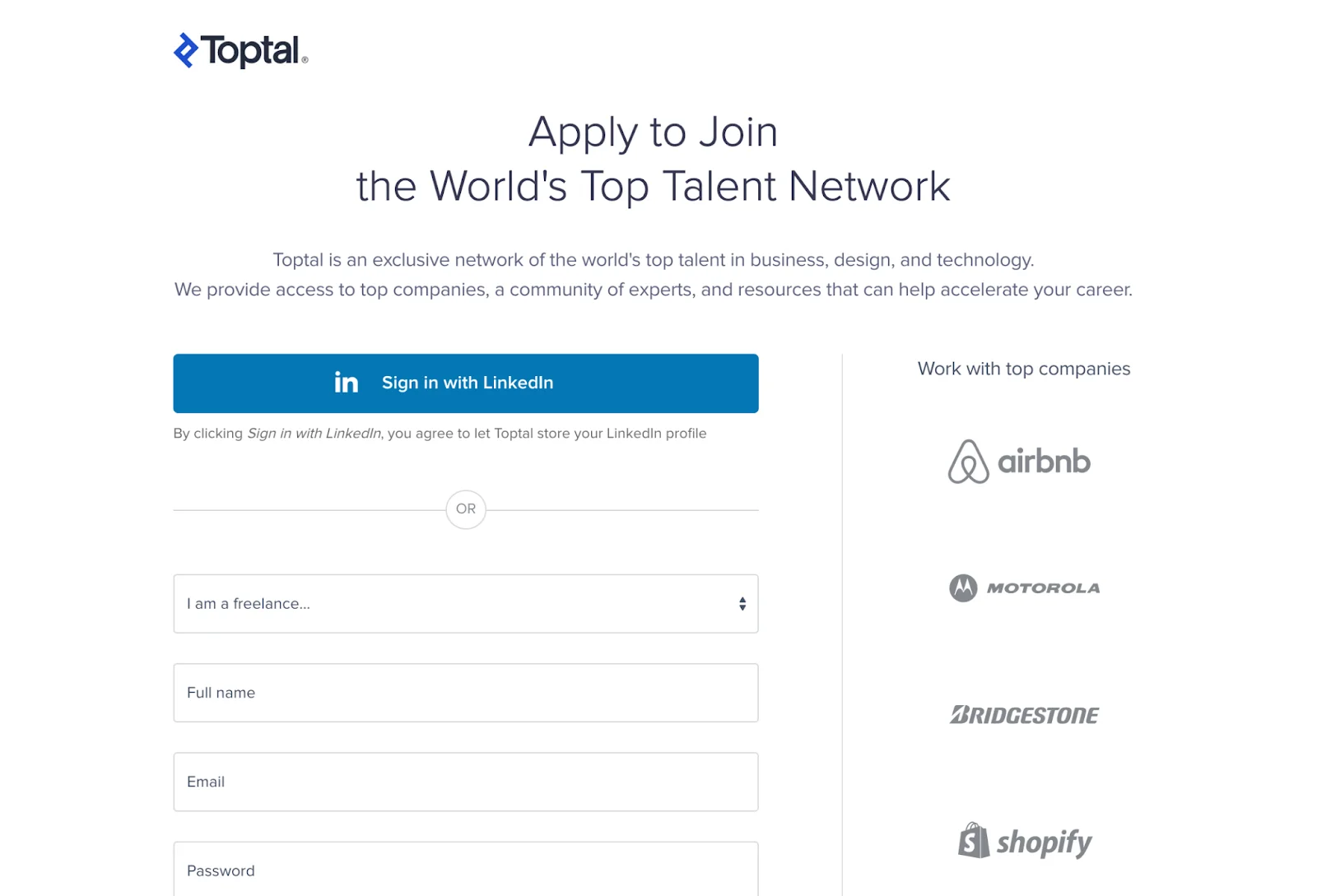 Image from Toptal
Toptal is an exclusive network of the world's top talent in business, design, and technology, they provide access to top companies, a community of experts, and resources that can help accelerate your career.
Pros: Lots of high-paying opportunities, Good for making extra money
Cons: Rigorous application process, Prefer experienced talent
Pricing: No commission fees.
Website: https://www.toptal.com/talent/apply
Behance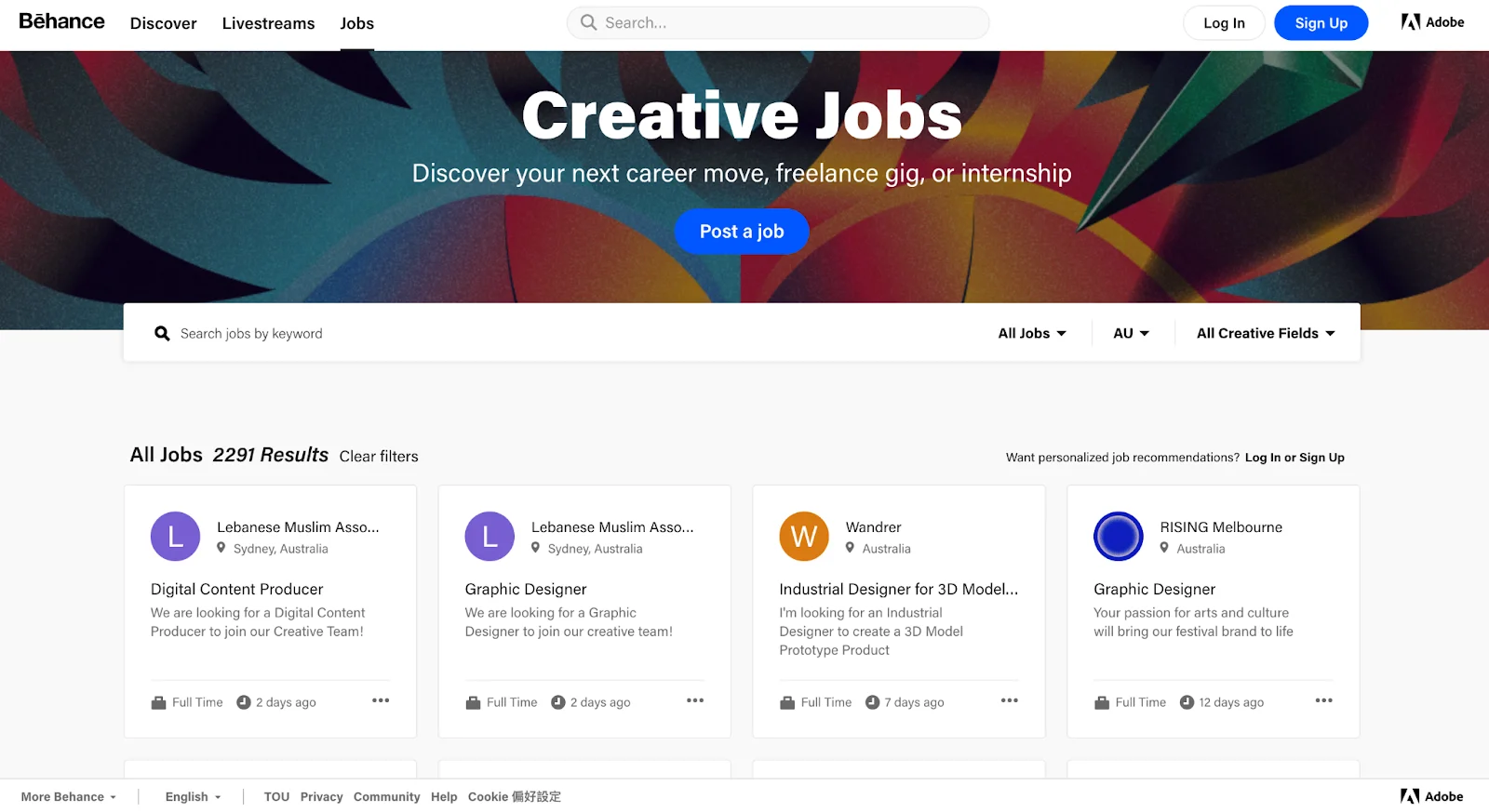 Image from Behance
Behance is a place where you can find inspiration, but also a place for you to take cases. You can find opportunities in graphic design, illustration or interior design, etc. Let adjust our portfolio on Behance to make it more perfect now!
Pros: Customized the personalized content. Easy to showcase your design
Cons: Requires efforts because everything is highly presented so it's quite competitive for finding a design work
Pricing: Free
Website: https://www.behance.net/joblist
Flexjobs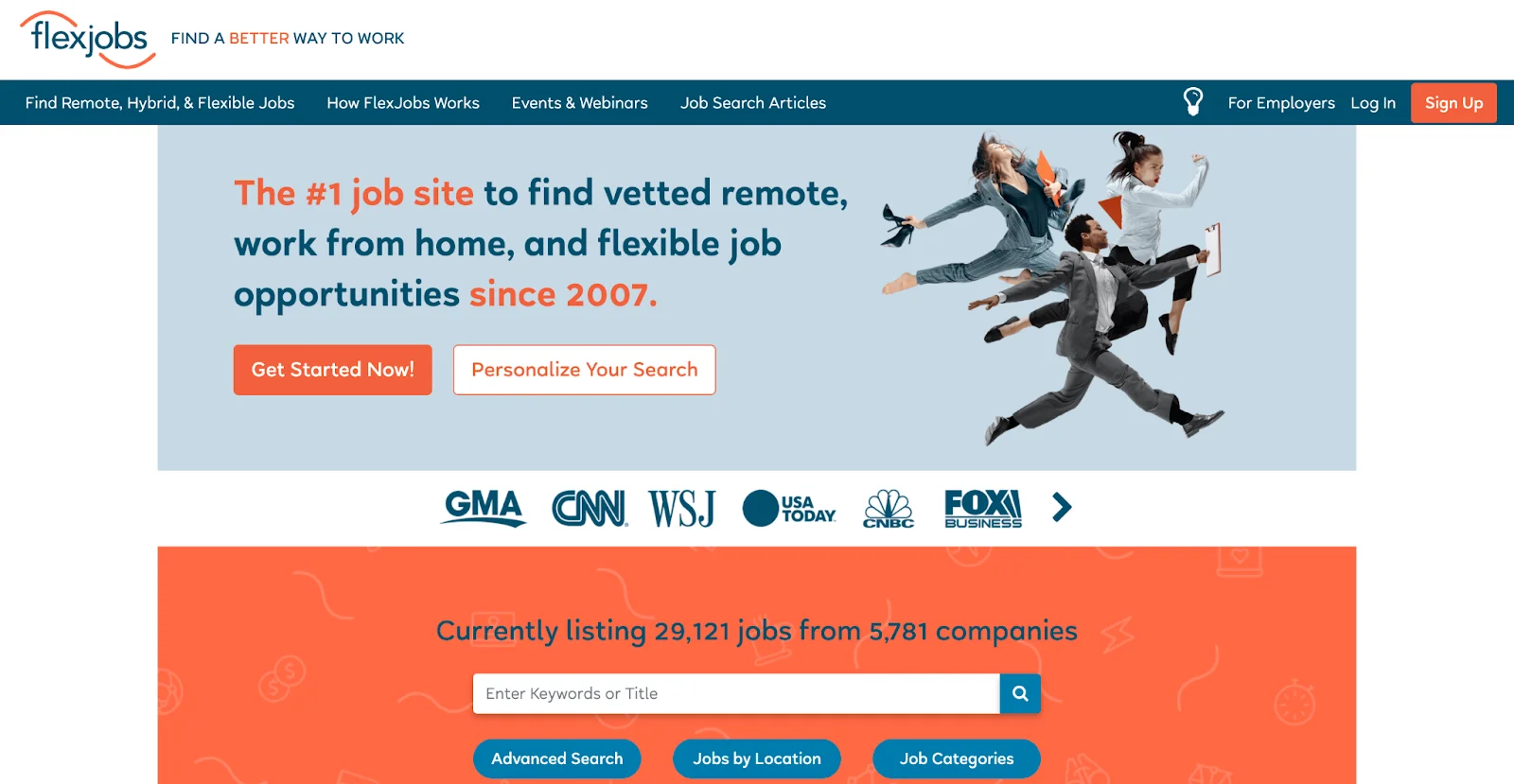 Image from Flexjobs
Flexjonb provides flexible jobs in 50+ career fields, from entry-level to executive, and from part-time to full-time, wherever you want such as the U.S.A or somewhere else. You need to sign up for their subscription plans, like $6.95 per week or $14.95 per month. If you are unsatisfied within the first 30 days, they will provide a money-back guarantee.
Pros: Provide higher quality job opportunities, Salary negotiable.
Cons: Some jobs aren't exclusive to FlexJobs, Outdated job list, Not all jobs are remote
Pricing: $6.95 a week or $14.95 per month.
Website: https://www.flexjobs.com/
Guru.com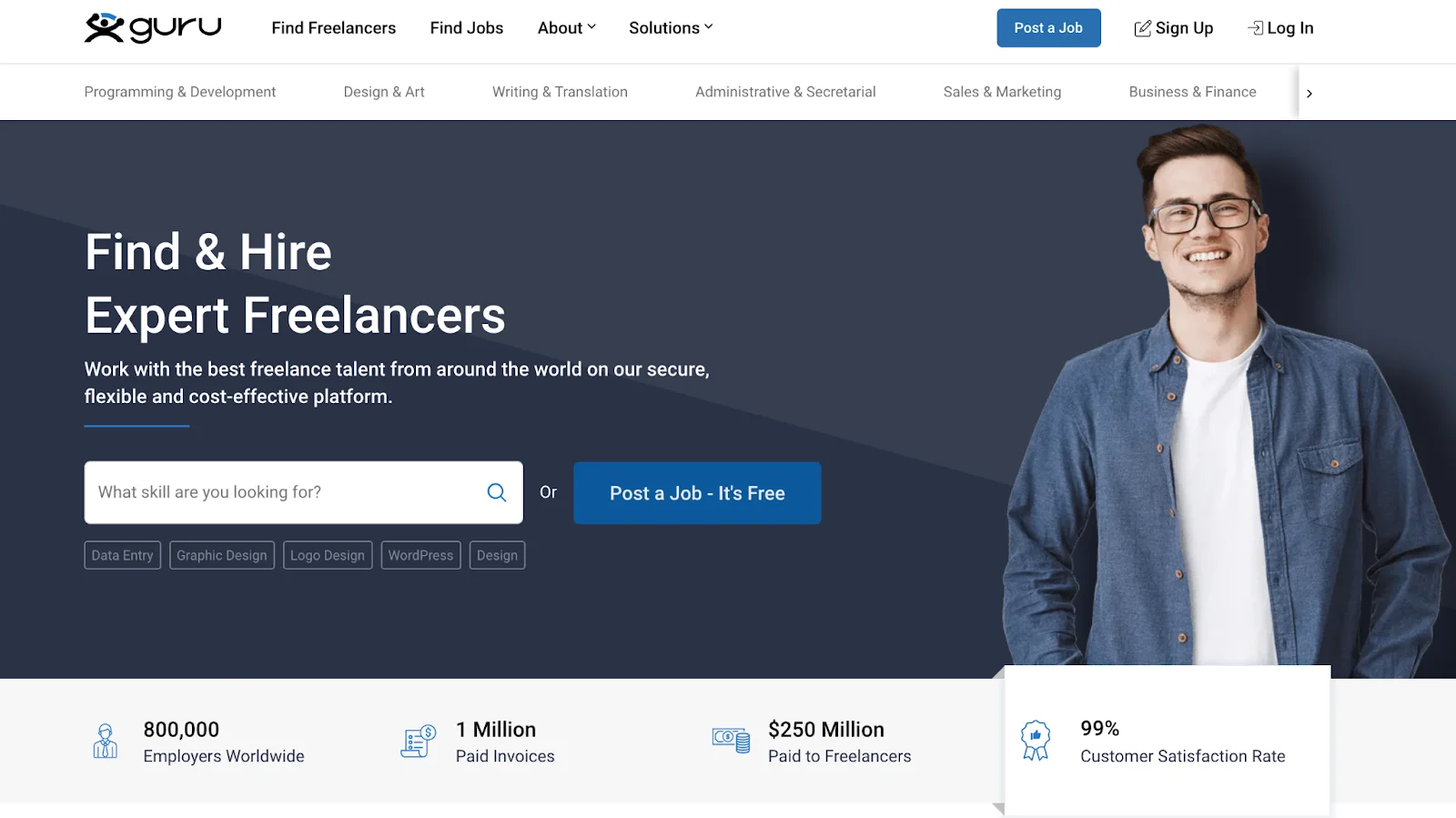 Image from Guru.com
Guru.com requires users to sign up for a paid membership, ranging from $11.95 to $49.95 per month. Guru.com provides an internal communication system, employers and freelancers can only communicate via a third party in case of safety.
Pros: Good payment, Transparent job details
Cons: Free members can't chat with clients before working with them, Lack of customer support
Pricing: Basic membership is free, you could also upgrade to explore more opportunities.
Website: https://www.guru.com/
We Work Remotely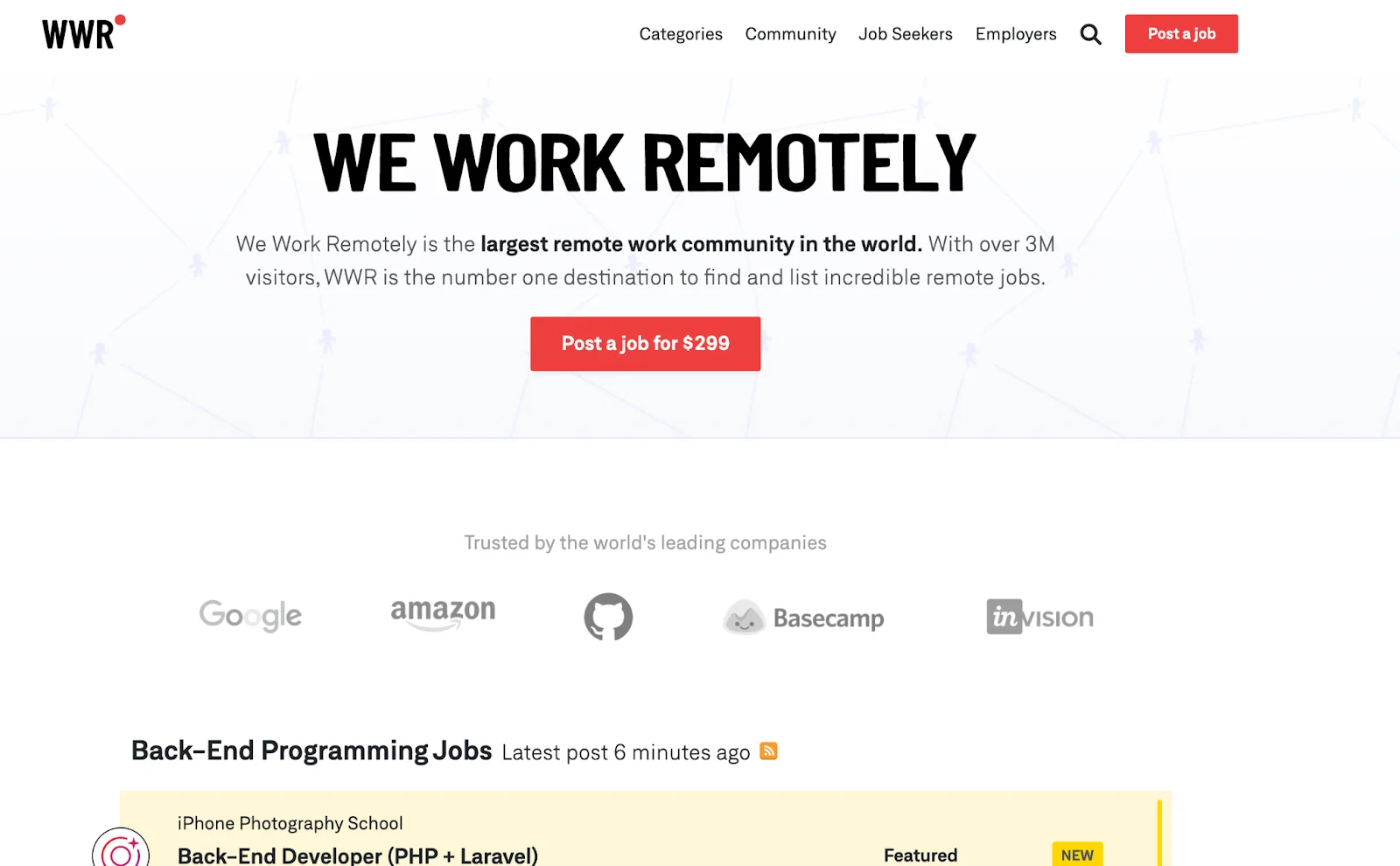 Image from we work remotely
We Work Remotely is one of the largest remote job platforms, We work remotely have over 3 million visitors, which also provides plenty of opportunities. They also have a blog to talk about the knowledge or insights that freelancers need to know, you should definitely check it out!
Pros: Remote jobs are added every week in different fields.
Cons: Not really user-friendly, Hard to find recent jobs
Pricing: Free
Website: https://weworkremotely.com/
Read Also: 5 Ways To Do Low Cost Job Advertising
---
3 Tips to be Successful in Freelance Websites and Channels
Embrace the style of each channel
The target audience on different websites has different preferences and tastes. Make sure you do your research to blend in as one of them! For example:
on Instagram: people love to see more visual or motion graphics
on Behance: you can see them focus more on the design concepts
on LinkedIn: people targets a more professional industry niche as the audience may be a C-level director
other freelance websites: clients would like freelance designers to submit designs works within a short period of time
Find my niche
The most important thing in the freelance industry is to have persistent enthusiasm. Additionally, you also need to find your own niche capabilities, maximize them, and try to meet the demand on the market Make sure that clients can think of you first when they need certain kinds of design services.
Be open to new opportunities from clients
When you start having your own client base, you may often receive the same request from them. However, sometimes clients have different business requirements. If you can also keep an open mind to provide new services at the same time, you may get more opportunities!
---
Want to boost your competitiveness? Let Eagle help!
Freelancing is a popular career choice for many people, especially those with an entrepreneurial spirit and a desire to escape a boring 9-to-5 office job. Yet while a freelancing career can be liberating in many ways, not everyone is suitable. Through the suggestions of this article and the recommendation of the freelancing websites, we hope that you can start off your freelance career with ease, get as many designer clients and become an awesome freelancer!
And in the end, we want to recommend to you one last thing that is also important. When you are busy pitching ideas or collecting and organizing the ideas for your next campaign or design, try to use Eagle! Eagle is the best digital assets management especially for designers, not only does it help you create your own inspiration library, it can help you manage thousands of inspiration pictures quickly and easily. Let's get started and hope your journey is going well!



Try now: https://en.eagle.cool/download
Lastly, if you are eager to learn more design information and resources, visit and bookmark Eagle blog to become a better creative professional!
If you are still lacking inspiration and incentives to create something new, feel free to dive into Eagle Community to explore stunning assets shared by thousands of designers worldwide. Let Eagle be your best design assistant!