Best 20 Websites to Find Motion Design Inspiration & Ideas 2023
To create good motion graphics, designers have to incorporate a number of techniques such as typography, sound effects, illustrations, logos, vectors, shapes, and more. These different elements are then animated to tell a story.
What's more, motion design inspiration comes in all shapes and sizes. Of course, you could simply go on a walk to be inspired by cars and architecture or plan a journey for new possibilities in your creation. Additionally, online resources can be a treasure trove of ideas and references for animation. For instance, if you're looking for inspiration in the realm of gaming, you might explore examples like "Alchemy Stars character design reference" to discover unique and visually captivating concepts.
Besides that, in this article, we'll focus on online resources that can help you come up with creative and unique ideas for your new projects! We've collected 20 motion design websites that could boost your creative process. Be sure to bookmark these sites and check them frequently.
Here's what you'll learn from the websites in this article:
Gallery of animations and imagery for inspirations or references
Motion design case studies and analysis
First-hand industry news from professional motion designer interview
Free and paid motion design materials and courses
Without further ado, let's get started!
---
Awesome Galleries to Inspire Your Motion Design Projects
1. Vimeo Channels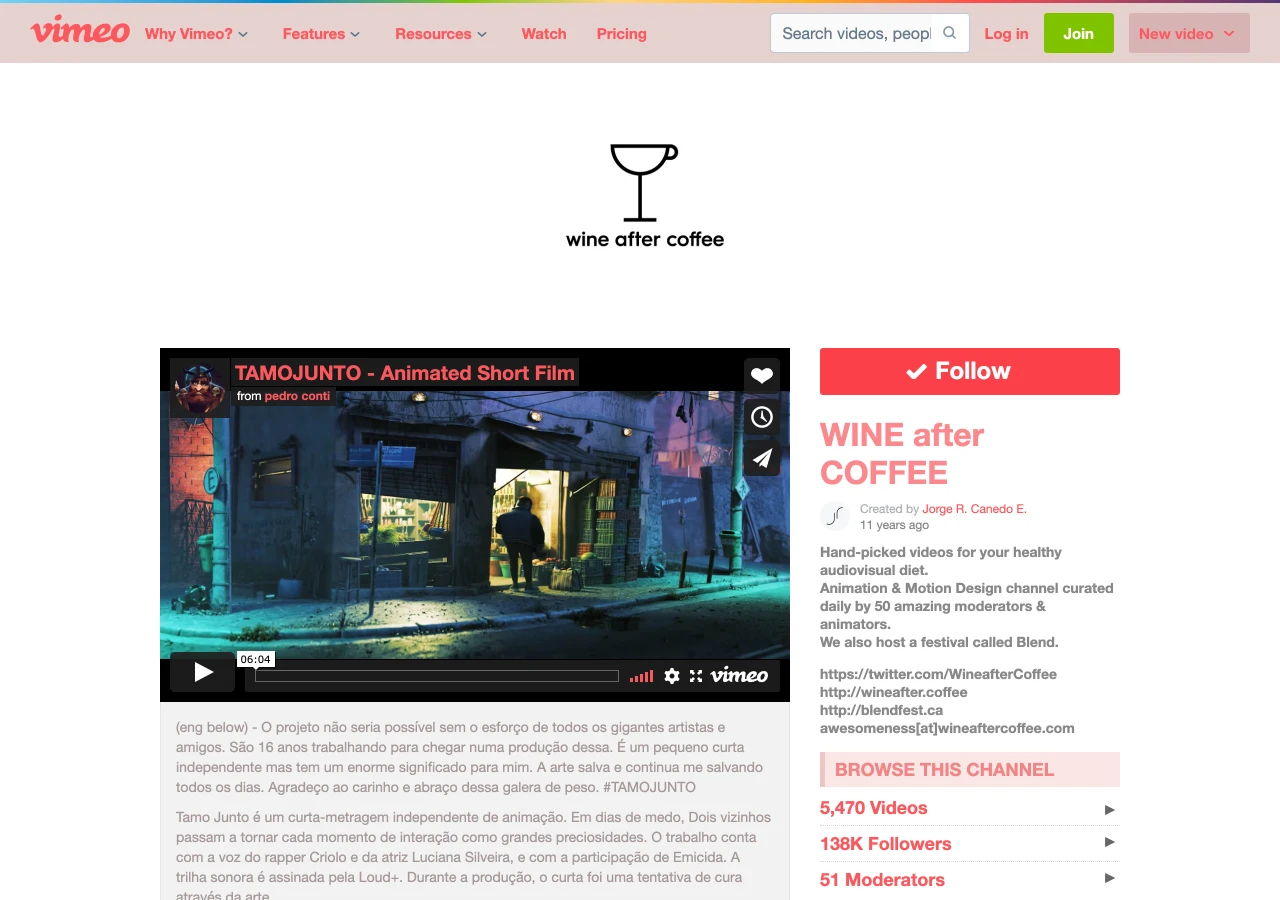 Image from Vimeo

There are several great channels on Vimeo dedicated to just curating great motion graphics content. Vimeo is not only a place for designers to get inspired but a platform where creators share and promote their work. That's why Vimeo is an incredible resource for many designers.
Here are some of the channels you should follow on Vimeo:
Website: https://vimeo.com/
2. Behance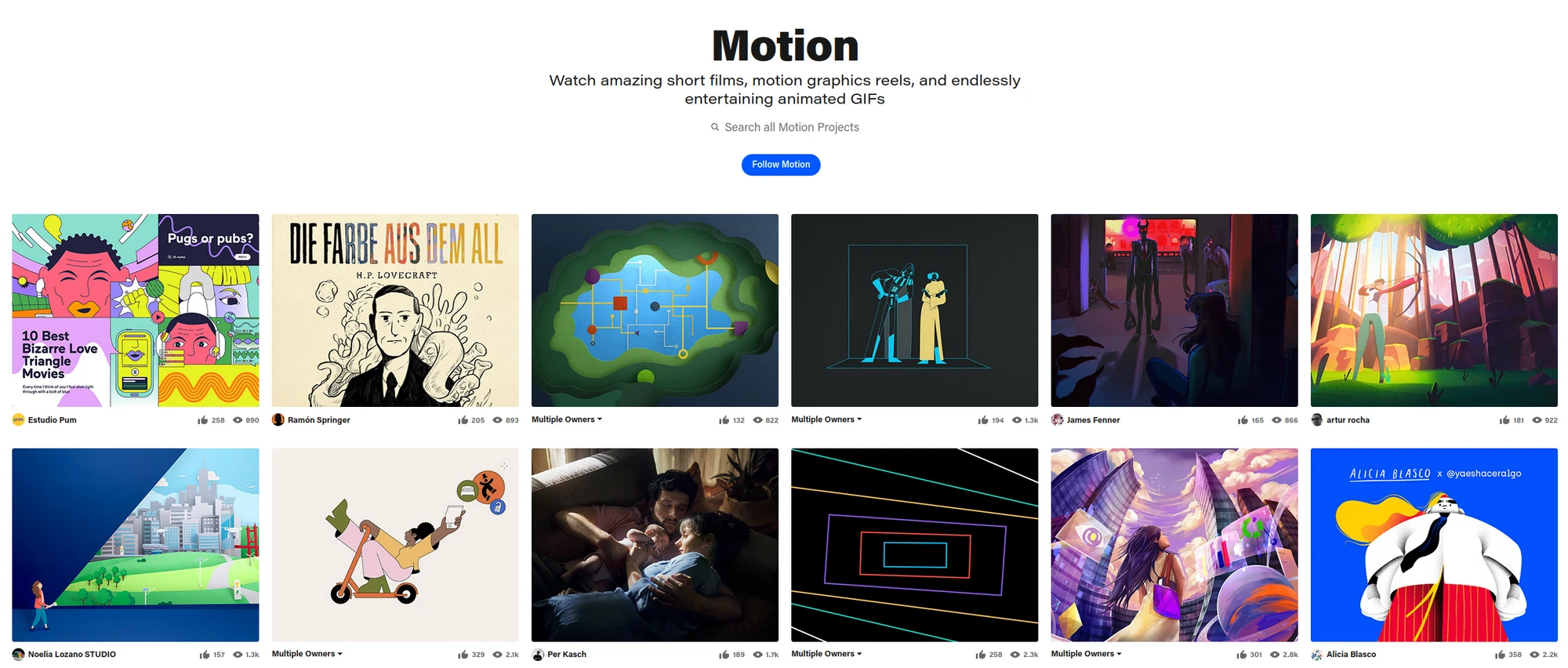 Image from Behance

Behance is a fantastic website for designers who want to share their fascinating artworks with others. It is probably the largest source of diverse design inspiration on the internet because it is owned by Adobe. On the website, they have a dedicated section for motion graphics. Be sure to bookmark this channel for really impressive inspiration.
Website: https://www.behance.net/galleries/Motion
3. Dribbble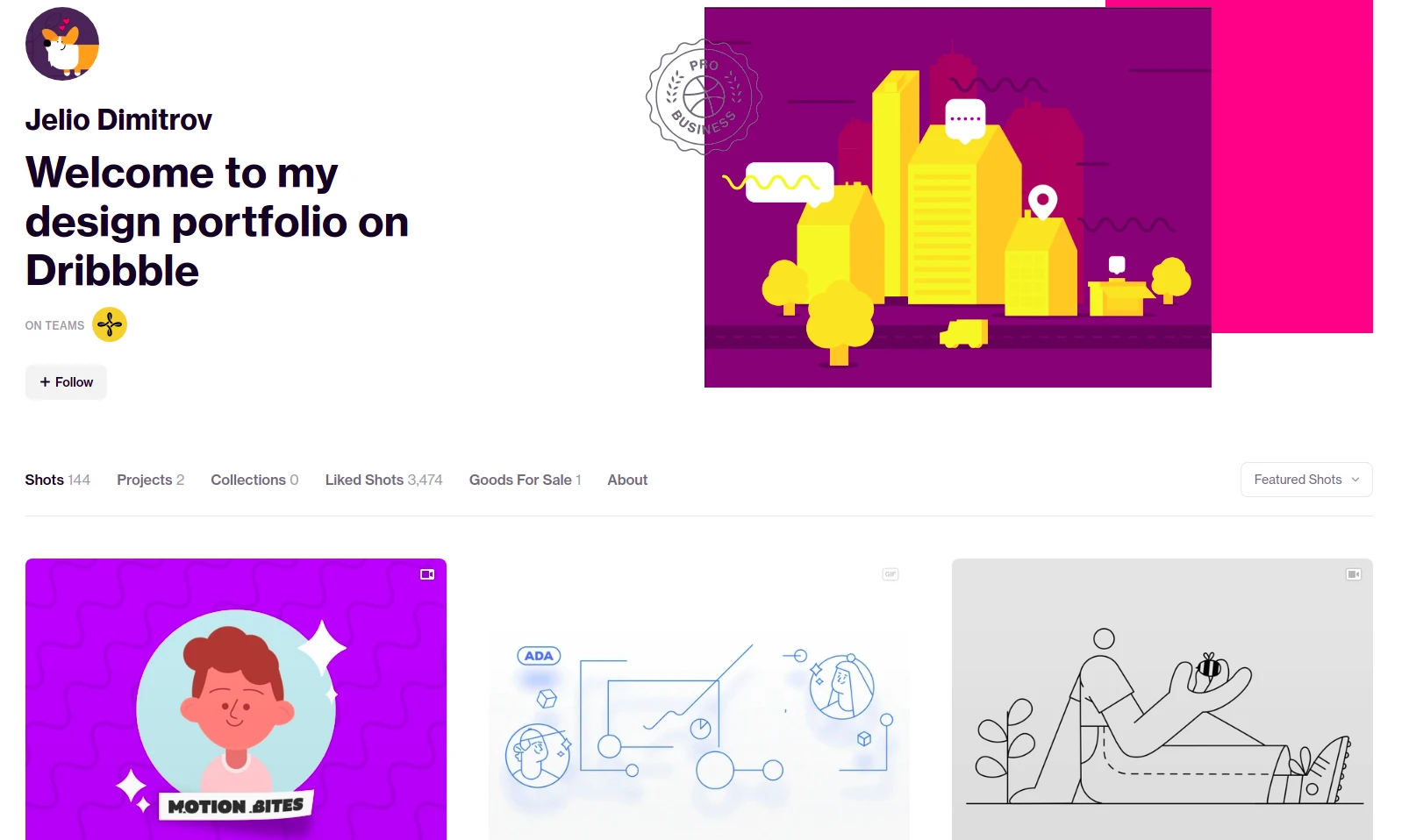 Image from Dribbble

While the Dribbble platform has become popular, more motion designers showcase their amazing work on it. That's why Dribbble offers plenty of artwork to get you inspired. You'll see many little animated GIFs and quick shots looping a specific movement.
Recommend reading: Top 26 GIF Viewers for Windows/ Mac/ iOS/ Linux/ Android
Here are some of the talented motion design artists you should follow on Dribbble:
Markus Magnusson: An illustrator and motion designer, whose works are full of joy and have a variety of styles.
Cub Studio: An animation studio specializing in 2D motion graphics and animated content.
Jelio Dimitrov: A Motion Designer with 10+ years of experience, provides design work including Graphic design, Graffiti, street art, and motion design.
Website: https://dribbble.com/
4. YouTube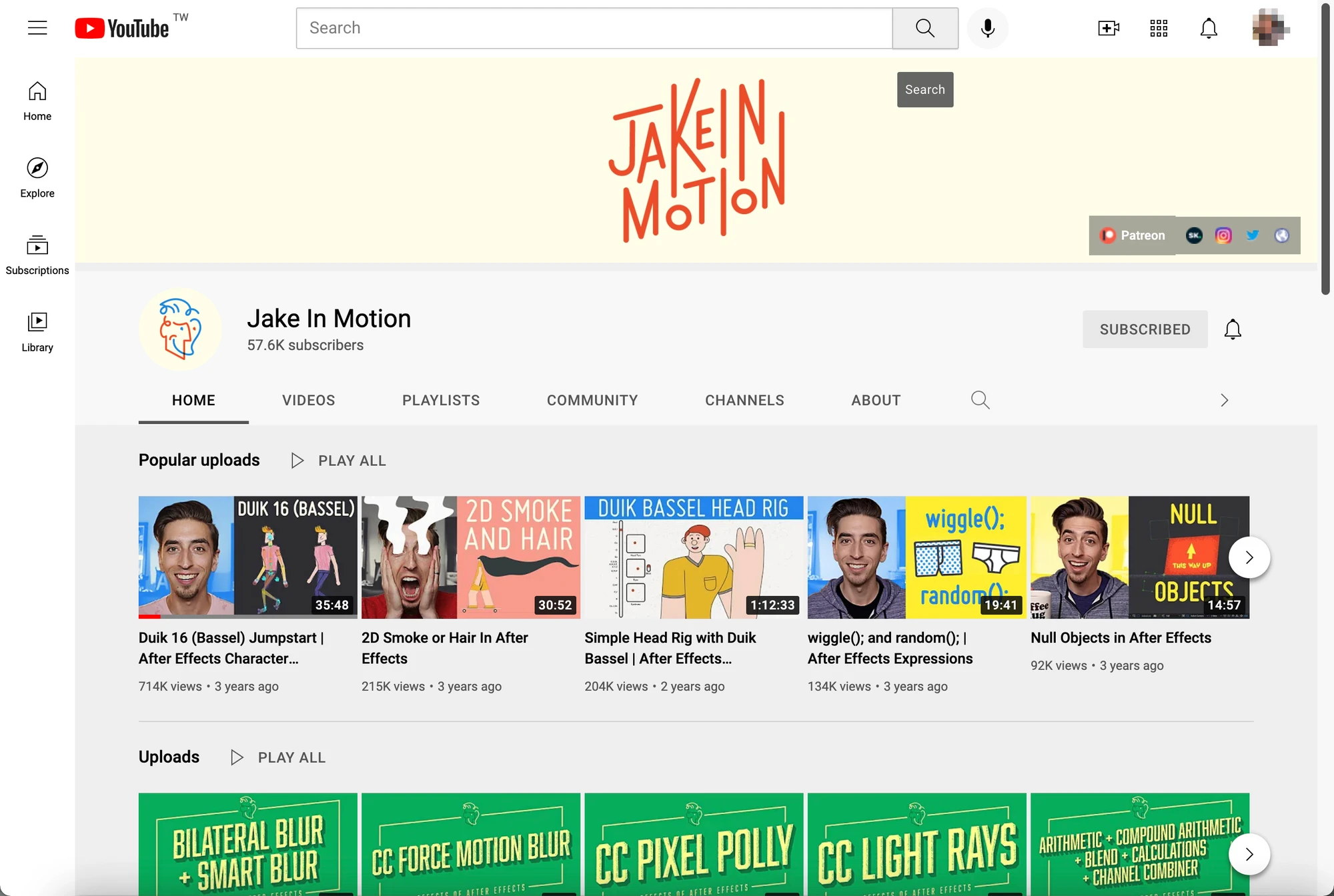 Image from YouTube

YouTube is definitely one of your sources to find inspiration about motion design, you can see some motion designers share career details like what technique to achieve a certain effect, daily routine, how to negotiate the rate, trial and errors, some channels even provide free and in-depth tutorials like 2D rigging, rendering, 3D effects, etc.
Here are some of the channels you should follow on YouTube:
Website: https://www.youtube.com
5. Instagram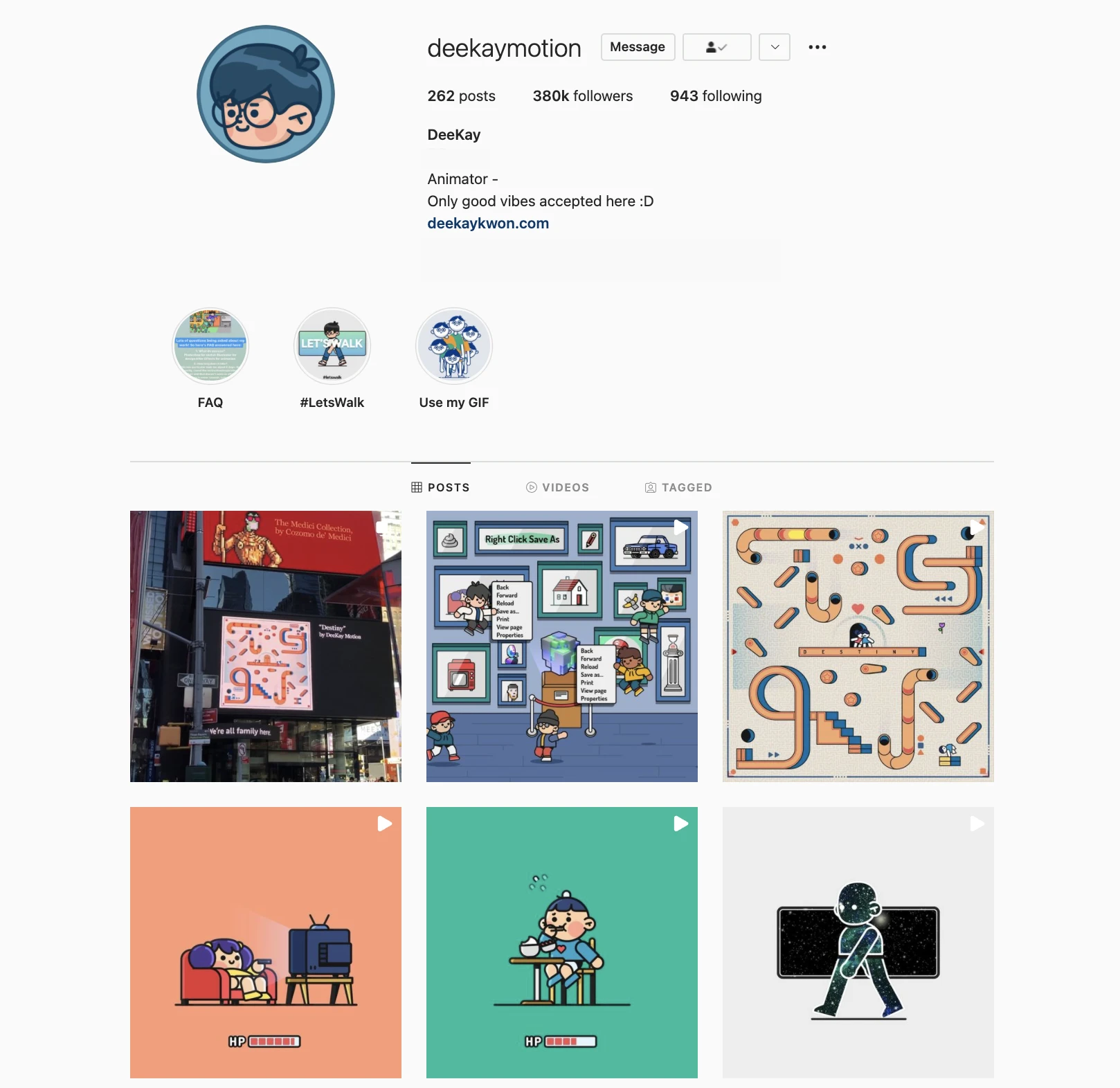 Image from deekaymotion's Instagram

Instagram is a social media platform for design inspiration. You can follow your favorite motion designers for inspiration or save pictures and videos you like in your private collections.
Three accounts I suggest that you should follow are:
Website: https://www.instagram.com/
6. Pinterest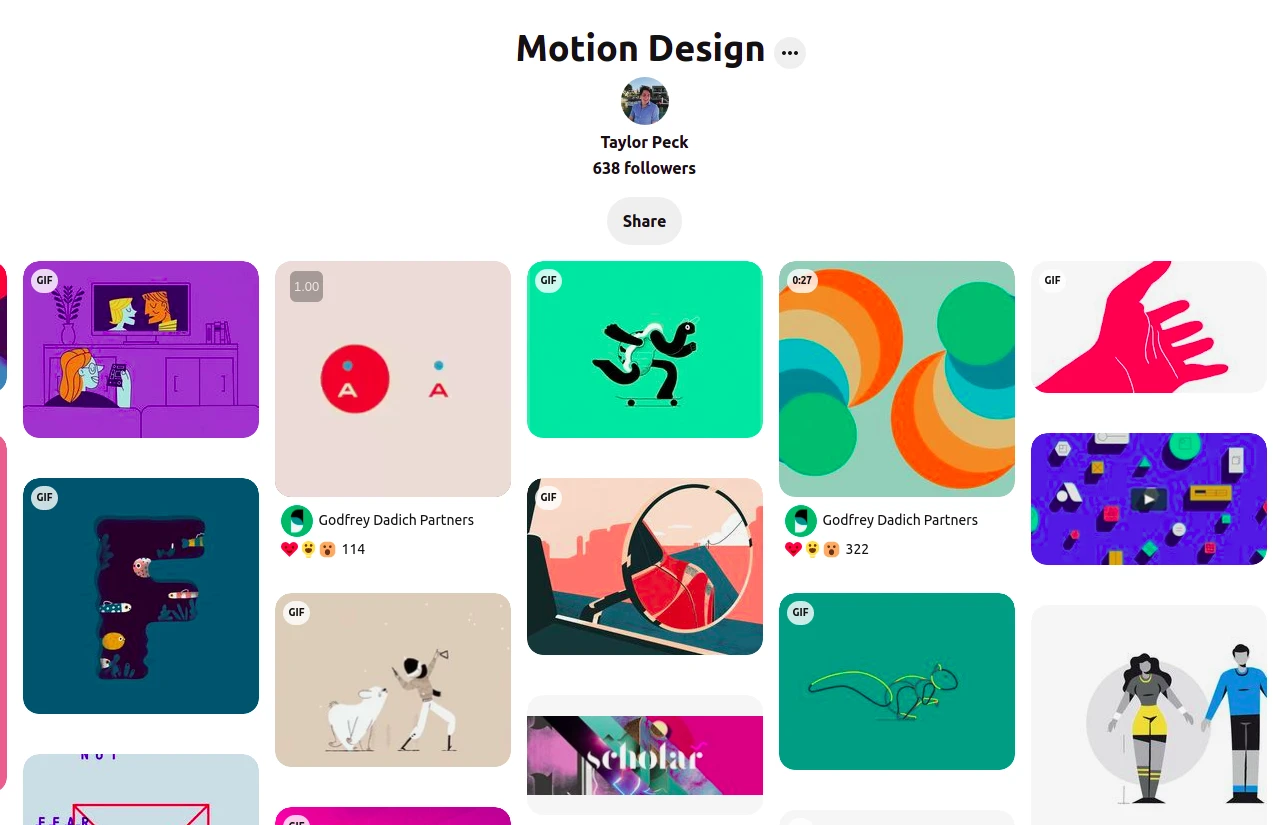 Image from Pinterest

Pinterest is a great source that helps users to curate images and videos onto digital Pinterest boards. For me, Pinterest is a rabbit hole with limitless depth, and you can find all unique motion designs. Just build Pinterest into your research phase, type some keywords, then see what the world brings you.
Besides, it is also a social media platform for image sharing, with the concept of scrapbook to present in the form of "Pinboards". Thus, It can be the best visual exploration tool for your personal creativity and projects.
Website: https://www.pinterest.com/
7. InspirationGrid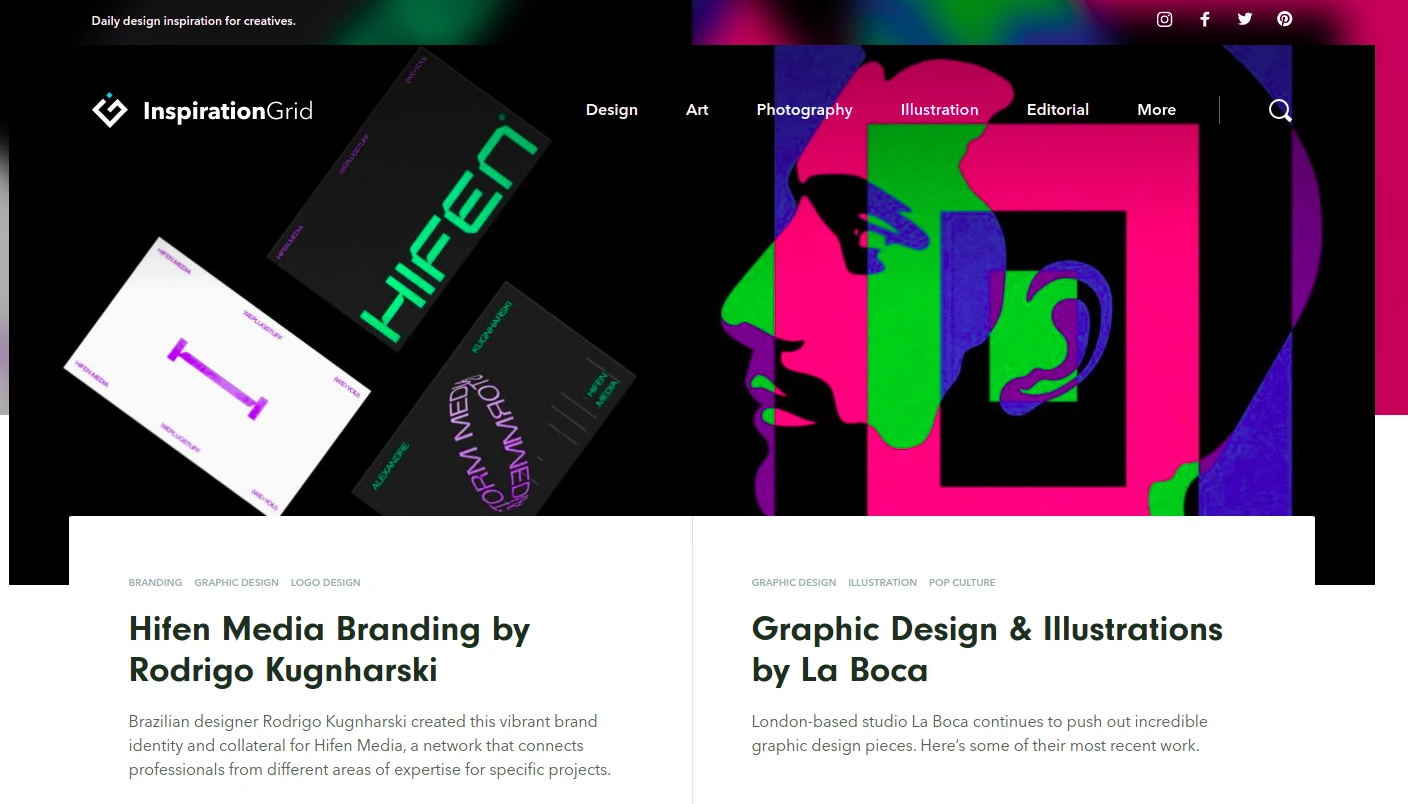 Image from InspirationGrid

Inspiration Grid is a well-curated website that showcases many motion design inspirations from some of the very best artists in the world. There are different categories of inspiration you can get on this website, but for the motion designer, make sure to visit the Video & Motion Design category page frequently. You can also follow them on Instagram @inspirationgrid to get an instant inspiration update.
Website: https://theinspirationgrid.com/
8. Abduzeedo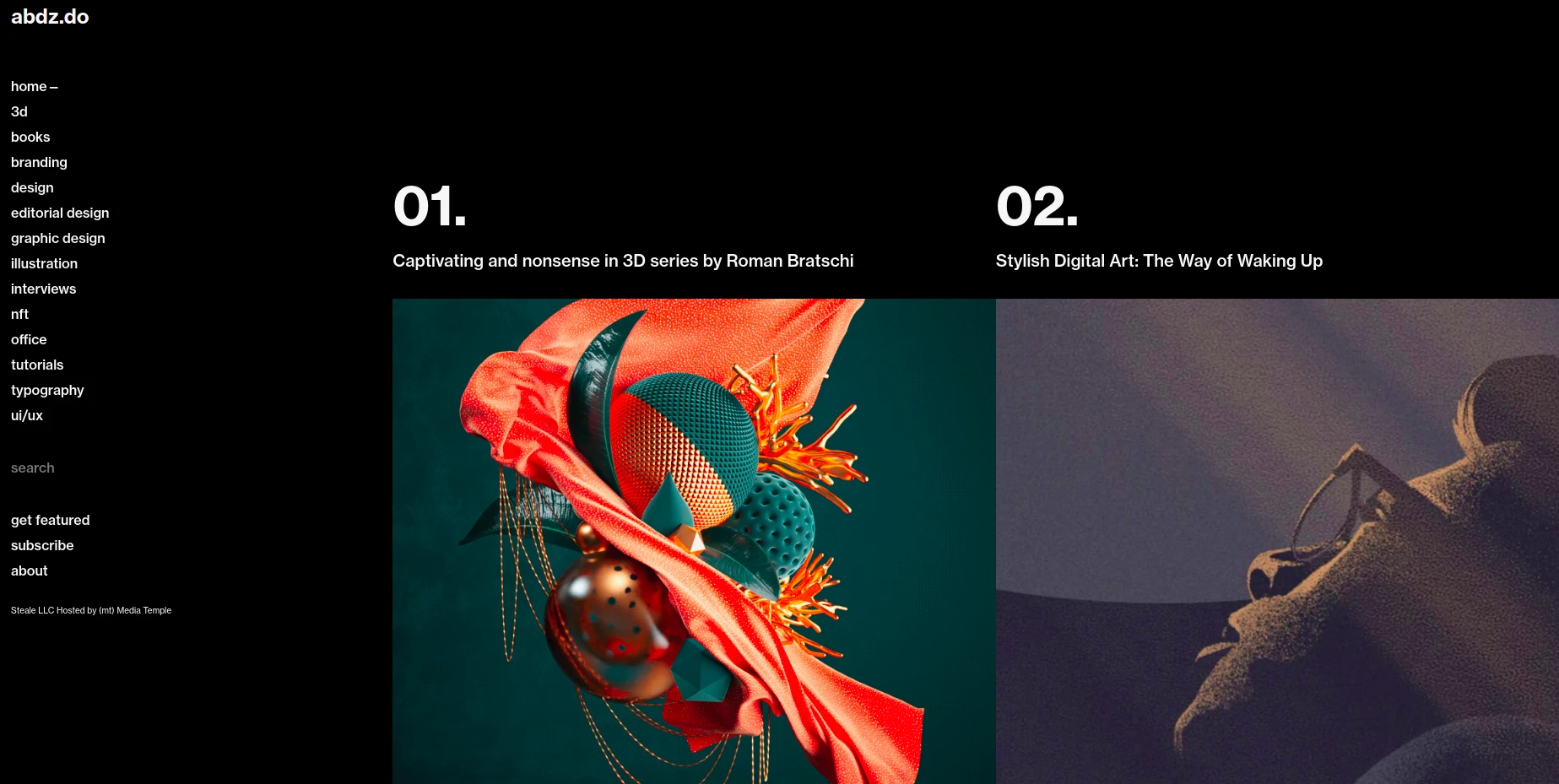 Image from Abduzeedo

When it comes to design, Abduzeedo prepares you everything you need. You can find all inspirational examples with a wide, diverse range, such as interviews, design collections, tutorials, and much more. Nothing can go wrong when you bookmark this website. It is a definite must for any motion graphic designer.
Website: https://abduzeedo.com/
9. CG SOCIETY

Image from CG society

CG Society is slightly different from all the other websites mentioned in this article. This website is mainly filled with high-end 3D animations from film production and visual effects inspirations. If you are interested in the latest techniques for Hollywood 3D effects, then you have found the right place!
Website: https://cgsociety.org/
---
Sites with Motion Design Case Studies and Analysis
10. Art Of The Title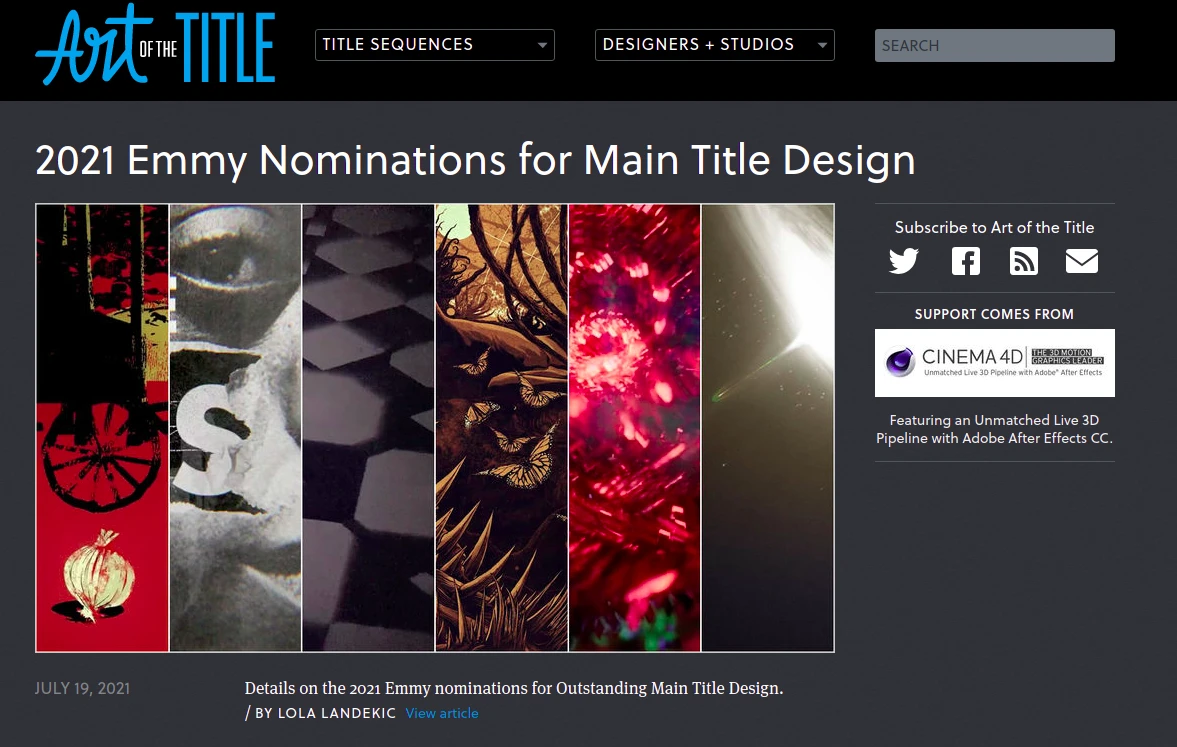 Image from Art Of The Title

There is no second choice if you want to find the best, best-curated website for title design inspiration in the world. In Art of the Title, you can see all the best work from all amazing designers in the film and television industry. The best thing about this website is that you can get behind scene breakdowns such as "The Queen's Gambit" and "Game of Thrones".
If you work in the field of the title sequence, this is the place to go for inspiration. If not, search for your favorite TV series or movies, I promise you will like the article!
Website: https://www.artofthetitle.com/
11. STASH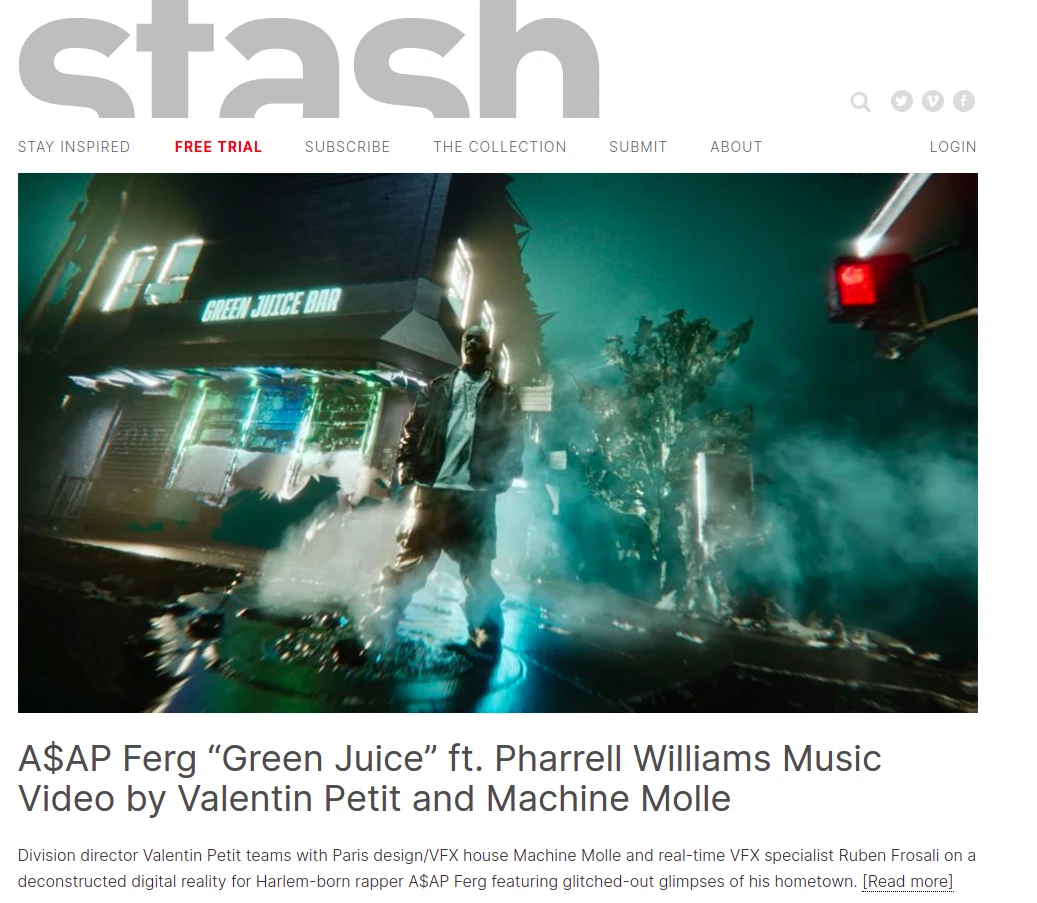 Image from Stash

Stash is a great website for curated exceptional motion design, visual effects, and animation project inspiration. Their permanent collection includes advertising, music videos, short film, and even exclusive interviews with the industry's top designers. This website can keep you inspired and informed.
To fully unlock the site, you'll need to subscribe. But don't worry, you can first get 30 day's free trial to see if you need it.
Website: https://www.stashmedia.tv/
---
Sites to find inspiring interviews of motion designers and other artists
12. Motionographer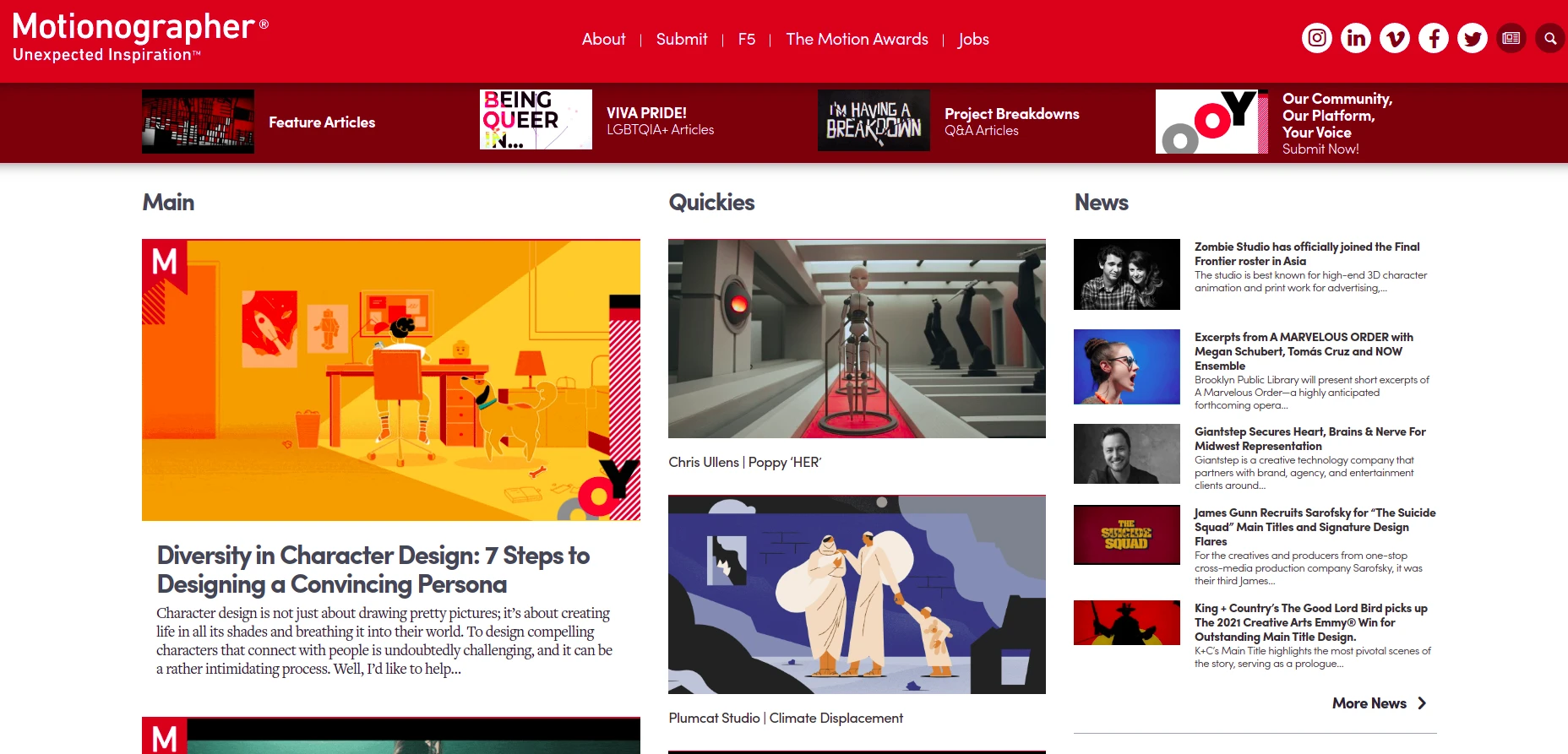 Image from Motionographer

Sometimes, you want more than just looking through one after another image. If you're looking for something that can open your mind to new possibilities in the Motion Design industry, try to read interviews of some great artists.
Motionographer is one of the very best resources for all motion designers. There are many helpful resources, such as exclusive interviews and in-depth articles. You can also sign up for their weekly newsletter then you can get new inspiration each week.
Website: https://motionographer.com/
13. School of Motion Podcast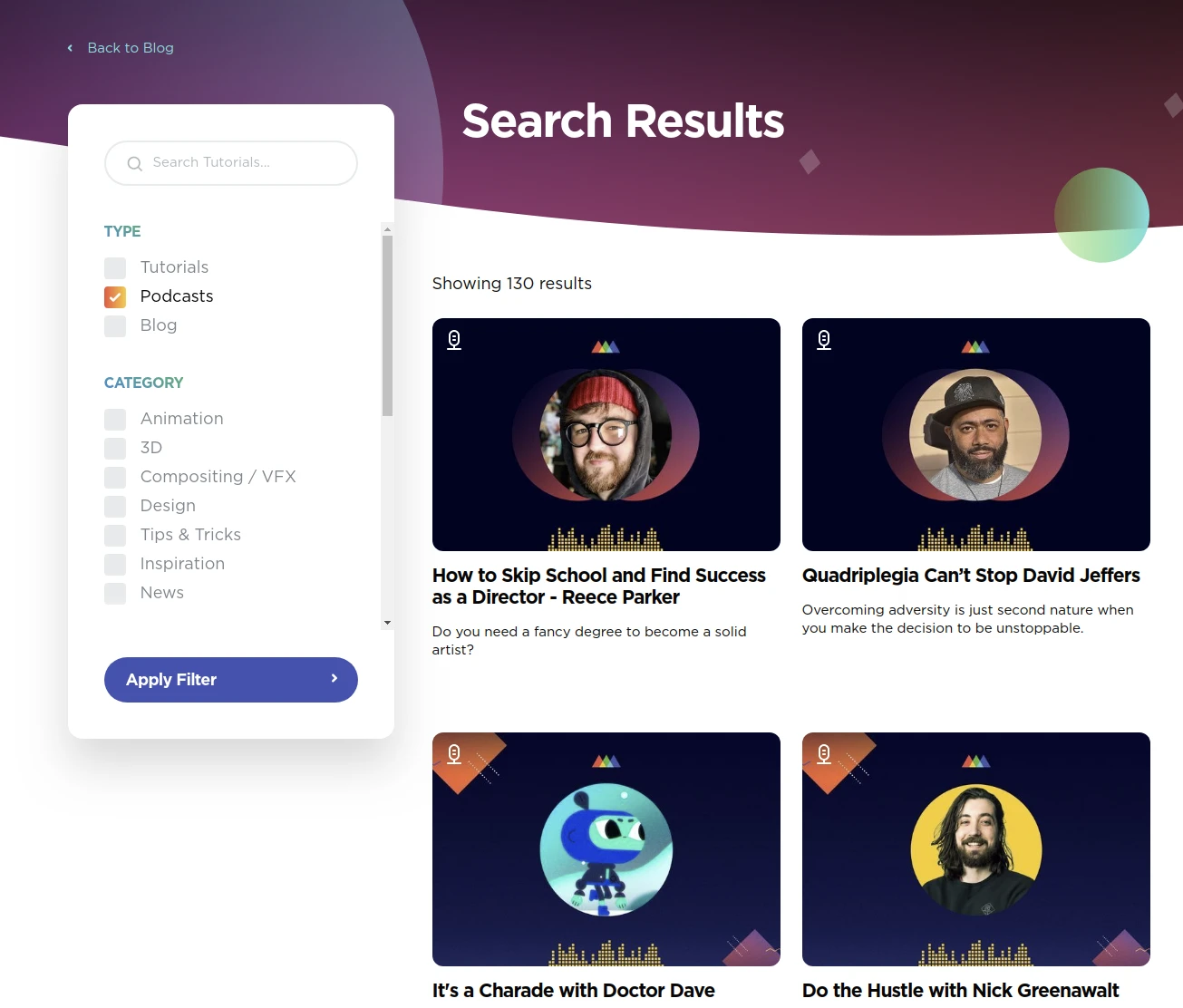 Image from School Of Motion

In this podcast, they interview many designers, animators, and producers. You can learn many useful tips, such as diving deep into gaining clients, workflow habits, and even legal information for freelancers.
Website: https://www.schoolofmotion.com/search-results?templateTypes=INTERVIEW
14. Motionhatch Podcast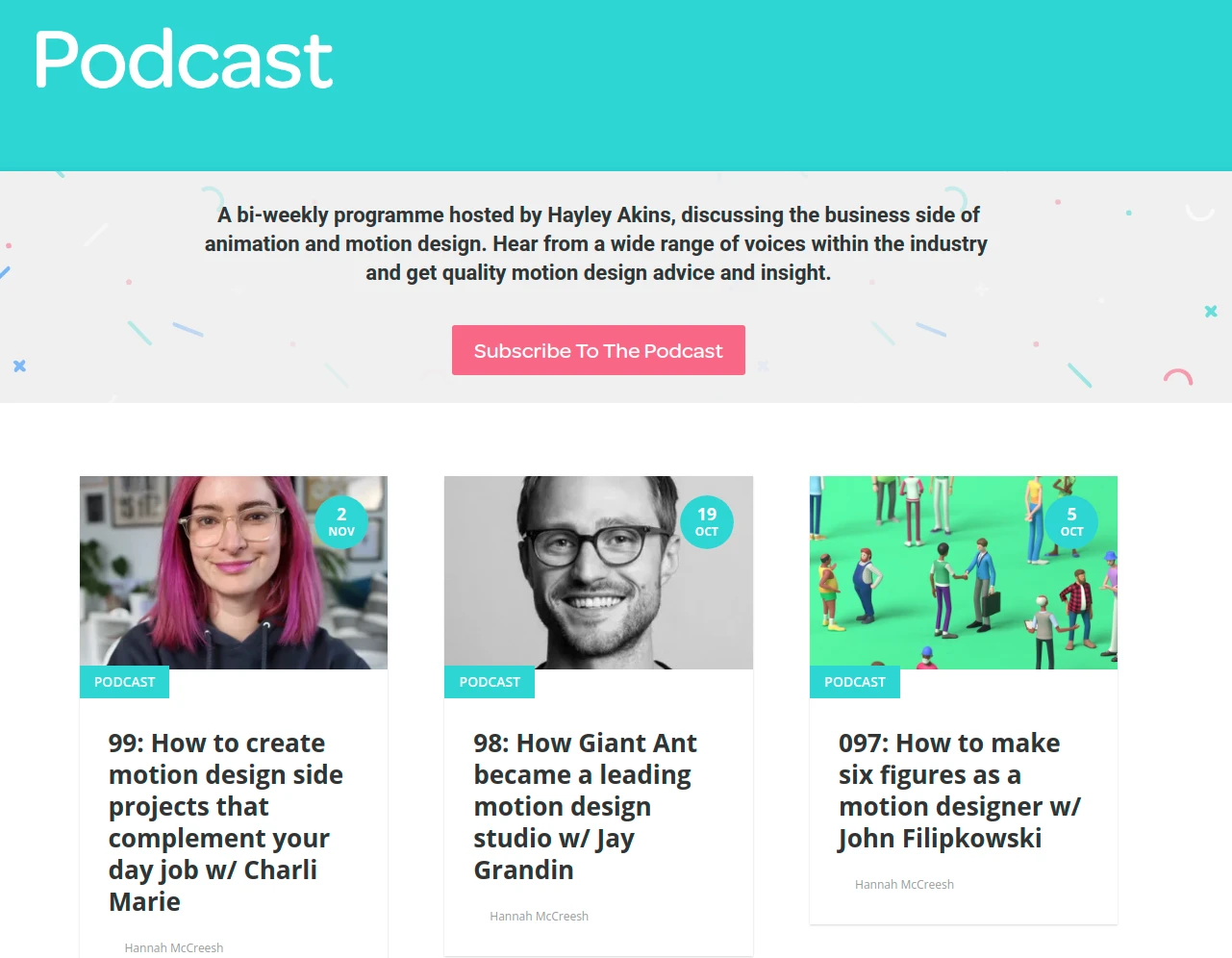 Image from Motionhatch

Motionhatch Podcast is a bi-weekly podcast hosted by Hayley Akins which discusses the business side of motion design. Offering quality practical advice and insight for freelance, full-time or aspiring animators, illustrators, and motion designers
As a motion designer, you would definitely be interested in the following episodes
Website: https://motionhatch.com/podcast
15. Greyscalegorilla Podcast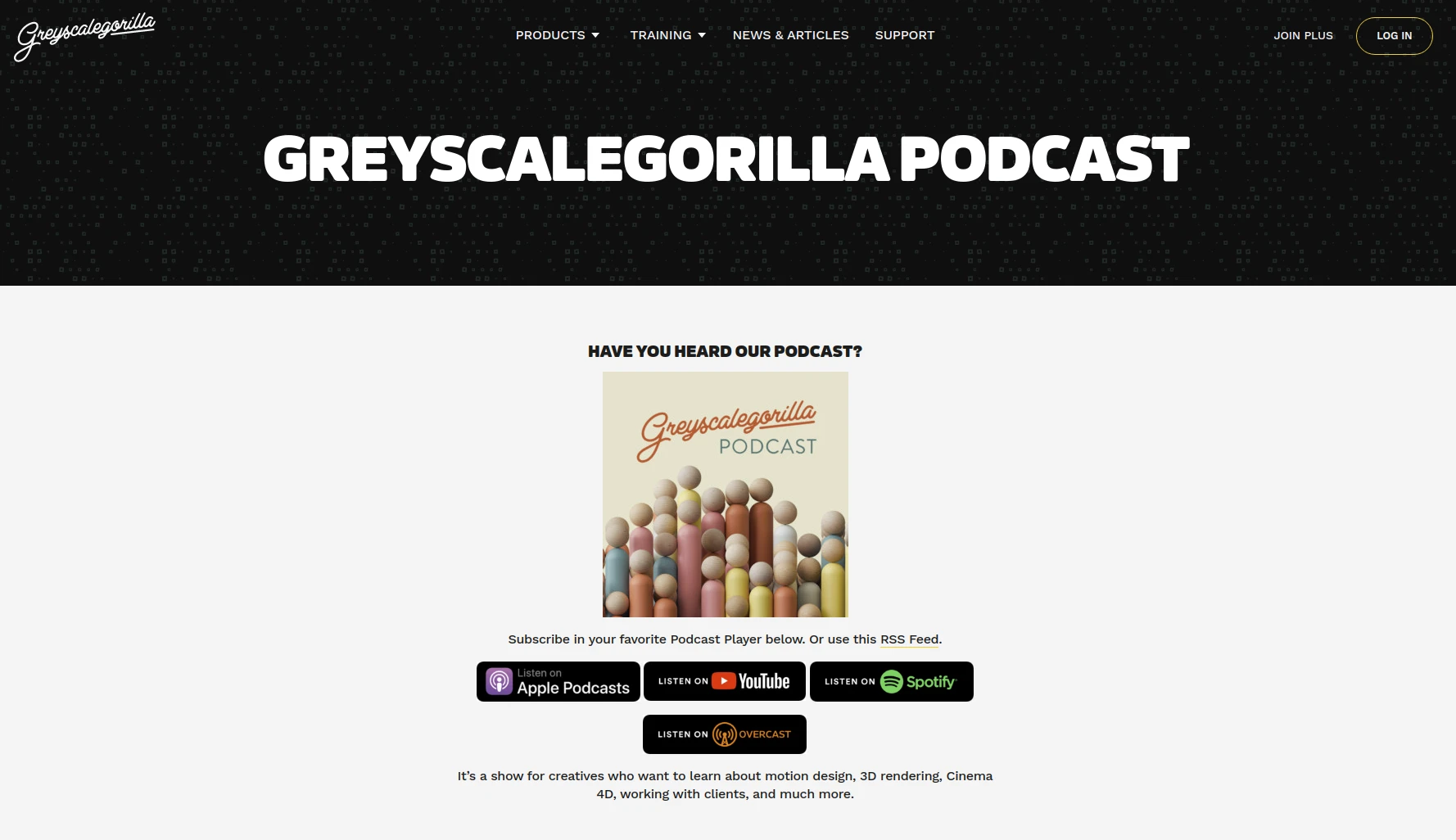 Image from Greyscalegorilla

If you are a motion designer who wants to learn new skills and be part of the growing community, then you should not miss the Podcast released by Greyscalegorilla.
If you don't know where to start, I suggest you can start from EP118:Does the Mac Pro Make Sense for 3D. They talked about if an expensive Mac Pro is a viable option for 3D artists and motion designers.
EP119:How Do You Stay Motivated During the Winter Blues is also a good episode since you can learn some tips and tricks to help you stay motivated during the cold winter months like now.
Website: https://greyscalegorilla.com/podcast/
---
Sites that offer free and paid motion design materials and courses
Check out: 27 Best Websites to Download Free 3D Model with High Quality
16. LESTERBANKS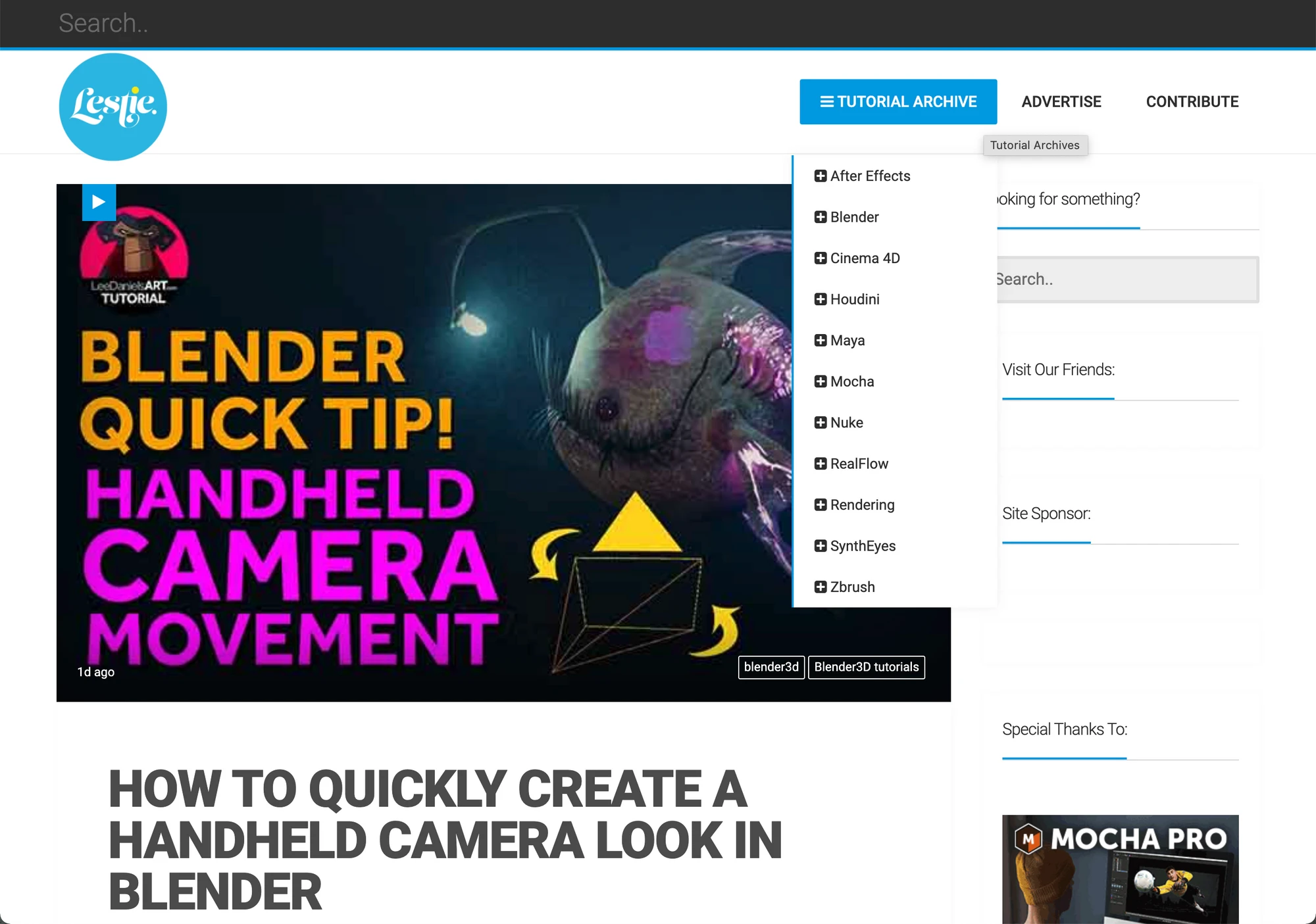 Image from Lesterbanks

LESTERBANKS is meant to be a daily resource for 3D Artists, Motion Designers, VFX Artists, and people who love their craft and love to share techniques and tips.
Website: https://lesterbanks.com/
17. ORDINARY FOLK - PLAY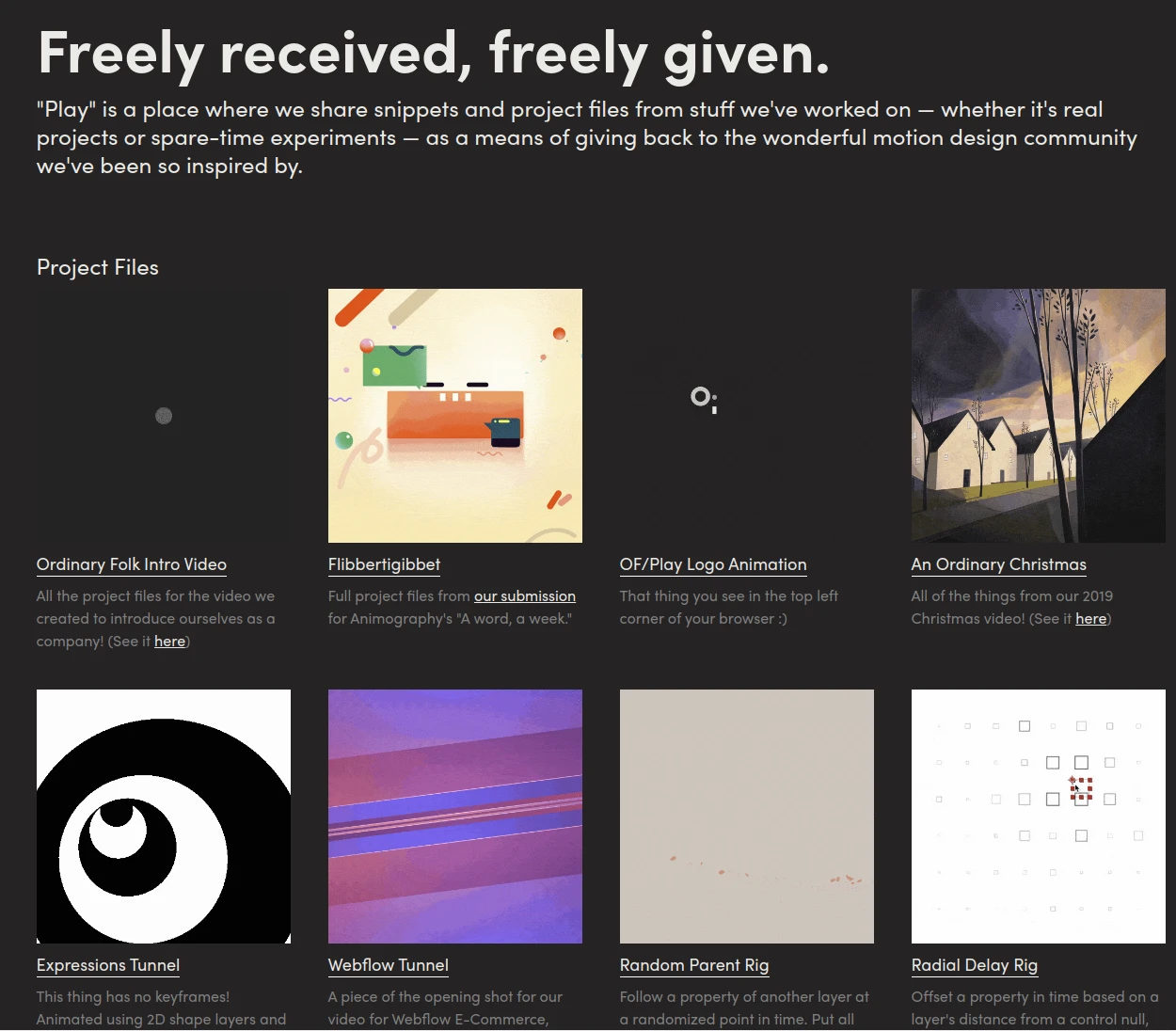 Image from Ordinary Folk

We all have the same experience. We see some great artwork and ask ourselves "how did they create that?", but we can't find out. However, if you could get the files to see which tricks and tips the editor used, you will get inspired immediately.
Ordinary Folk is a motion design and animation studio based in Vancouver. They offer their real projects and spare-time experiments for everyone to download and learn from. You don't always have the chance to get the project files from such a high-end studio, so download them immediately and see how Ordinary Folk can inspire you.
Website: https://www.ordinaryfolk.co/play
18. RocketStock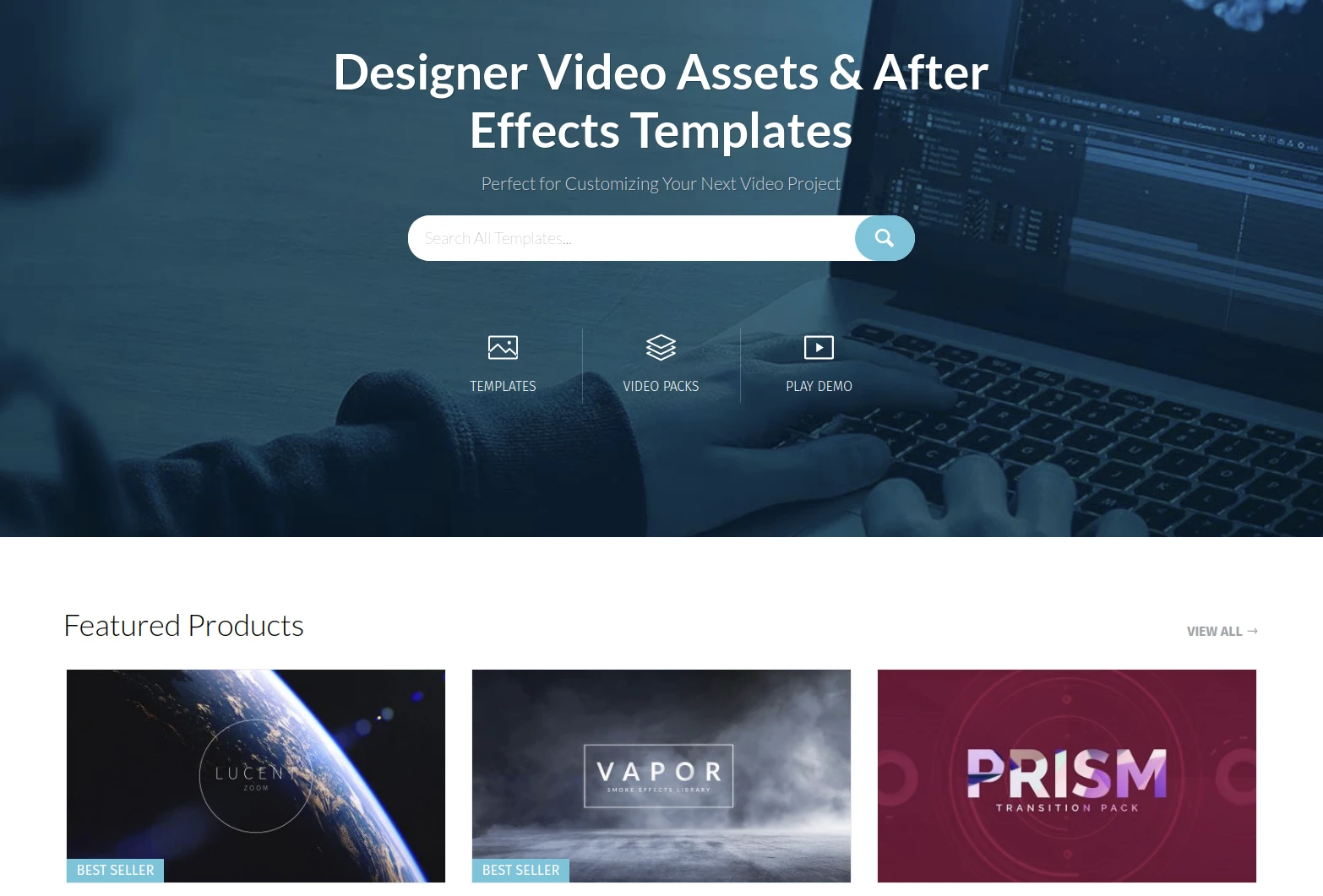 Image from Rocketstock

Rocketstock has a great selection of After Effects templates that can help you get ****new inspiration and techniques. You need to pay for the templates, but you can get a free AE template or motion design assets if you subscribe to their newsletter.
Website: https://www.rocketstock.com/
19. PremiumBeat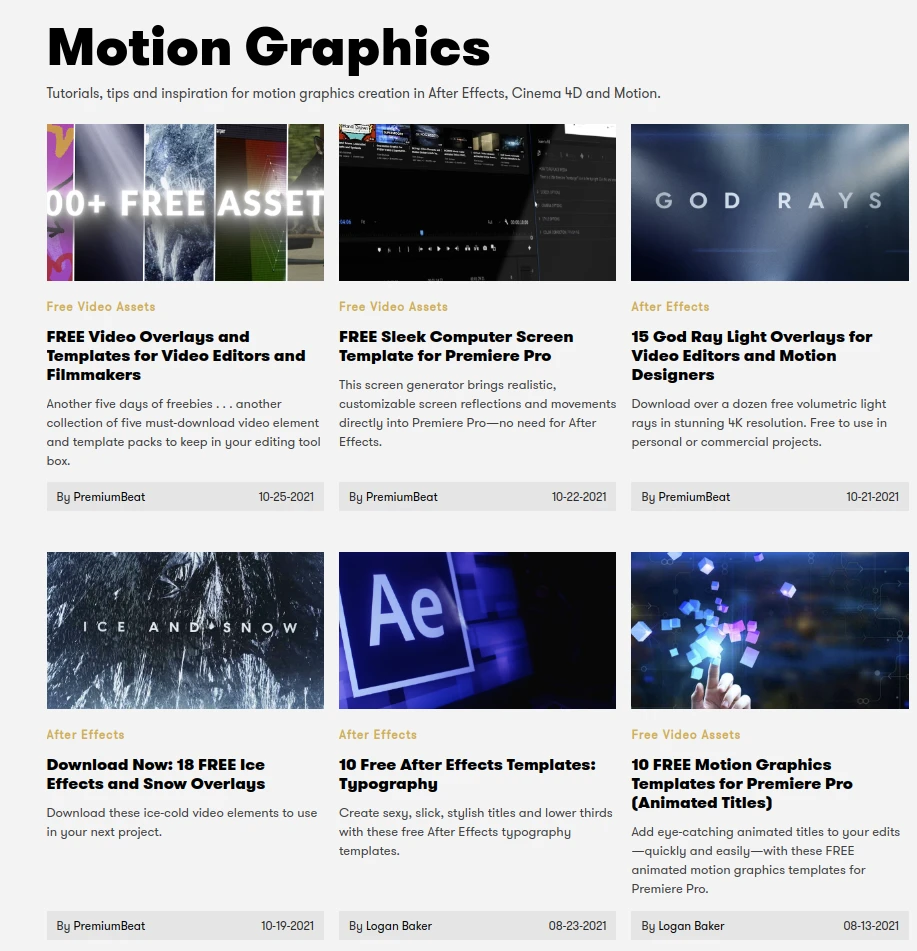 Image from PremiumBeat

There is a "motion graphic" category on the PremiumBeat website. Here, you can find free project files, templates, and tutorials. Premium delivers wonderfully packaged project files for After Effects and Cinema 4D.
Website: https://www.premiumbeat.com/blog/category/motion-graphics-2/
20. Mograph Hub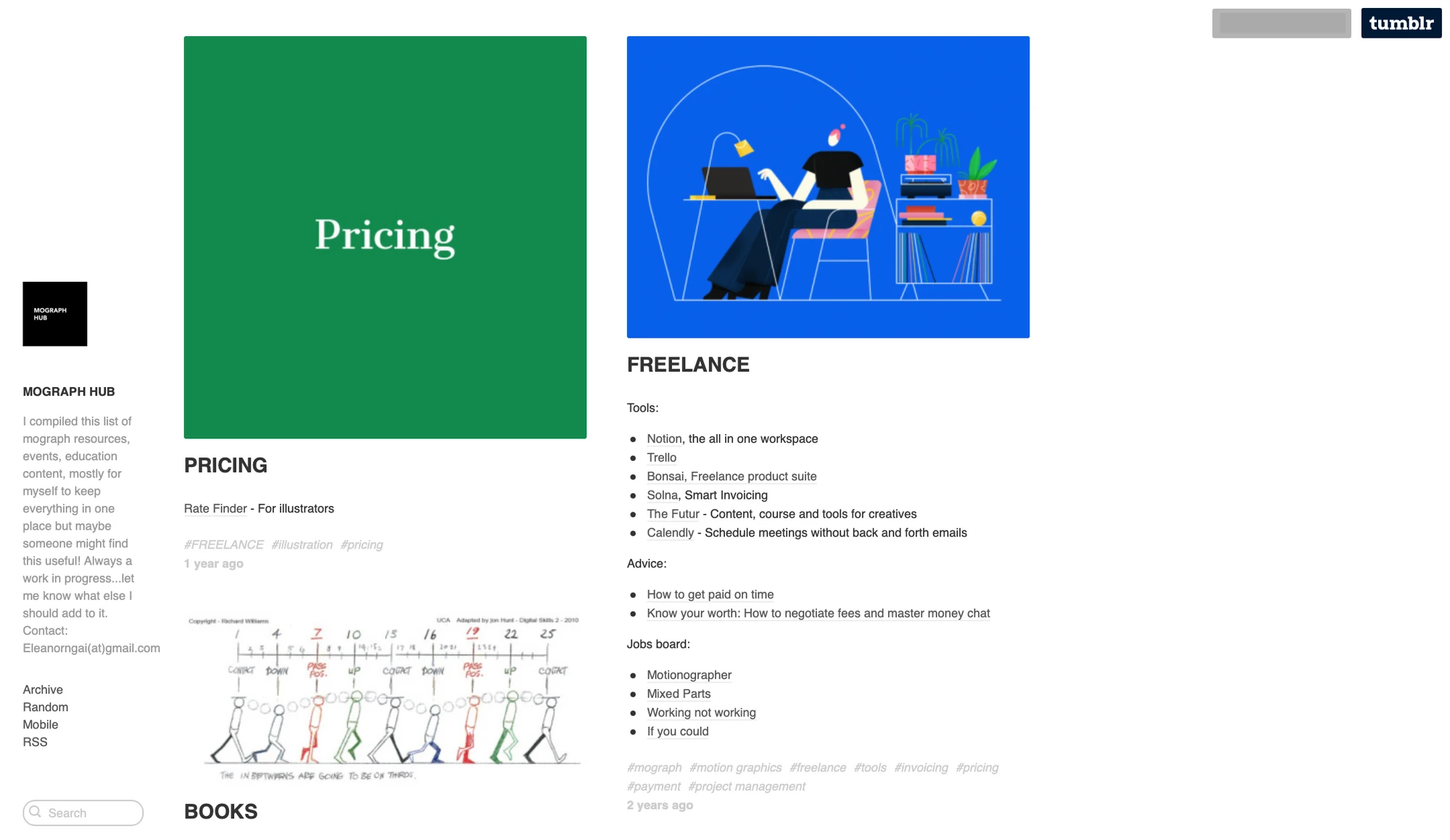 Image from Mograph Hub

Wanting to self-learn? Mograph Hub is a collection of mograph resources, events, education, self-study resources curated by motion graphics designers, etc. Dive into this resources hub right away!
Website: https://mographub.tumblr.com
---
Too many motion graphics and messy desktops? Eagle can help you organize!
Great ideas are never born in a vacuum. When you need a little inspiration booster, there are countless resources online for you. I hope you've found new ideas from the websites on the list. If there are others you adore, feel free to share them with us!
Other than that, if you are looking for a place to organize all your motion design artwork and inspirations, you can try Eagle. It is a powerful digital assets management software especially made for motion designers to organize their design assets. It covers many lovable features that motion designers would use daily such as:
Organize files with tags, folders, smart folders
Visualized bookmark and preview video YouTube / Vimeo bookmark
Easily preview formats like fbx, obj, tga, mp4, tiff, c4d, and more!
Eagle is not just a tool it's a good friend that you can trust to make your daily motion design workflow efficient and better!
Try now: https://en.eagle.cool/download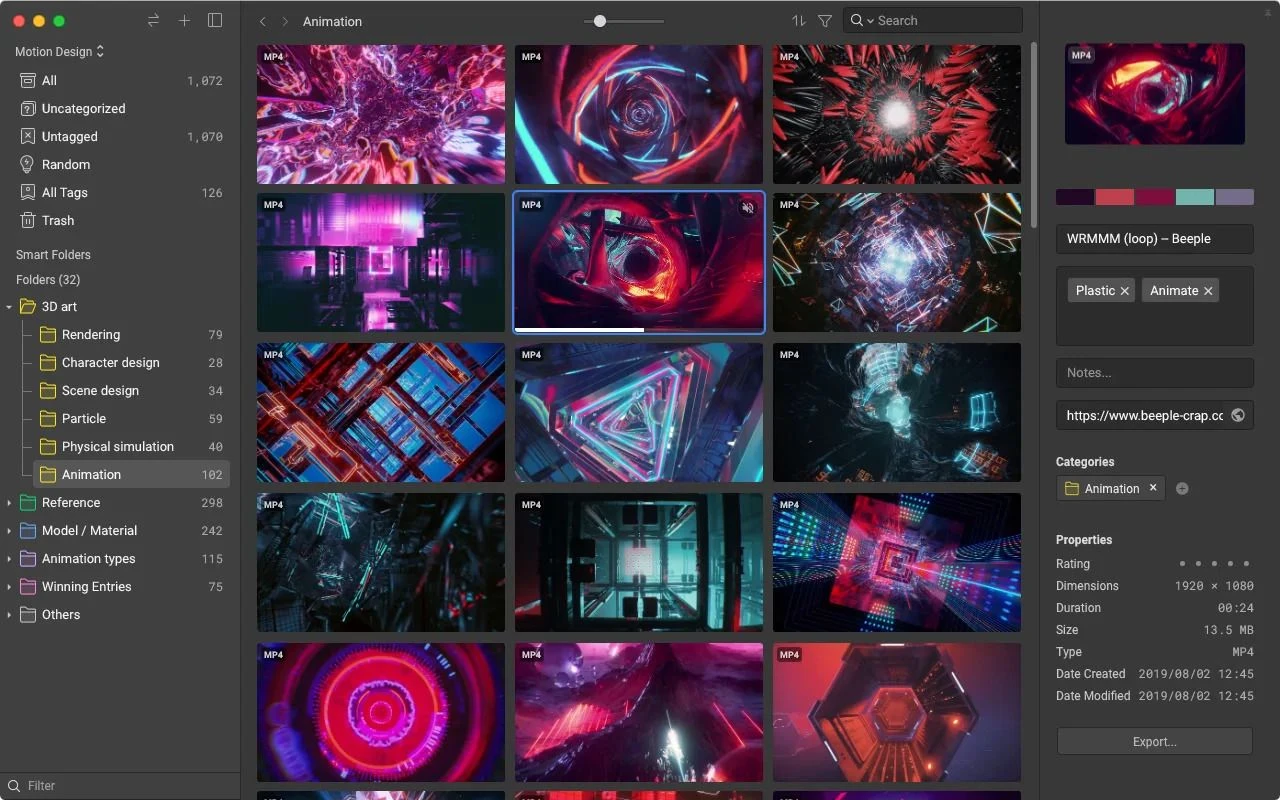 Image from Eagle - motion design management

Lastly, if you are eager to learn more design information and resources, visit and bookmark Eagle blog to become a better creative professional!
If you are still lacking inspiration and incentives to create something new, feel free to dive into Eagle Community to explore stunning assets shared by thousands of designers worldwide. Let Eagle be your best design assistant!