From Chaos to Clarity: Tips for Organizing Motion Design Inspiration
Motion design has become an increasingly popular medium of expression, allowing for the creation of stunning visuals and complex messages. As a result, many artists are looking to organize their motion design inspiration in order to improve their creative process.
Organizing your motion design inspiration can be a difficult task if not done properly; however, with proper strategies in place, it is possible to achieve freedom from distractions while ensuring that all necessary components are accounted for.
The following section will explore various approaches which can help maximize productivity when dealing with motion design ideas and we also will provide tips and tricks on how to effectively manage your motion design ideas, enabling you to develop innovative projects quickly and efficiently.
Understanding Motion Design Inspiration
Motion design is a field of art and technology that combines graphic design, animation, special effects, video editing, sound engineering and other digital media to create dynamic visuals. It can be used for both entertainment purposes as well as educational projects. Motion design has become an increasingly popular medium in the last few years due to its ability to quickly capture attention and communicate complex concepts in a visually engaging way.
Organizing motion design inspiration is essential when beginning any type of project involving this medium. Without proper organization, creative solutions may not be explored fully or efficiently enough to achieve desired results. Knowing how to organize motion design inspiration helps designers stay focused on the task at hand while also allowing them to easily reference past work for future ideas and inspirations.
Additionally, organizing motion design projects allows designers to keep track of deadlines, resources, budgeting needs and other important details needed for successful completion of their tasks. Being able to effectively manage one's motion design inspiration leads to a smoother workflow process with fewer issues arising along the way. This then creates more time for experimentation during production which often leads to better quality output from the designer's efforts.
With the right organizational strategies in place, it becomes easier for professionals within this industry to produce content that stands out amongst competition and meets clients' expectations without sacrificing creativity or originality. To delve into these methods further, let's explore how exactly one can organize their motion design inspiration.
---
How To Organize Your Motion Design Inspiration?
When it comes to organizing motion design inspiration, it can be like a jigsaw puzzle with missing pieces. The key is to break the process down into smaller manageable chunks that will lead you to success in the end.
An anecdote can illustrate this point; imagine trying to find an item in your garage without any prior organization - the task would seem insurmountable and incredibly daunting. In order to make progress on such a challenging project, one must start by breaking it up into smaller tasks.
We have an easy guide for you and if followed correctly, it can result in a good amount of saved time and effort.
Step 1 Use Digital Tools To Your Advantage
The first step in organizing your motion design inspiration is to use digital tools to your advantage. Technology has made it possible for us to easily manage large amounts of data, and this includes our creative resources.
By utilizing these tools effectively, you will have access to all of your motion design inspiration at any time, allowing you to edit and make changes quickly while saving yourself a lot of time and effort overall.
Eagle
Video from Rolando Barry (using Eagle as my 3D design library)
As a motion designer, you're always on the hunt for inspiration to keep your creative juices flowing. But let's face it, with so many sources and ideas out there, it can be hard to keep track of everything. That's where the Eagle app comes in!
Eagle is an awesome tool designed specifically to help you organize and collect inspiration for your motion design projects. The best part is that it's super user-friendly, so you can easily save videos, images, and other visual content from anywhere on the web and store it all in one centralized location.
Not only does Eagle help you stay organized, but it also saves you time and effort by eliminating the need to search through different sources to find the inspiration you need. Plus, it's not just a storage tool - it also has features for creating mood boards and sharing inspiration with team members. This makes collaborating and brainstorming way more efficient and helps bring your vision to life faster.
So, what are the benefits of using Eagle for your motion design work? Well, it streamlines the design process and provides easy access to inspiration, which helps you complete projects faster and generates more creative ideas. And the best part? Eagle has an intuitive interface that makes it super easy to use, so you won't waste any time trying to figure it out.
Here's a table summarizing the key features and benefits of the Eagle app:
| Feature | Advantage |
| --- | --- |
| User-friendly interface | Easy to navigate and use |
| Intuitive features | Saves time and effort |
| Save videos, images, and other visual content | Centralized storage for easy access |
| Mood board creation | Better visualization and organization |
| Inspiration sharing with team members | Improved collaboration and idea sharing |
Overall, the Eagle app is an invaluable resource for motion designers looking to stay organized, productive, and creative in their work. So why not Stay Productive with Eagle!
Dribbble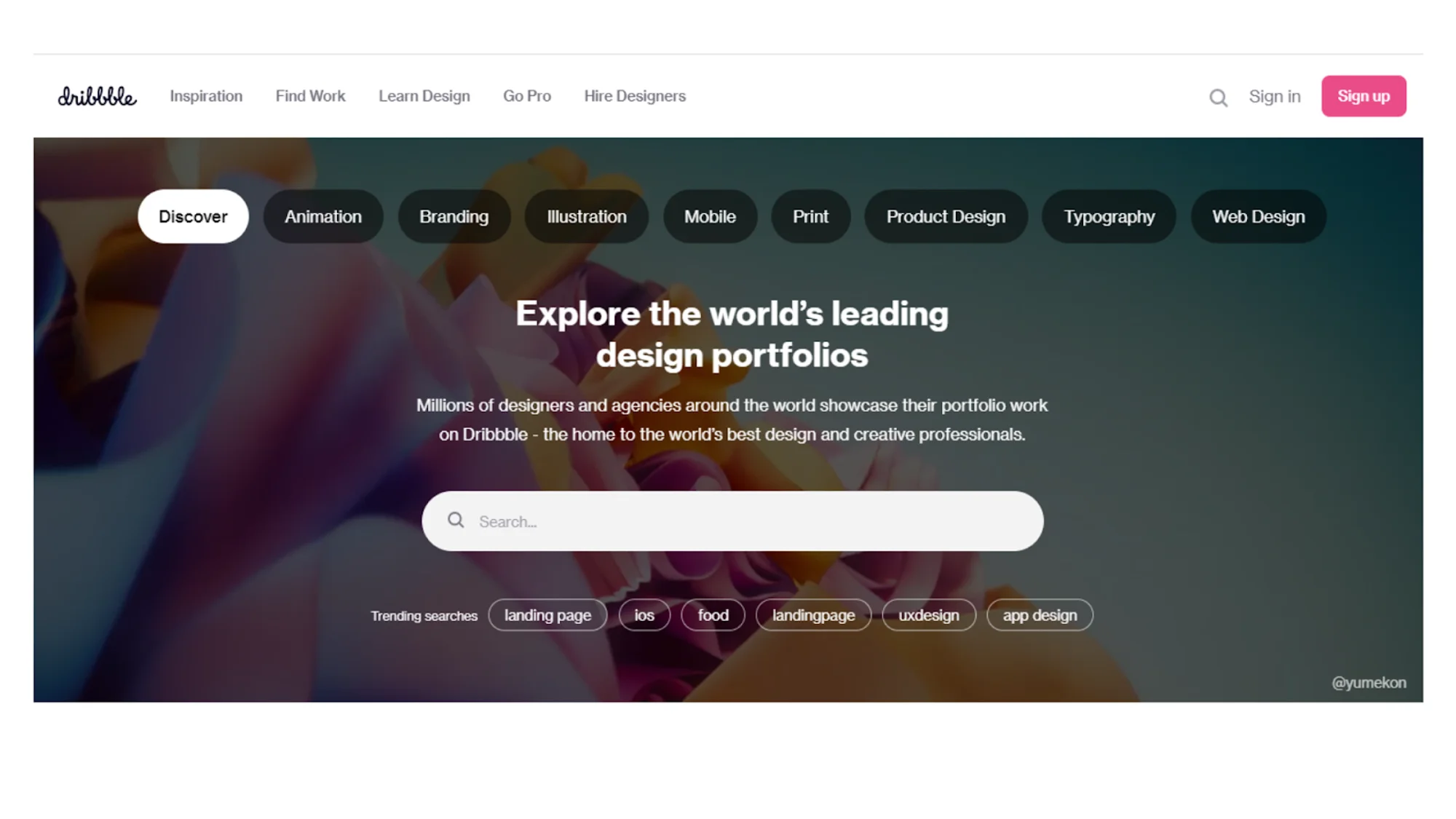 Image from Dribbble
When it comes to organizing motion graphics, Dribbble is a must-have tool for any designer. This online platform provides an excellent way to showcase your work, discover other designers, and collect inspiration for your own projects.
Dribbble is like a virtual art gallery, with millions of designs and creative pieces on display. It offers designers the chance to share their work and receive feedback from other professionals in the field. Moreover, it allows them to build a network of contacts, collaborate with other creatives and stay up to date with the latest design trends.
But beyond just showcasing your work, Dribbble can also be used as a powerful tool for collecting and organizing inspiration. Its "buckets" feature allows designers to categorize and save designs, making it easy to reference them later.
In addition, Dribbble's search feature is incredibly powerful and can help you quickly find exactly what you're looking for. Here's what it offers:
| Feature | Advantage |
| --- | --- |
| Collections | Allows you to save and organize designs you love, which can serve as inspiration for your own work |
| Shots | A place to showcase your own work, get feedback, and discover new design trends |
| Search | An advanced search feature that lets you find inspiration based on specific design elements such as color, style, and layout |
| Tags | Helps you organize your saved designs by adding relevant tags for easy searching and sorting |
| Team accounts | Enables teams to collaborate on projects, share inspiration, and provide feedback to each other |
| Pro subscription | Gives you access to advanced features such as unlimited collections and custom domains for your portfolio |
Muzli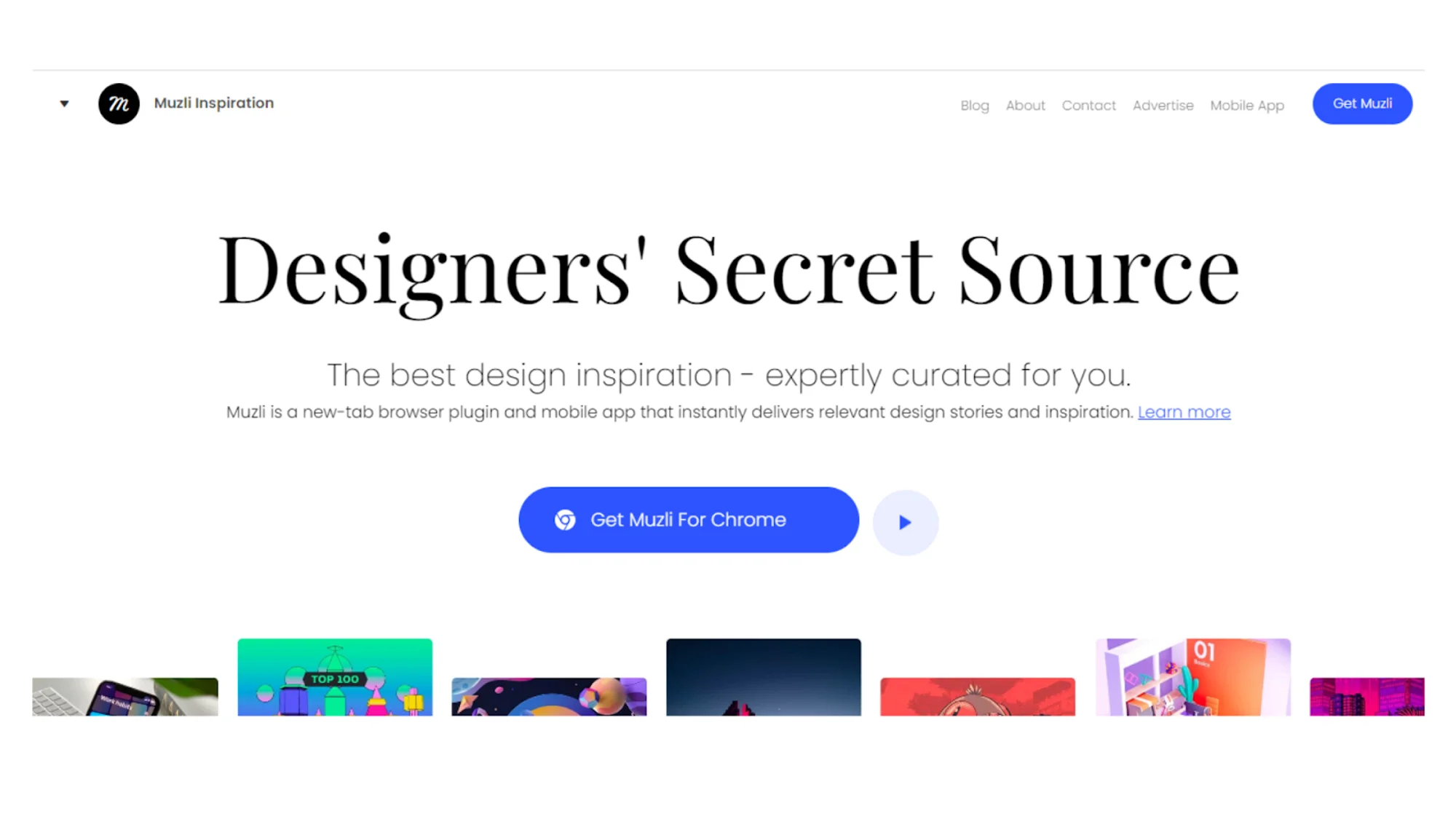 Image from Muzli
Muzli is a cool extension that designers can add to their web browser. It's like having a personal inspiration curator right at your fingertips! The extension offers different categories, like motion design, UI/UX, and graphic design, so you can easily find inspiration for your motion design projects.
What's great is that Muzli lets you save and organize your favorite designs in custom collections, so you can easily find and reference them later. Plus, Muzli Picks is a feature that showcases the best design inspiration from around the web, which is a real time-saver.
The collaboration features on Muzli are another big advantage. You can share your design collections with team members or clients, which makes it super easy to gather feedback and collaborate on projects. This is especially helpful if you're working remotely or have team members in different locations.
But that's not all. Muzli also comes with a bunch of handy tools to enhance your design experience, like a color picker and font recognition. These tools make it easy for you to analyze and replicate elements of your favorite designs. Overall, Muzli is a must-have tool for any designer looking to keep their creativity flowing and stay organized.
To sum it up, here's a table showcasing some of Muzli's key features and advantages:
| Feature | Advantage |
| --- | --- |
| Curated inspiration | Access a curated feed of design inspiration within your web browser |
| Custom collections | Save and organize your favorite designs in custom collections |
| Muzli Picks | Showcase the best design inspiration from around the web |
| Collaboration | Share collections with team members or clients for feedback |
| Handy tools | Use a variety of tools to enhance the design experience |
Niice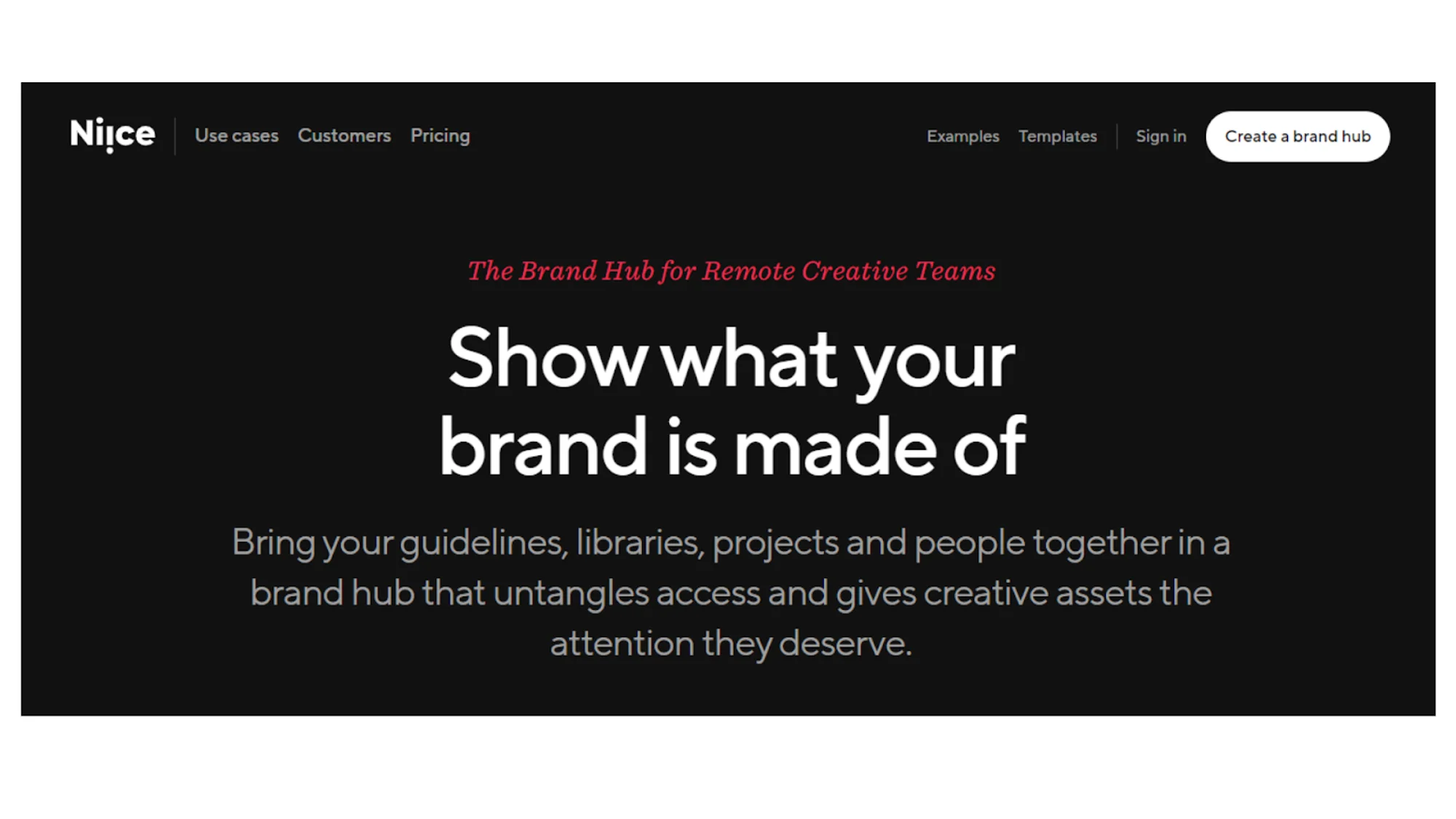 Image from Niice
Niice is this awesome tool that lets you organize all your motion design inspiration in one place. It's like your own personal library of cool ideas that you can access anytime, anywhere. And the best part? You can search for specific keywords, filter by color or style, and save your favorite designs for later.
You don't need to be a tech wizard to figure it out. And with cloud-based storage, you can access your inspiration from any device, at any time. Plus, because it's designed specifically for motion design, you can be sure that the inspiration you find is relevant to your needs.
But the real beauty of Niice is how it inspires you. By organizing your ideas in a meaningful way, you can quickly find the inspiration you need to create your next masterpiece. And there are so many other features that make it a must-have tool for motion designers. For example, you can collaborate with other designers, share your ideas with clients, and create mood boards to help visualize your designs.
And the best part? Since Niice is web-based, you don't need to worry about software updates or compatibility issues. It's always up to date and ready to inspire you.
So yeah, Niice is a game-changer for anyone in motion design. It's got all the powerful features, an intuitive interface, and a focus on inspiration that you need to organize your creative ideas.
Here's a table summarizing some of the key features and advantages of Niice:
| Feature | Advantage |
| --- | --- |
| Cloud-based storage | Access your inspiration from anywhere, at any time |
| Intuitive interface | Focus on the creative process instead of technical details |
| Search and filter options | Quickly find the inspiration you need |
| Collaboration tools | Work with other designers and share your ideas |
| Mood board creation | Visualize your designs and share them with clients |
Behance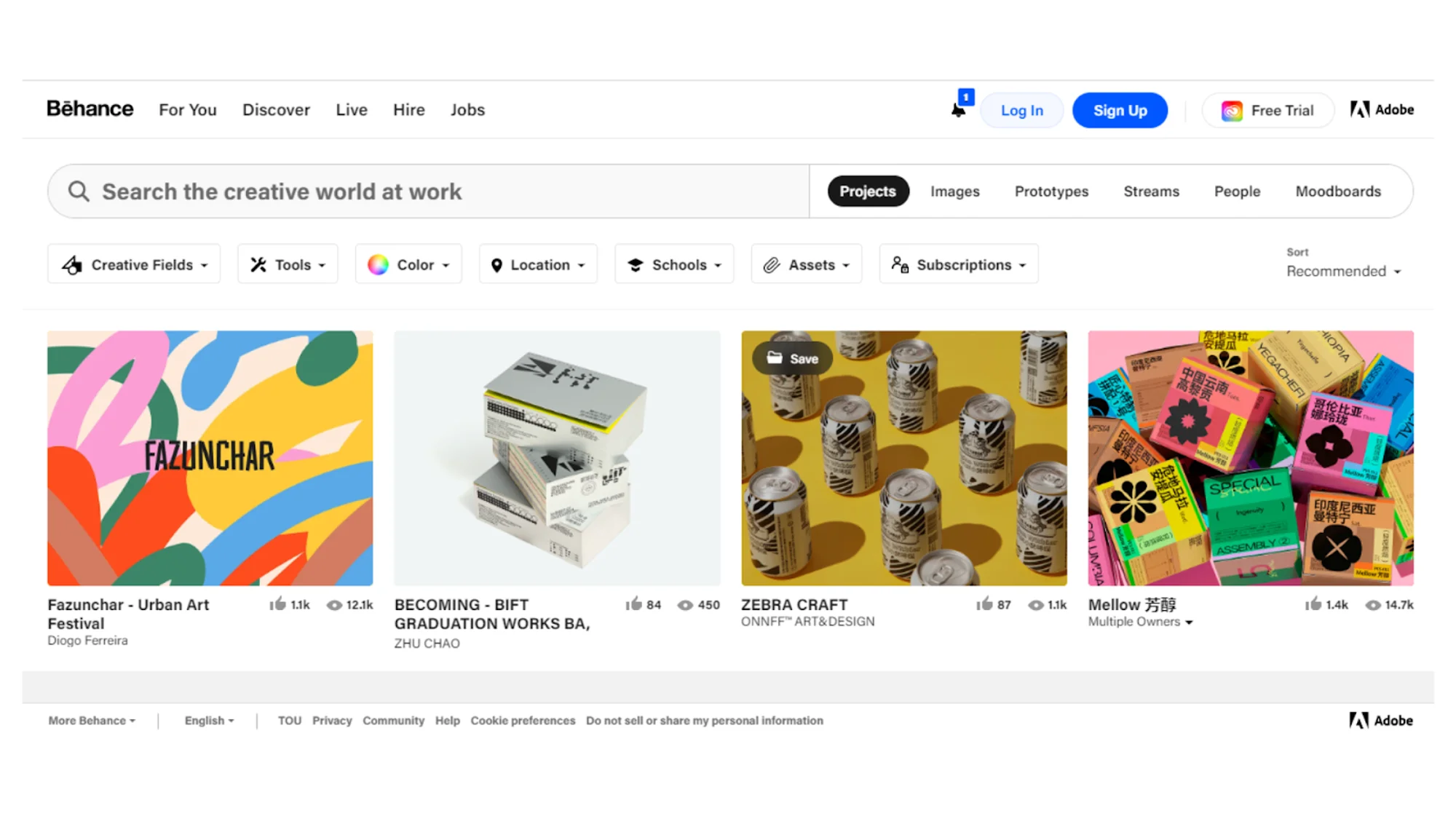 Image from Behance
Behance is a fantastic platform that lets you showcase and organize your creative work while discovering the amazing creations of other talented artists. As a motion designer, Behance is a must-have tool to keep all your design inspiration in one place. Think of it as a huge library of ideas just waiting for you to explore.
The best part about Behance is its vast community of creatives. With millions of users worldwide, you have access to a tremendous range of designs, styles, and genres. You can easily search for specific keywords, filter by different categories, and find the exact inspiration you're looking for.
But Behance is more than just a source of inspiration. It's also an incredible tool for organizing and showcasing your own work. You can create your portfolio and display your designs to potential clients and employers. The user-friendly interface and intuitive tools make it easy to upload, edit, and update your work.
The social aspect of Behance is another great feature. You can connect with other designers, share your work, and receive feedback and inspiration from your peers. It's like being part of a community of creative individuals who are all passionate about pushing the boundaries of motion design.
Behance is also a game-changer when it comes to collaboration. You can easily collaborate with other designers, share your work with clients, and receive real-time feedback on your designs. It's like having a virtual workspace where you can collaborate with anyone, anywhere in the world.
Here's what you stand to gain:
| Feature | Advantage |
| --- | --- |
| Massive community of creatives | Access to a wide range of designs |
| Powerful search and filter tools | Easy to find the exact inspiration needed |
| Portfolio creation and sharing | Showcase your own work to potential clients |
| Collaboration and feedback tools | Easily collaborate with others |
| Social features | Connect with other designers and get feedback |
Let's move on to other important steps to consider.
Step 2 Group Your Motion Design Inspiration By Theme Or Project
Organizing motion design inspiration into meaningful categories is a great way to keep ideas in order and ensure that relevant resources can be found quickly. Grouping content by theme or project helps streamline the creative process, as related pieces of content are easy to find when needed.
This technique also allows for greater flexibility when brainstorming new concepts, since all relevant material will already be compiled. The grouping method depends on personal preference and the type of work being done; some designers prefer a broad approach with few categories, while others use detailed subcategories within each group.
If starting from scratch, it's helpful to create different folders for basic elements like typography, iconography, animation techniques, color palettes, etc. Once these main themes have been established, more specific subgroups can then be created based on individual projects or other common denominators.
Having an organized system in place makes it simple to access old designs or reference materials without wasting time searching through large amounts of data. Keeping everything tidy encourages creativity by eliminating clutter and allowing easier navigation between topics.
With well-structured groups at hand, designers can easily jump around their collections to come up with fresh perspectives and inspiring combinations–allowing them to unlock their full potential as digital creators. Moving onto the next step: making sure your inspiration stays accessible no matter where you go…
Looking for some inspiration for your next motion design project? Explore these top websites for motion design inspiration today!
Step 3 Keep Your Inspiration Accessible
In order to ensure that your motion design inspiration is accessible and ready for use whenever needed, it is essential to create a system of organization.
A great way to make sure you can easily access the ideas you have collected is by keeping them stored in one or more digital libraries. This will give you the ability to quickly search through everything from footage clips and sound samples to 3D models, brushes, textures, fonts, and other assets.
The digital library also serves as an effective backup system since all of your ideas are securely stored on a cloud server or external hard drive. Storing multiple copies of your files ensures that even if something were to happen with one version, there would still be another copy available.
Additionally, organizing files into folders based on project type makes this process much easier when needing to recall specific elements at a later date. Having quick access means less time spent searching for materials and more time creating projects.
To maintain easy navigation within the library structure, it's important not only to label each file correctly but also keep up-to-date versions so nothing gets lost during editing sessions and revisions. Taking these steps allows creative minds the freedom they need while having confidence in their workflows.
Ready to streamline your video workflow? Check out our top picks for video asset management software!
Step 4 Constantly Backing Up Your Videos In A Secure Place
Having your motion design inspiration backed up in a secure place is an essential part of ensuring its longevity and availability. This helps to mitigate any potential losses due to data failure, as well as preventing unauthorized access or misuse. It also allows for easy retrieval when needed.
Storing backups on physical media such as hard drives or optical discs provides the most security against data loss from accidental deletion, computer viruses, software corruption, etc.
Additionally, backing up online provides convenience and accessibility at the risk of privacy and security issues like hacking and cyber-attacks. As such, it is important to ensure that all passwords are kept strong whilst choosing cloud services with robust encryption protocols for added protection.
The best approach would be to use both offline and online backup methods together; creating multiple versions across different platforms will provide peace of mind knowing that no matter what happens, you have copies stored securely in various places.
Transform your chaotic photo library into an organized masterpiece with the help of these top-rated photo organizing software tools.
---
FAQs
1. What is the best practice for organizing my motion design inspiration?
The best practice for organizing your motion design inspiration is to use a system that works for you. There are many tools and platforms available, such as Eagle, Dribbble, Niice, Behance and Muzli that can help you organize and store your ideas.
It's important to have a clear and consistent system in place, such as using tags or categories, to make it easy to find what you need when you need it. Additionally, regularly reviewing and updating your inspiration library can help ensure that it stays relevant and useful.
2. What mistakes should I avoid to stay organized?
One of the biggest mistakes to avoid when organizing your motion design inspiration is not having a clear system in place. This can lead to a disorganized and cluttered library of ideas that is difficult to navigate. It's also important to avoid hoarding too many ideas and not regularly reviewing and culling your collection.
This can make it overwhelming to find what you need and can lead to a lack of focus in your design work. Finally, it's important to make sure that you backup your inspiration library regularly to avoid losing your work in case of a technical issue.
---
Conclusion
Motion design is an ever-evolving field that requires a lot of creative inspiration to stay ahead. Keeping organized and up-to-date on new trends and techniques can be overwhelming, but it doesn't have to be.
By utilizing digital tools, grouping your motion design inspiration by theme or project, keeping them accessible, and backing them up in a secure place, organizing inspiration becomes much easier. When done right, you'll have the latest ideas at your fingertips when you need them most.
If you want to take your organization skills to the next level, be sure to check out Eagle. With its powerful features and intuitive interface, Eagle is the ultimate tool for organizing your motion design inspiration. Get to know Eagle and revolutionize the way you work today.