Ultimate Guide for Interior Designers: 30+ Tools You Must-have
One must have good tools to do a good job, and that makes no exceptions for interior designers. They are the roles between imagination, creativity, and customer service, a long process toward top-notch results in which relying on certain software is crucial to remain composed.
In this article, you can find the following 31 tools covering the needs of gathering design inspiration, swapping home design plans, finding the right material and texture, staying organized, and more.
Inspiration Tools
Home Design Software
Floor Planning Tools
CAD Software
Project Management Tools
Others for Interior Designer's Daily Uses
Roll up your sleeves and read on!
Read Also: Interior Design vs Interior Decoration: Definition, Tips, and Resources
---
5 Top Inspiration Tools You Need As An Interior Designer
Frankly speaking, as a designer, it is so natural for us to look for inspiration daily and every great design comes with inspiration. But it won't be easy if all the inspiration references are cluttered, hence, here are the 5 tools to get you organized when jogging your memories.
1. Eagle - Easily Organize & Browse your Interior Design Assets
[Paid, with 30-day free trial]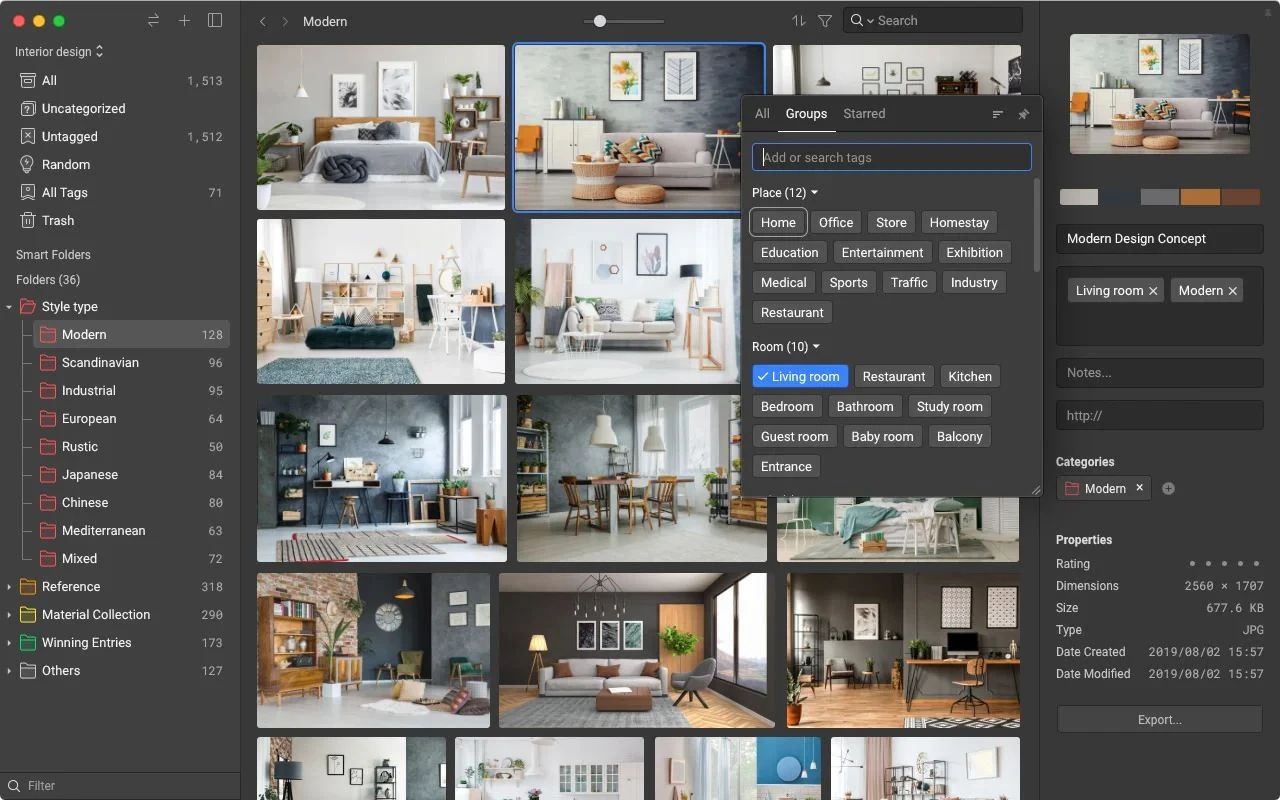 Image from Eagle

One step before you start collecting more interior design inspiration, check out Eagle App! Eagle is an on-premise software for anyone who works with any kind of digital materials, it lets you create a media and inspiration library, then organize and browse it easily using filters, categories and even with colors!
Eagle provides the quickest way to help you collect design references with just one click or a simple drag and drop, then stunning images, videos, gifs, and elements for home planning can be downloaded and organized!
Operating System: macOS & Windows, extension (Chrome, Edge, Firefox, Safari)
Pricing:
Free 30-day trial, no subscriptions, no additional fees for updates
One license US$29.95 can pair with 2 devices (Mac or Windows)
30% off Educational discount
[Freemium; Free with in-app purchases]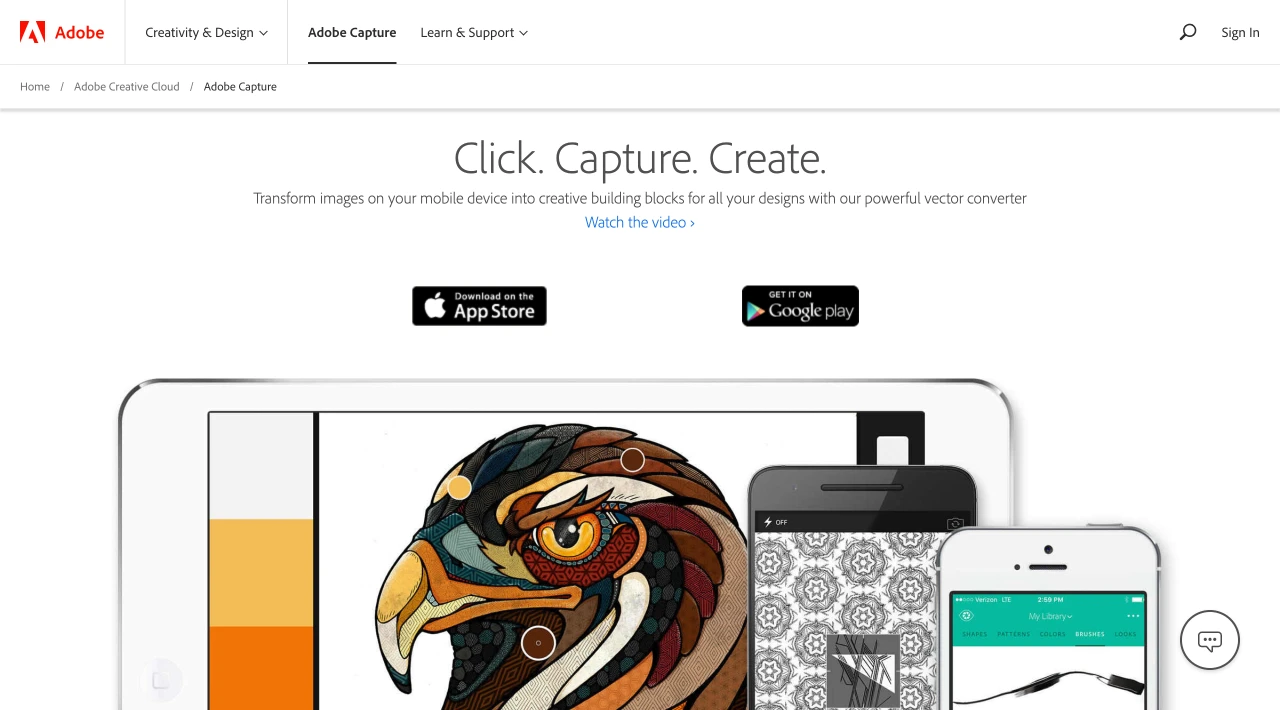 Image from Adobe Capture

Adobe Capture is a desktop and mobile app to help you inspire in colors with its transformation tool. Images can be transformed into color themes, materials, customizable palettes, textures, or even replicate shapes and fonts. If you are already a Creative Cloud stan, then Capture is your next must-try to open a whole new world.
Operating System: iOS, Android
Pricing:
Free: 2GB complimentary storage
US$1.99/mo: additional 20GB of storage
[Free]
Image from Pinterest
Pinterest is one of the best social sites to optimize and share visual content, you can enter "industrial style" in the search bar, and it will show all the content related to interior style and inspirations, furthermore, you can narrow down the scope by entering more keywords such as the bedroom or living room to find the best references.
Operating System: Web, iOS, Android
Pricing: Free
[Free]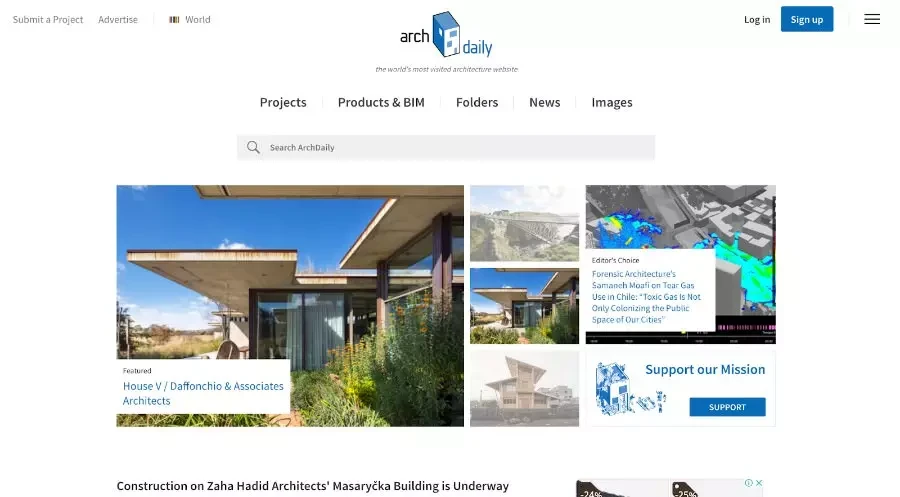 Image from Archdaily

ArchDaily provides not only architecture ideas but also interior design ideas, there are different types of spaces, such as fast-food restaurants, clinics, pharmacies, coffee shops, etc.
Operating System: Web
Pricing: Free
[Free]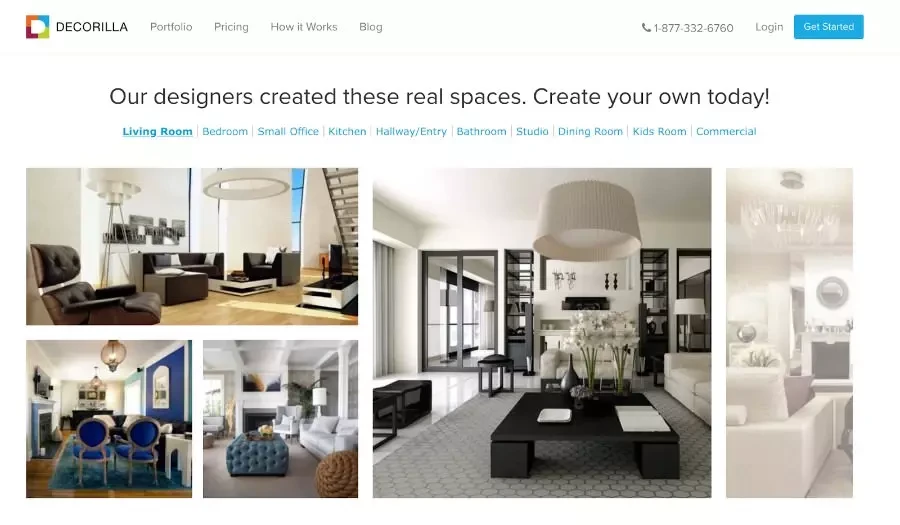 Image from Decorilla

Decorilla is a website that provides various interior style design inspirations for houses. What's different is that Decorilla provides before and after images that could help get more interior design inspiration and ideas. If you are interested in a certain type of interior design, you could also ask for a consultation from Decorilla.
Operating System: Web
Pricing: Free
More tools to capture interior design inspiration >> Check out here
---
7 Essential Home Design Software You Must Try
To design more efficiently, you should try home design software with built-in plans that support you to create precise layouts and furnish rooms quickly and intuitively. Recommended to professional interior designers, amateurs, or even someone longing for designing your dream house!
[Free and paid]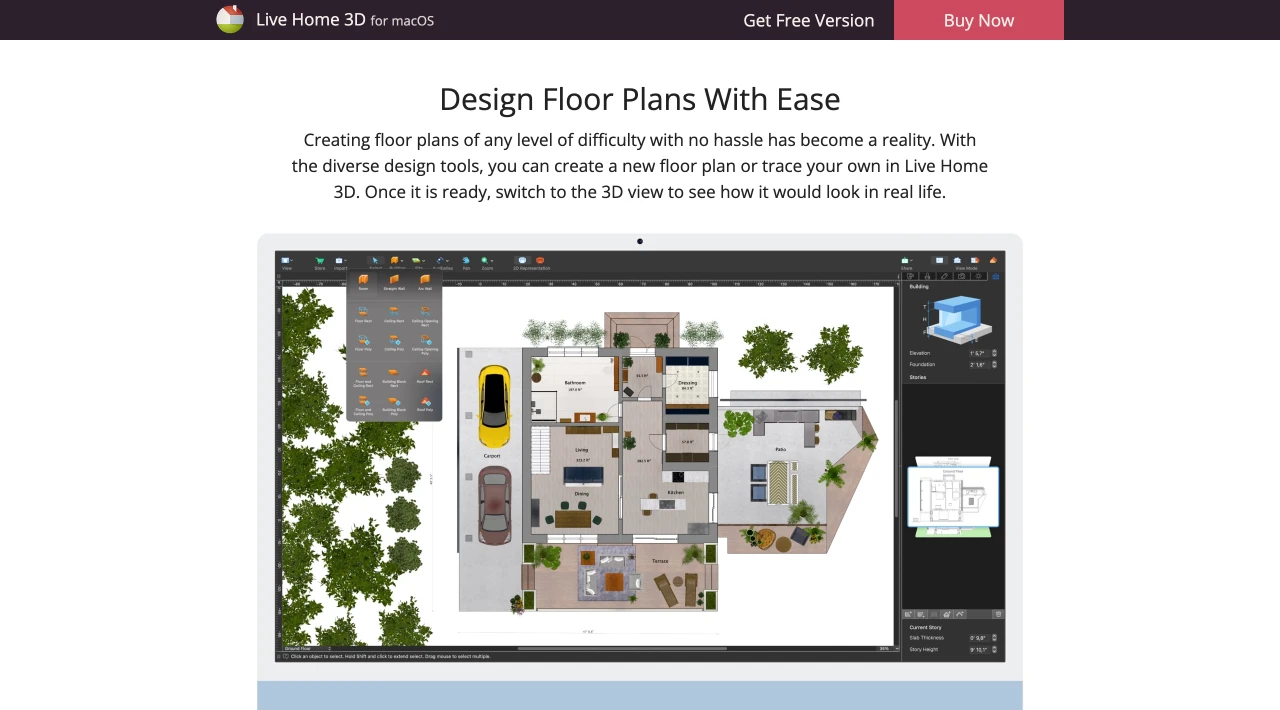 Image from Live Home 3D Pro

With Live Home 3D Pro, you can build design floor plans effortlessly. It automates your 2D sketches into 3D models and you can view them at once with its split mode. There is also an advanced suite of drawing tools, materials, furnishings, lighting editors, and even a video walk-through to help you decide the positioning of the home design.
Operating System: iOS, Android, macOS, Windows
Pricing:
Free: Standard for Windows, iOS, iPadOS
US$29.99: Standard for Mac
US$49.99: Pro
[Free and paid]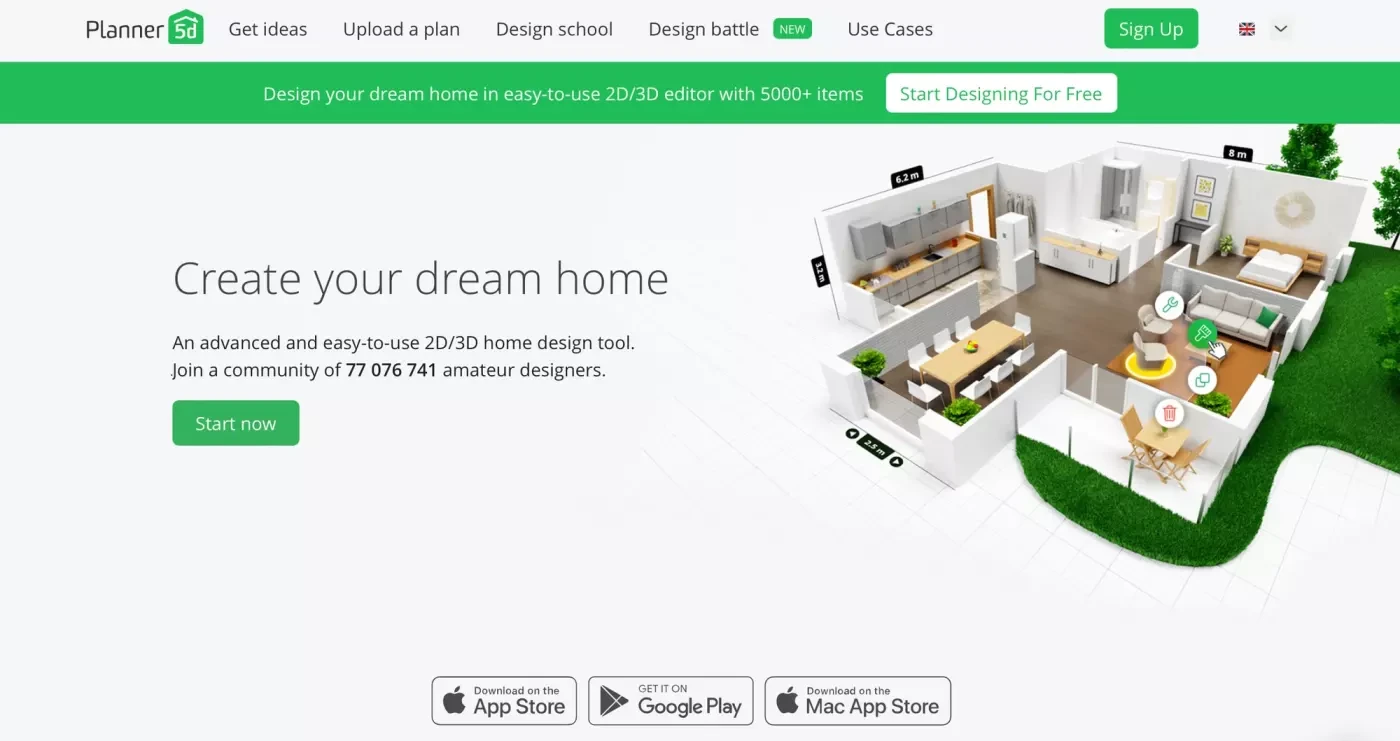 Image from Planner 5D

Planner 5D might be the best-looking home design tool. Like the free version of Sketch Up, this tool is immersive, which means you can explore your design with your feet virtually on the ground.
With Planner 5D, you'll be able to start from scratch or use a template that is perfect for throwing together a quick floor plan, which saves you a lot of time. What's especially great about this software is that it works on iOS that you can create plans on your phone or iPad while you're on the move.
Getting started couldn't be easier. It is also equipped with drag-and-drop functions. You can easily build and move walls, and high-resolution items, and pick the building materials, colors, and sizes of those items. The only downside is that if you want to use the in-app furniture, it can get expensive for anything other than the most basic beds, chairs, or sofas.
Operating System: Web, macOS, Windows, Android, iOS
Pricing:
[Free and paid]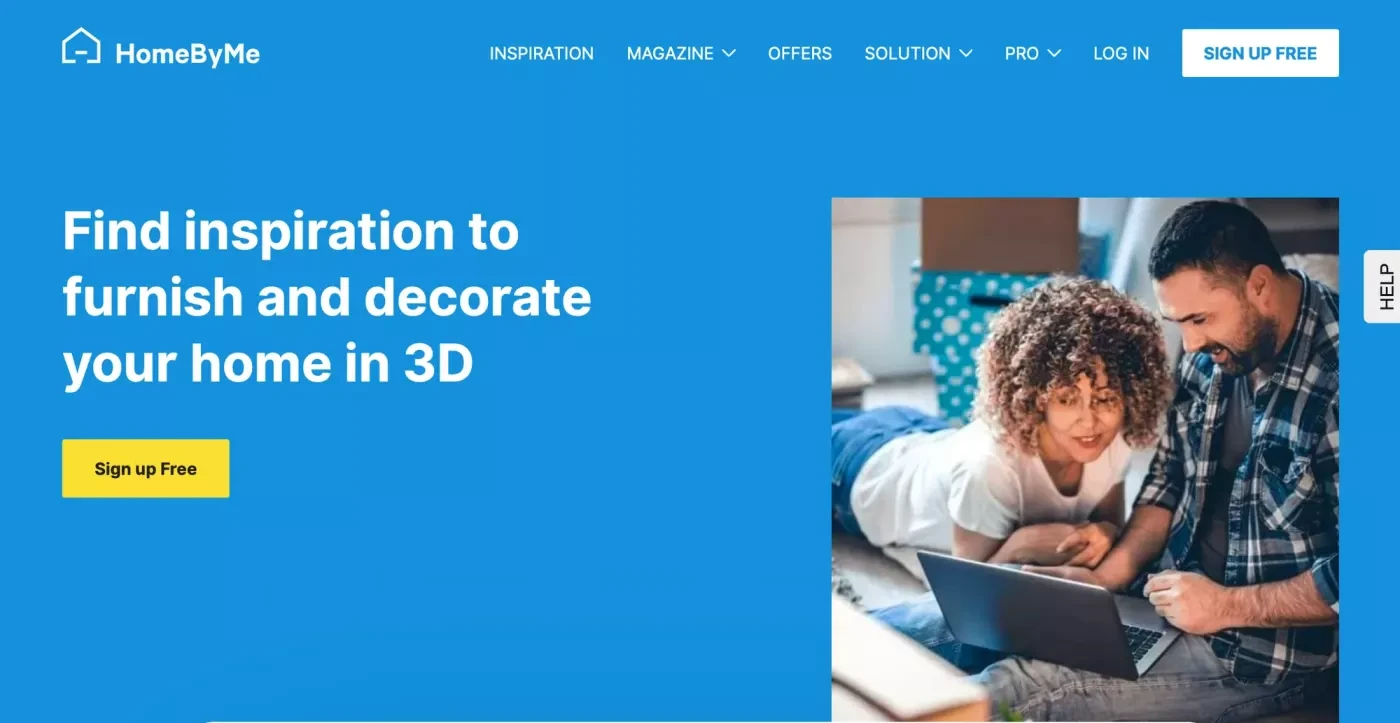 Image from HomeByMe

HomeByMe is an online room planner allowing you to create your floor plans in 2D and furnish your home in 3D while expressing your decoration style. The way it works, is brands add their products to their catalog, which means you can have access to the actual furniture and decorations you used to create your space imaginatively!
Operating System: Web, iOS, Android, macOS
Pricing:
Starter Plan: free
Premium: US$26/mo
Unlimited Plan: US$56/mo
[Free]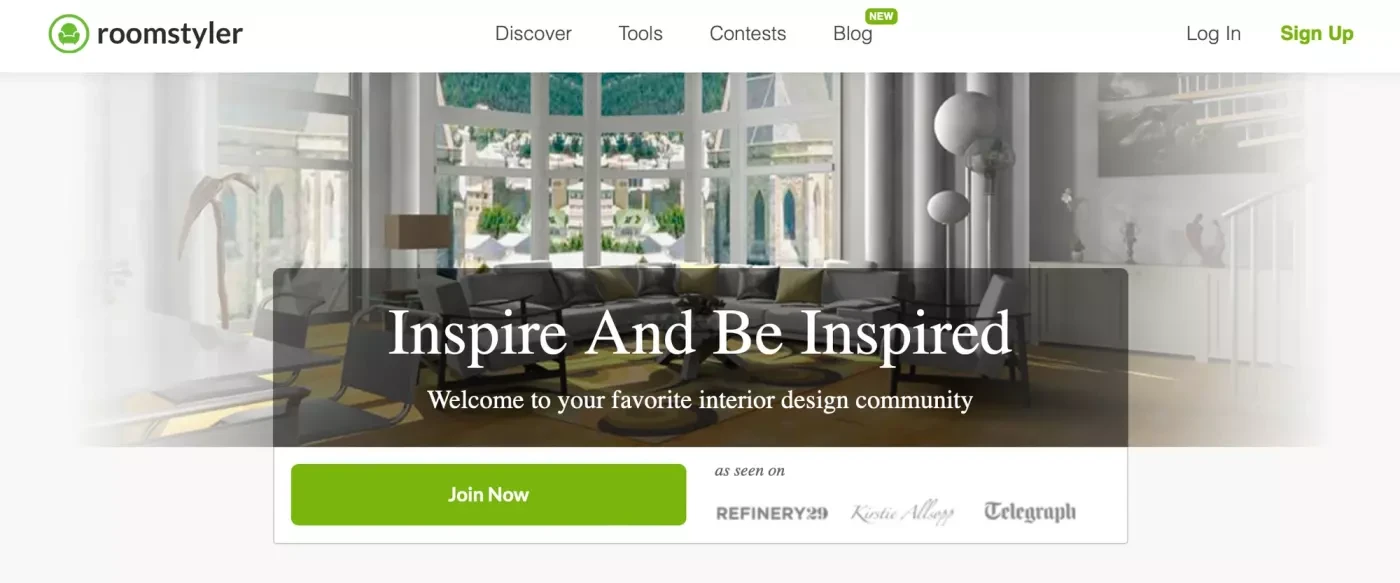 Image from Roomstyler

Roomstyler is a very intuitive app that you can pick up and master relatively easily as an interior designer. There's also a good playlist of tutorial videos for every question you might have about the tool.
The greatest part of this software is that you can create a customized room in a matter of minutes. This app also allows you to furnish your space using products from real brands, meaning you can more easily imagine how certain appliances you plan to buy will look in your new home. Most important of all, you can feel free to switch between 2D and 3D to get instant results!
Operating System: Web, macOS, Windows, Android, iOS
Pricing: free
[Free]
Image from IKEA

As one of the most internationally recognized furniture stores, this Swedish company IKEA offers planning tools online that cover kitchens, wardrobes, living rooms, and offices. You can easily create your floor plan and choose from a wide variety of furniture and decor options available in the store's gallery.
With this tool, you can calculate the overall cost of your projected design, print out your list and then take it to your local Ikea store or simply purchase them right at its online store.
Operating System: Web
Pricing: free
[Free]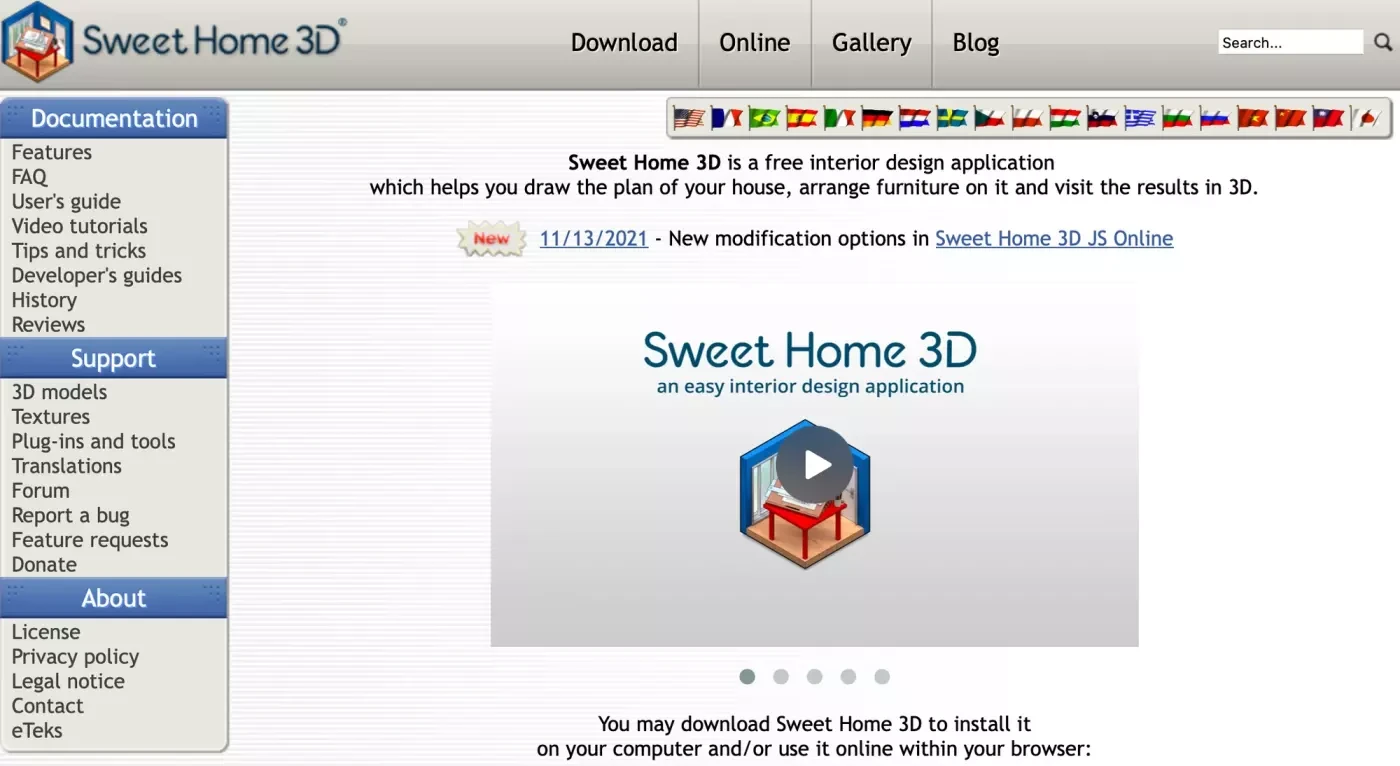 Image from Sweet Home 3D

Sweet Home 3D is a free and open-source interior design software that offers the drag-and-drop functionality to insert furniture items from categories like bedrooms, kitchens, bathrooms, and so on. Users can draw irregular walls, such as sloping or round ones, and design in both 2D and 3D views. What's more, you can even add more features through additional coding or simple plugins to help you create an eye-catching interior design!
Operating System: Web, Windows, macOS, Linux and Solaris
Pricing: Free
[Free and paid]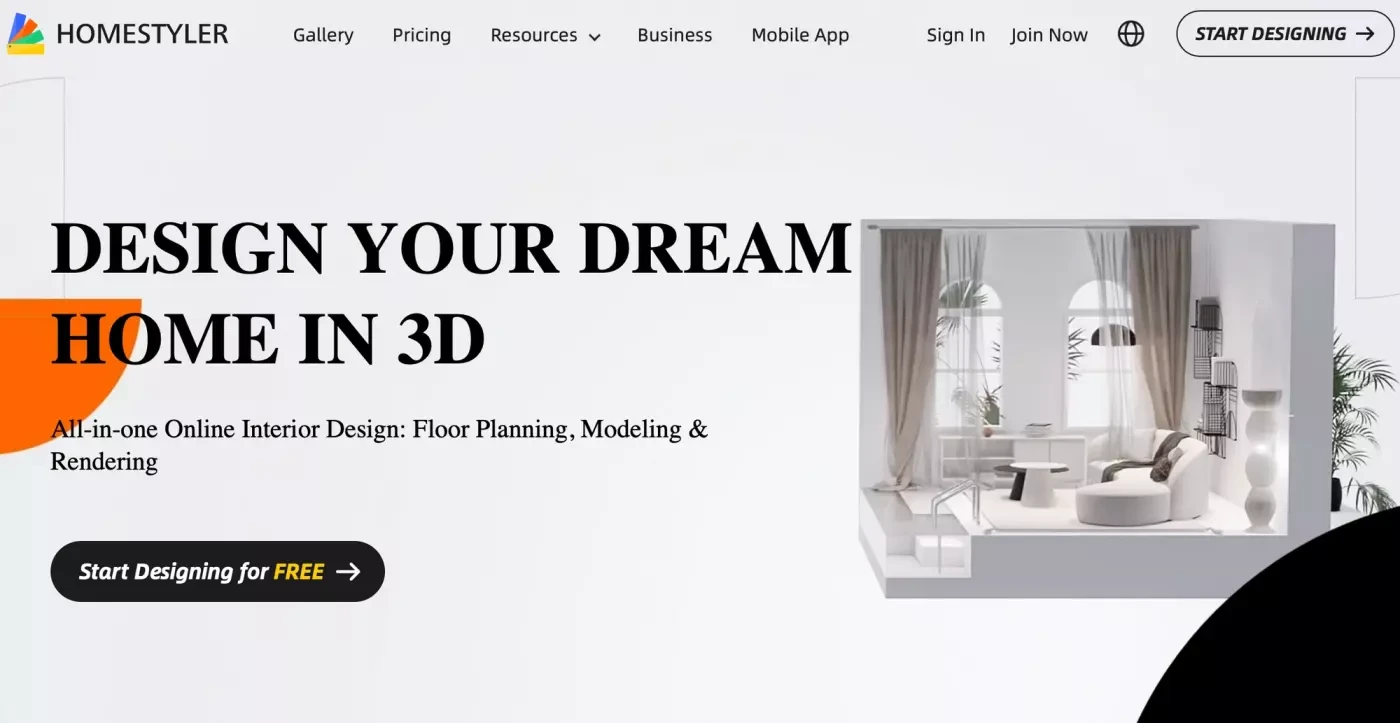 Image from Homestyler

Homestyler is a user-friendly app originally created by Autodesk, and now it is owned by Easyhome. It isn't a professional design software like AutoCAD, instead, it was created exclusively for interior design needs. You can easily make floor plans and angled walls, or place numerous objects. It is regarded as one of the best free interior design software choices for all-around utility.
Operating System: macOS, iOS, Android
Pricing:
Basic: free
Pro: US$4.9/mo
Master: US$9.9/mo
---
The 4 Floor Planning Tools Interior Designers Must-Have
It is said that to create 2D blueprints and 3D interior images rapidly and precisely, a floor planning tool comes in handy. By using one, you can craft visually-stunning floor plans like a pro and help your clients imagine what might come to life for their dream homes and rooms!
[Free and paid]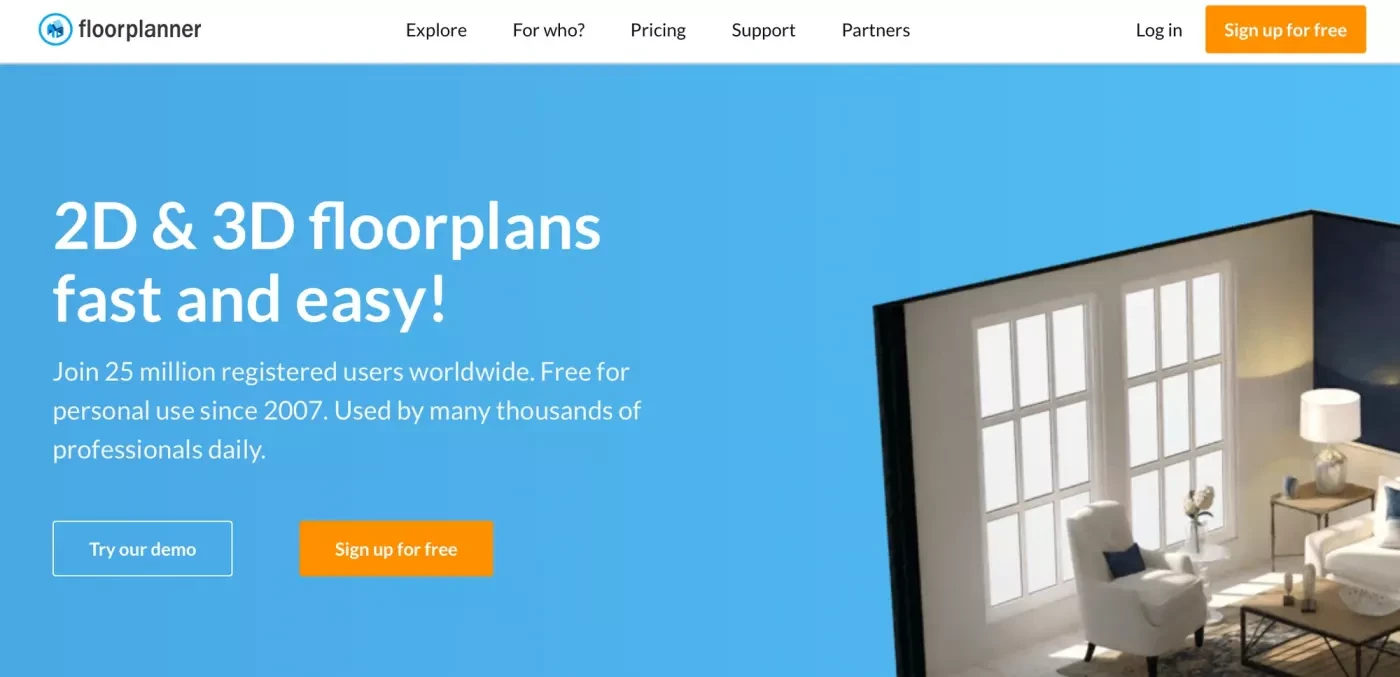 Image from Floorplanner

Floorplanner is a free online tool that you can design and decorate your space without having to download any software. As the name suggests, the core strength of this software lies within its excellent feature as a floor plan software. Besides, when the floor plan is completed, you can easily switch views and decorate the space in both 2D and 3D modes.
It's simple to use and easy to get the hang of, so if you're after something that doesn't require a steep learning curve, Floorplanner is a good choice for you!
Operating System: Web
Pricing:
Basic: free
Plus: €4/mo
Pro: €24/mo
[Paid, with 7-day free trial]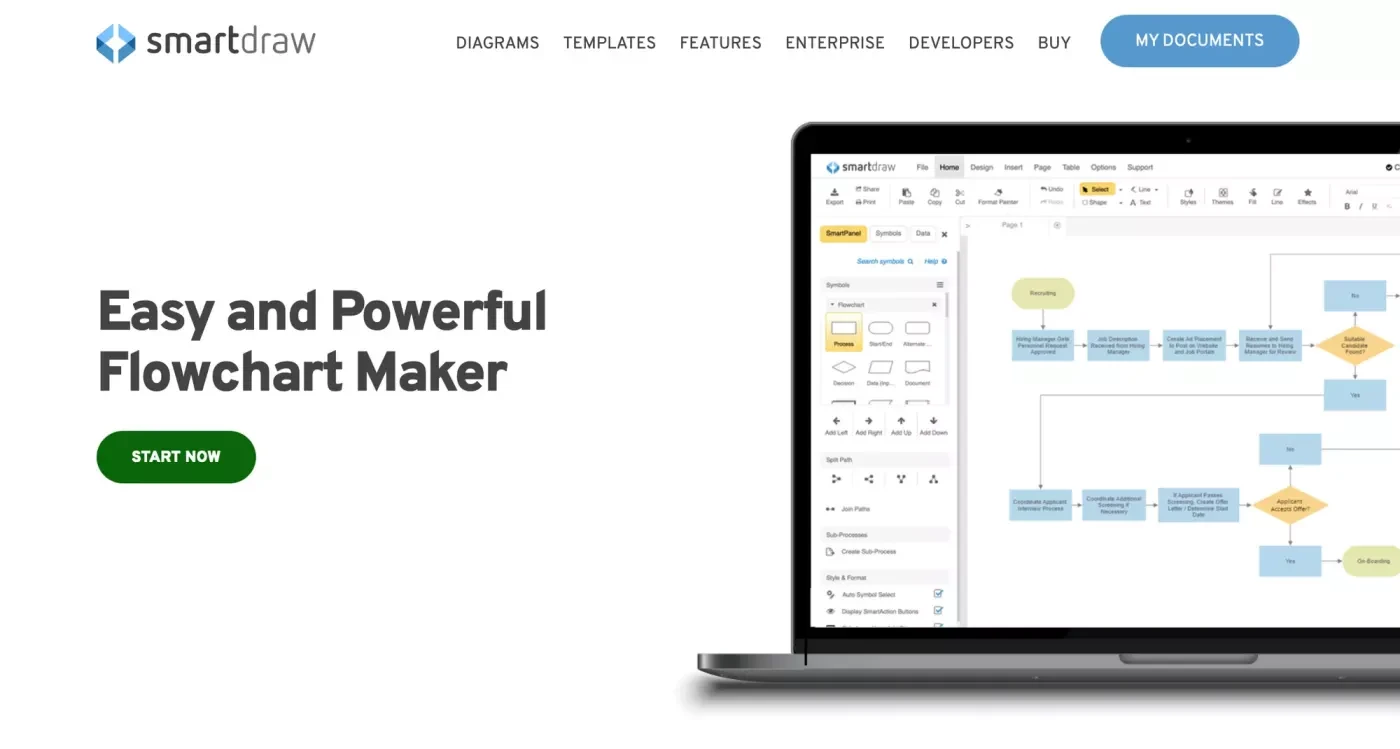 Image from SmartDraw

SmartDraw is a powerful floor planning software, also the best one for 2D drawing. It is easy to use for beginners but also advanced enough for more experienced interior designers. Users can begin with templates that can be customized quickly and easily. On top of that, it also makes sharing easy so users can collaborate on projects or share ideas.
The only downside to this tool is that it's only free for the first seven days, so if you plan on using it for longer or for multiple projects, it may be worth the upgrade.
Operating System: macOS, Windows, Web
Pricing:
7 days free trial
Single User: US$9.95/mo (Paid annually)
5+ User: US$5.95 per user/mo (Paid annually)
[Free]
Image from Carpetright visualiser

If you're thinking about investing in new flooring or just starting crafting home design plans, Carpetright's flooring visualiser will help you envision what your room will look like with carpet, wood or laminate flooring. The progress is also intuitive by uploading a photo of your room and then you can add various products from their list. Give it a play!
Operating System: Web
Pricing: Free
[Free and paid]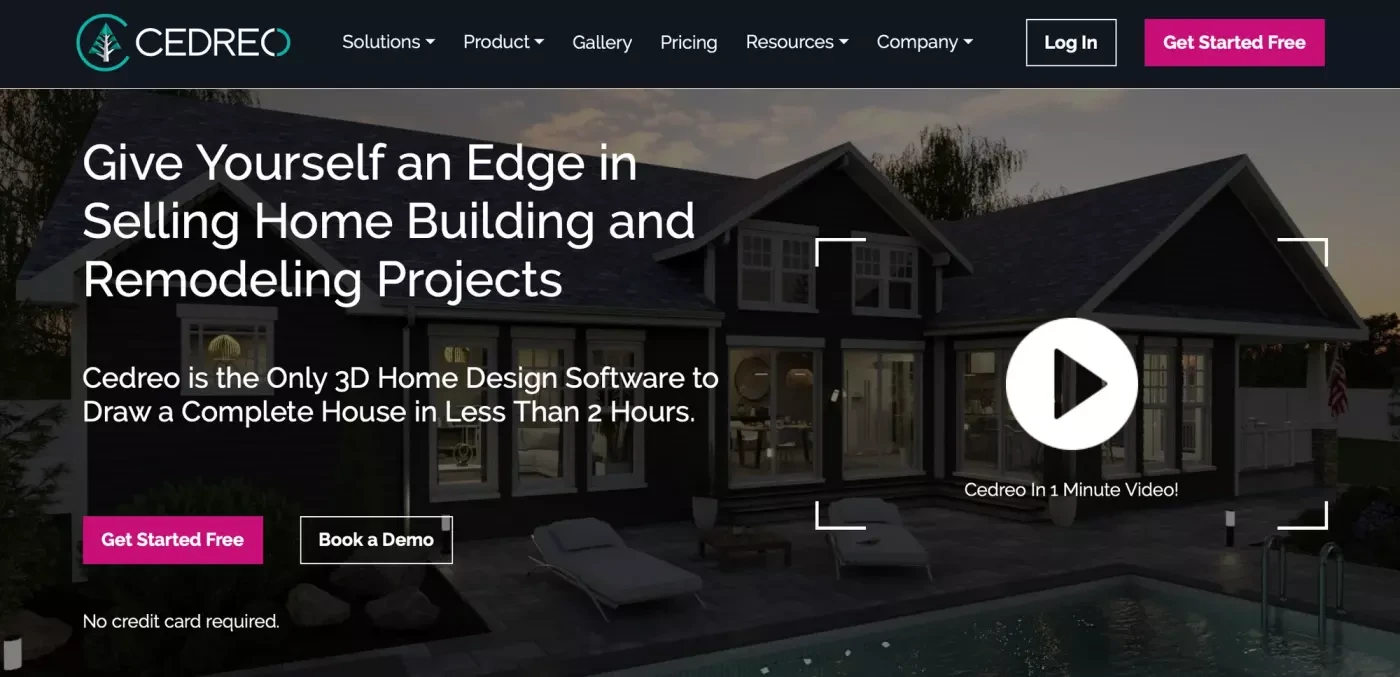 Image from Cedreo

Cedreo is an online interior design platform to create 2D and 3D floor plans. It is intuitive and easy to use and helps users quickly create photorealistic interior designs using its library of 7,000+ customizable pieces of 3D furniture, materials and decorations.
Moreover, it is 100% cloud-based, so you can quickly show your clients exactly what their finished project will look like, and as a result, close more design contracts in less time.
Operating System: Web
Pricing:
Free
Personal: US$99/ project
Professional: US$99.16/mo (Billed annually)
Enterprise: US$124.16 per user/mo (Billed annually)
READ ALSO: Complete Guide on How to Design Your Home Floor Plan
---
5 Popular CAD Software Professional Interior Designers Use
To convert your interior design ideas into realistic plans, it is CAD (computer-aided design) carried out. This professional software helps to connect designers, vendors and builders, and reduce miscommunication or errors during construction. Below, we gathered 6 popular CAD software to enhance your interior design career.
[Paid, with 30-day free trial]
Image from AutoCAD LT

AutoCAD LT is one of the most popular interior design programs today, which helps you create, edit, and view your 2D drawings. It has a comprehensive suite of editing and annotation tools and a simplified user interface that makes it the most designers pick.
Operating System: macOS, Windows
Pricing: US$60/mo
[Free and paid]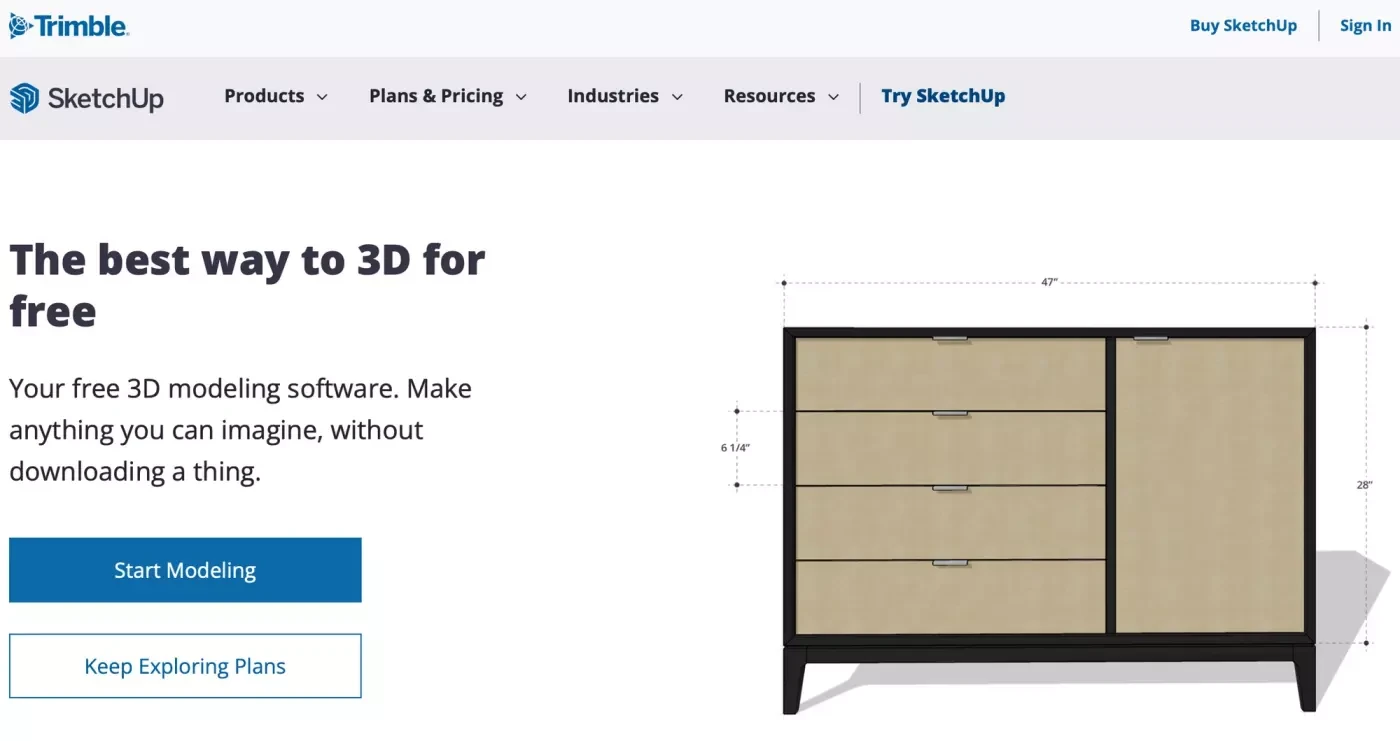 Image from Sketch Up

SketchUp is the most comprehensive free 3D design software that is immersive enough to make it seem like you are moving through your future home while being flexible enough to make it feel as if you're working with pen and paper.
The free version is perfect for hobbyists, while the pro version is more suited to professionals in architecture, construction, engineering and commercial interior design.
Operating System: Web, macOS, Windows
Pricing:
Free: Web only
Go: US$119/yr
Pro: US$299/yr
[Paid, with a 15-day free trial on Windows]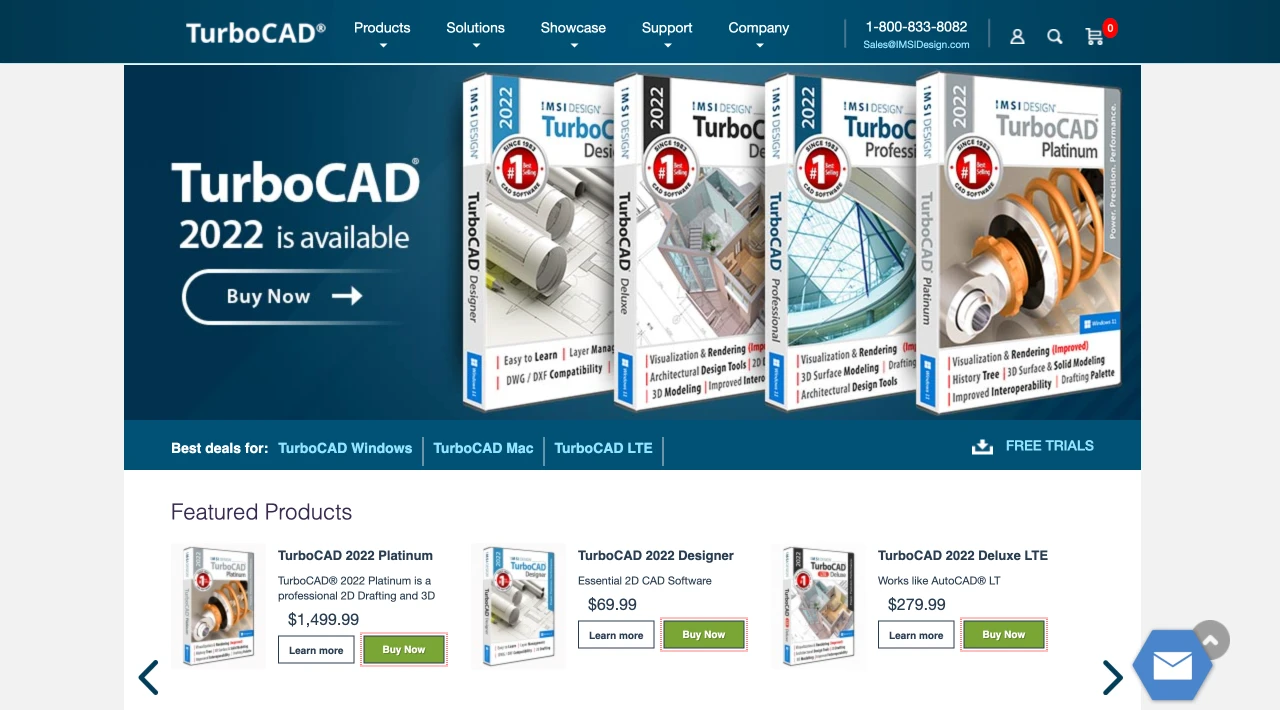 Image from TurboCAD

TurboCAD is an award-winning CAD software application for 2D and 3D design and drafting which runs on macOS and Microsoft Windows operating systems. It is powerful with the architectural design suite that is able to help you from prototyping to drafting furniture. Compared to AutoCAD LT, TurboCAD offers more possibilities to build stronger team collaboration as well as database connectivity.
Operating System: macOS, Windows
Pricing: Starting at US$69.99 without subscriptions
[Paid but with 30-day free trial]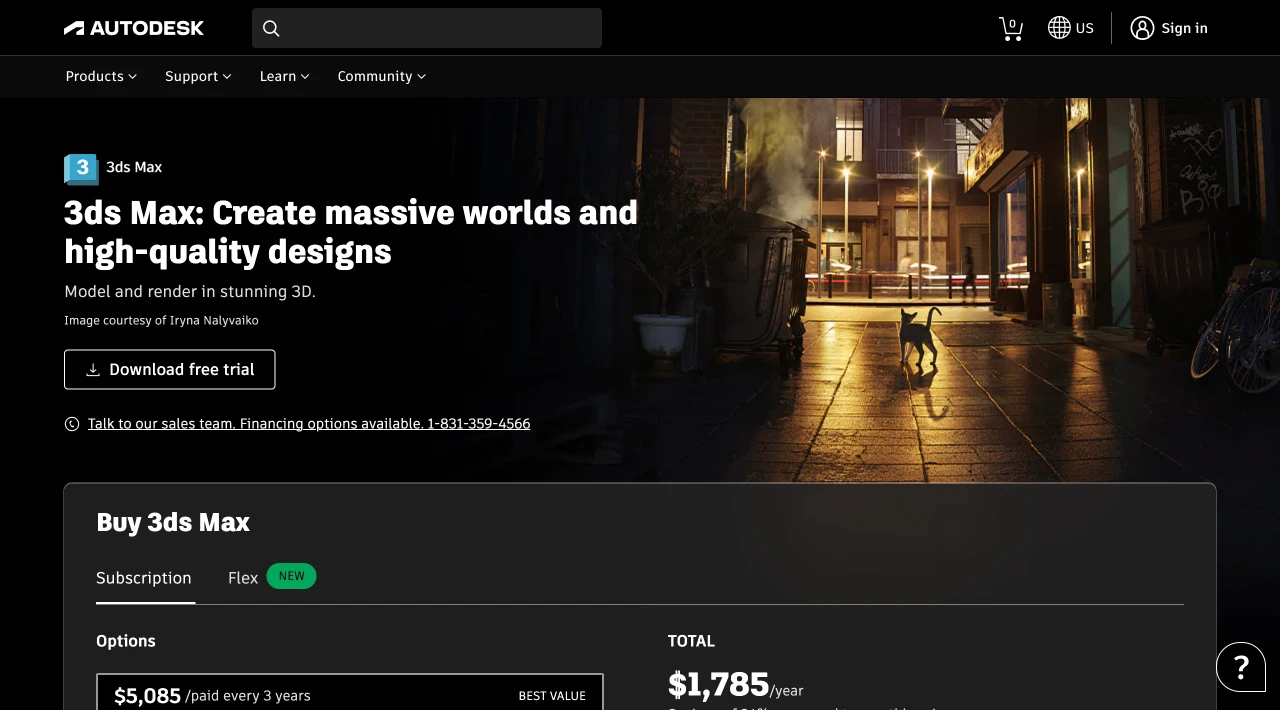 Image from Autodesk 3Ds Max

Another essential tool from Autodesk, Autodesk 3Ds Max transforms your ideas into artistic graphics for your 3D models, images, and more, giving you and your clients a high-quality and high-tech experience controlling all the renderings and details. Not to mention the ability to automate workflow and then improve your design efficiency. However, it is only compatible with Windows operating system and the subscription fee might not be friendly.
Operating System: Windows
Pricing: US$215/mo
[Free and paid]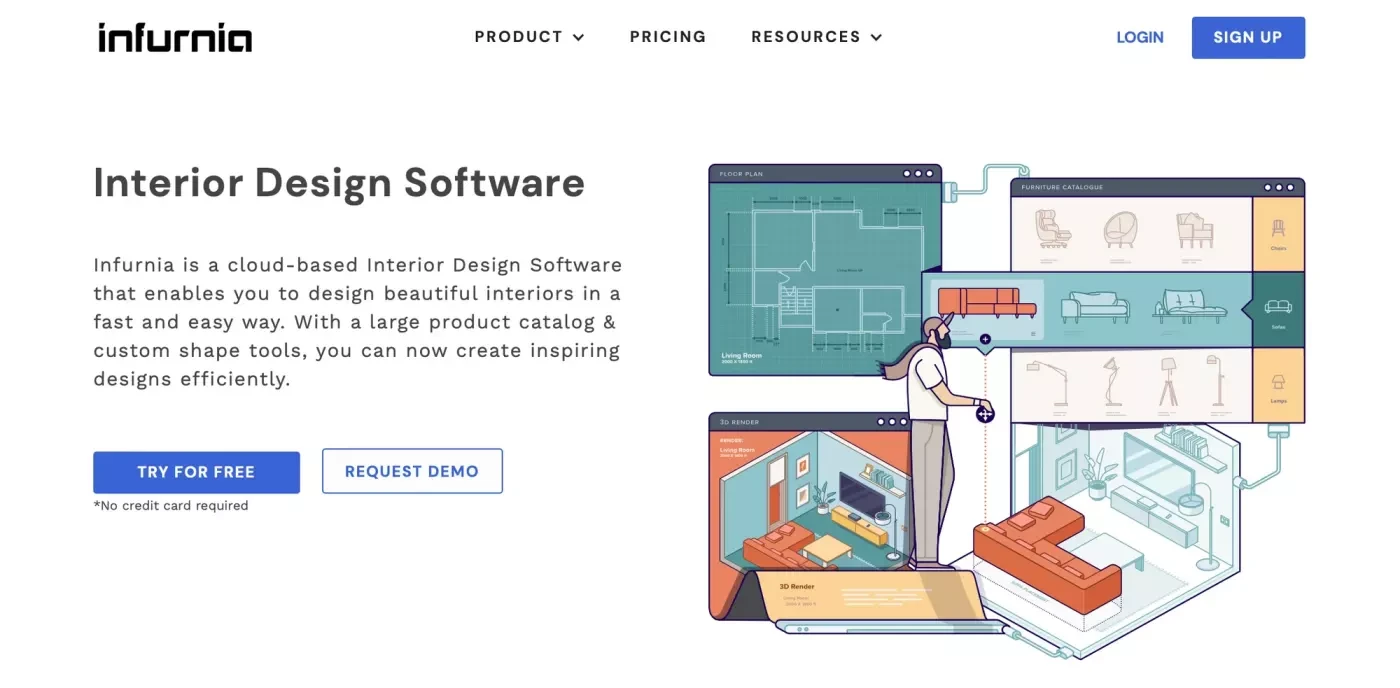 Image from Infurnia

Infurnia is a cloud-native interior design software and BIM (Building Information Modeling) that refers to a bridge connecting design and construction, thus you can collaborate and interact with your teams or clients during the design process easier. Plans created in 2D can be instantly converted to accurate 3D depictions, while drafting tools can be used to add doors, windows, and beams to match your client's needs. Though Infurnia is less robust than some other options, it is easy to learn, so you can customize and share with ease.
Operating System: Infurnia is completely cloud-based design software. So, you can use it from any laptop, desktop, or tablet with a working internet connection.
Pricing:
Professional: free
Business: US$ 600/mo (10+ people)
Enterprise: US$ 2500/mo (40+ people)
---
Best 6 Interior Project Managing Software to Boost Efficiency
To get things rolling, it is vital to keep track of all your tasks and improve time management, productivity, and streamline your workflow. It is never easy but with a project manager, it might be easier for you to take care of the entire timeline, budget, schedule, and more.
[Paid, but offers 30-day free trial]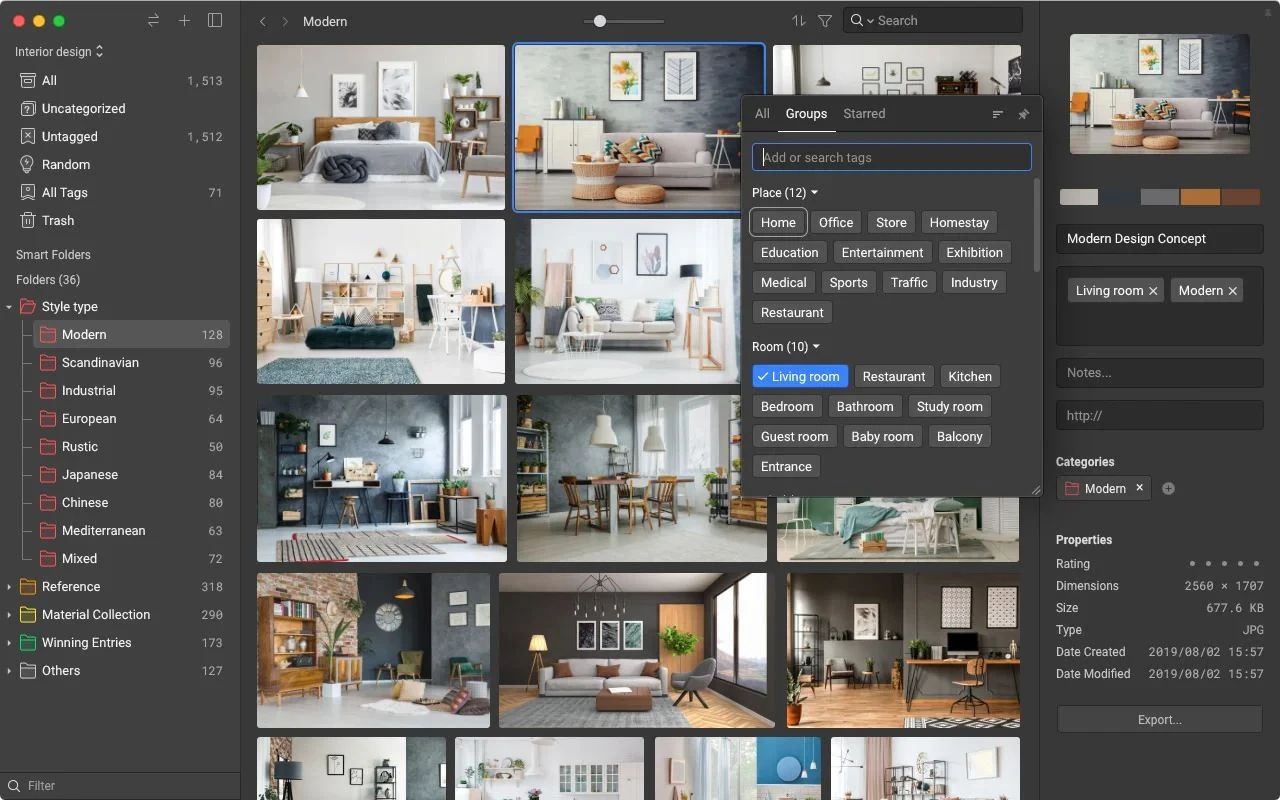 Image from Eagle

Except for being an interior design inspiration collector, Eagle also works as a comprehensive project management software for interior designers.
It supports over 90+ formats including audio, 3d objects, images, fonts, RAW files and more. Eagle has many great UI especially helpful for creative professionals and video artists to store and grab assets and bring them into other editing tools with a quick drag and drop. It also serves designers as a bank for inspiration in and out of interior design.
You can also add ratings on the files to sort the importance of your interior design projects and find all the assets with ease with the hierarchical structure!
Why Eagle? A detailed comparison between Eagle with other software
Operating System: macOS & Windows, extension (Chrome, Edge, Firefox, Safari)
Pricing:
Free 30-day trial, no subscriptions, no additional fees for updates
One license US$29.95 can pair with 2 devices (Mac or Windows)
30% off Educational discount
[Free and paid; can apply for 3 months free demo]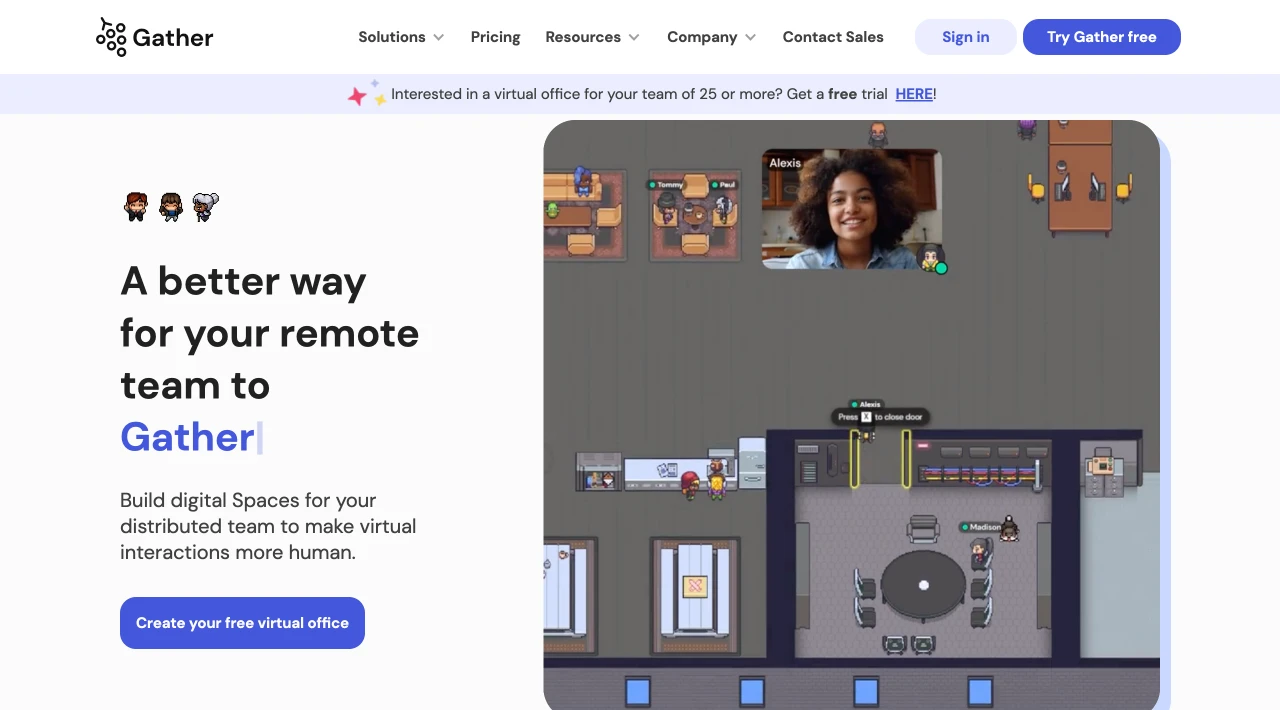 Image from Gather

Gather is an online software to reconnect your remote workspace and make sure the team is on the same page. It is cloud-based to let you share inspiration and save ideas to your secure library, and even calculate costs, assign tasks, and record dates within Gather.
Operating System: macOS & Windows
Pricing:
Free: Up to 25 users
Per day: US$3/user
Monthly Subscription: US$7/user
3. PlanRadar
[Paid but with 30-day free trial]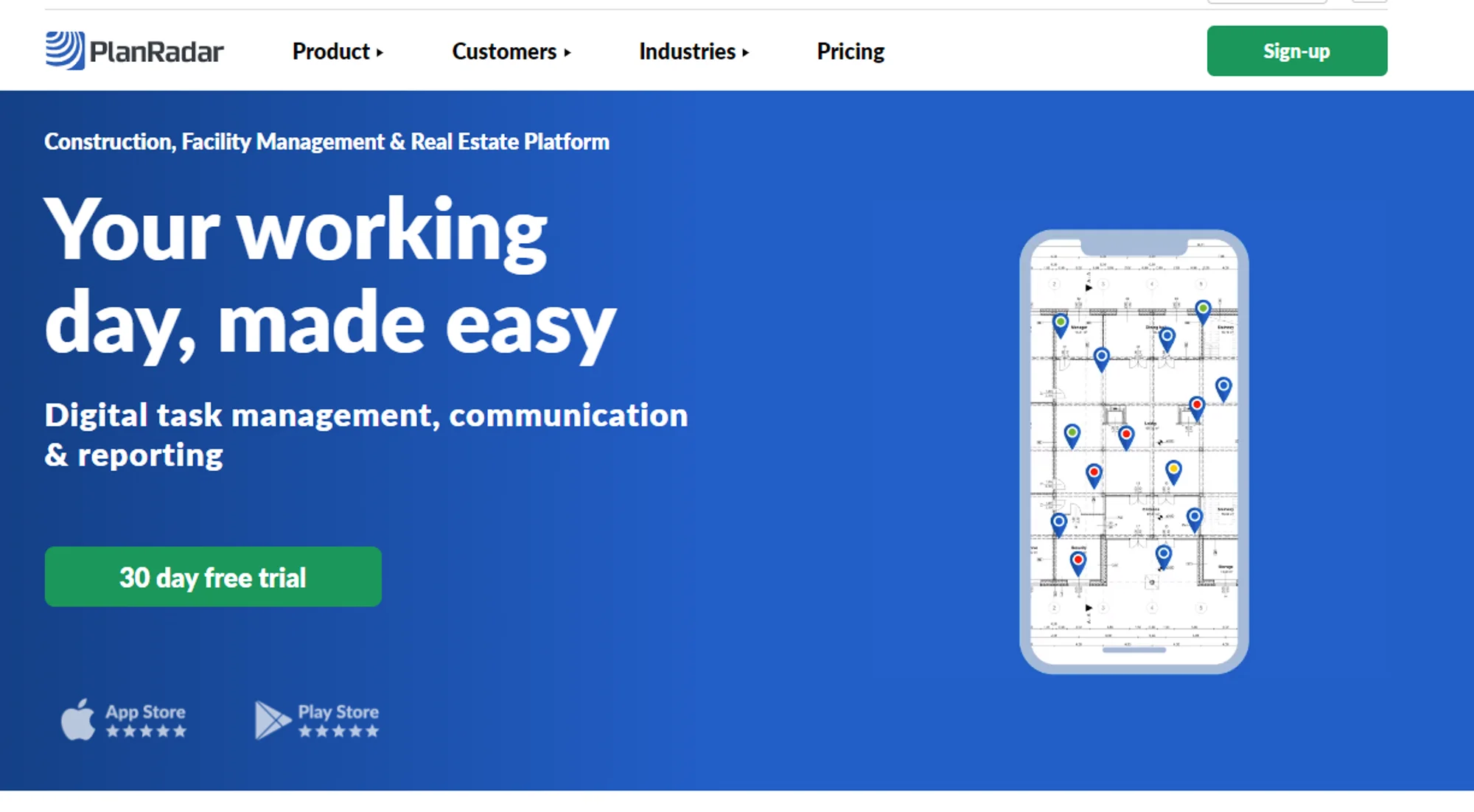 Image from PlanRadar
PlanRadar is a cloud-based construction management software that offers real-time communication, defect management, and progress-tracking features. It is designed to help construction teams work more efficiently, reduce project delays and costs, and improve overall project outcomes.
PlanRadar's defect management module allows users to quickly identify and report defects, assign them to team members, and track their resolution.
The platform, globally, has a strong presence among builders, architects, engineers, and project managers. Overall, it is a powerful tool for managing construction projects of all types and sizes.
Operating system:
Pricing per user:
30-day free trial
For basic: $42/mo, For Starter: $142/mo, For Pro: $199/mo
4. Ivy by Houzz
[Paid but with 30-day free trial]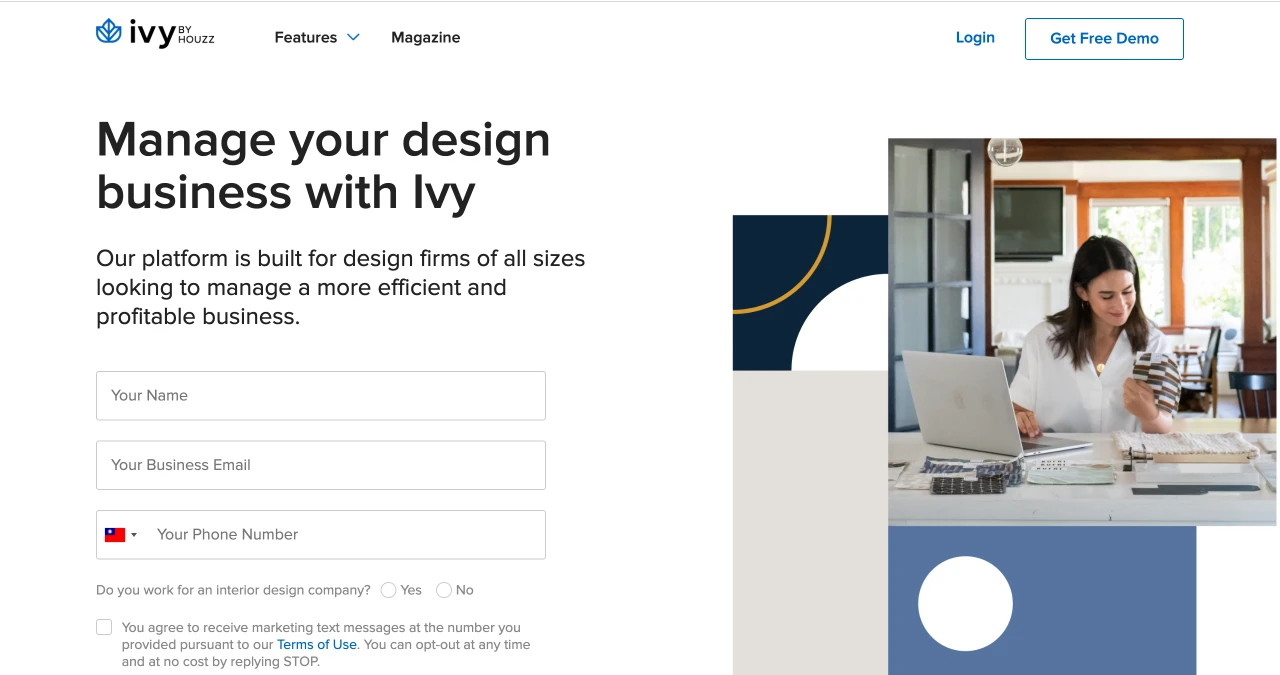 Image from Ivy

Being a part of Houzz pro for designers, Ivy is another program to help manage your design firm more effortlessly. It has a time and expense tracker to monitor details and share them with your team or clients. You can also build proposals and get paid easier than ever!
Operating System: macOS & Windows
Pricing: Start at US$55/mo
[Paid]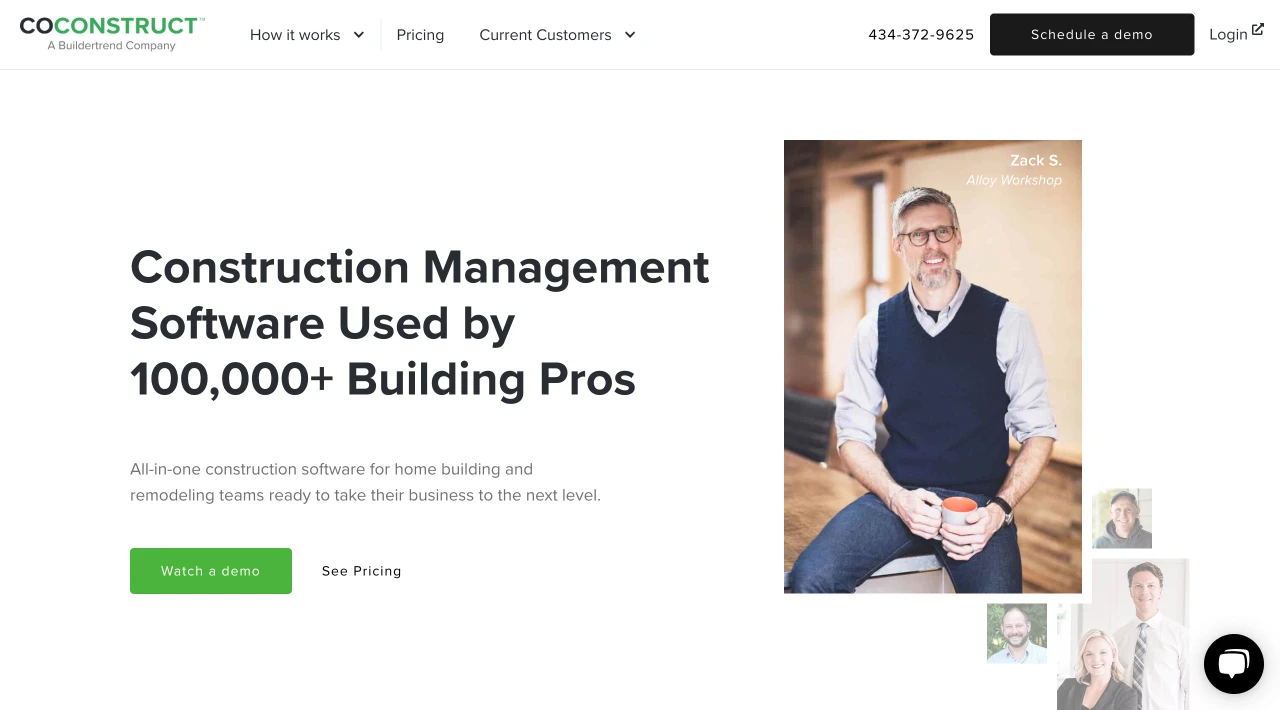 Image from CoConstruct

CoConstruct is an all-in-one construction software for home building and remodeling teams ready to take their business to the next level. It simplifies communication with clients and contractors as well as offers financial control over projects. Compared to other project management tools for interior designers, CoConstruct is not those with tight budgets or a small team.
Operating System: macOS, Windows, iOS, Android
Pricing:
Essential: US$99/mo ($399 after 2 months)
Advanced: US$399/mo ($699 after 2 months)
Complete: US$899/mo ($1299 after 2 months)
[Paid with 15-day free trial]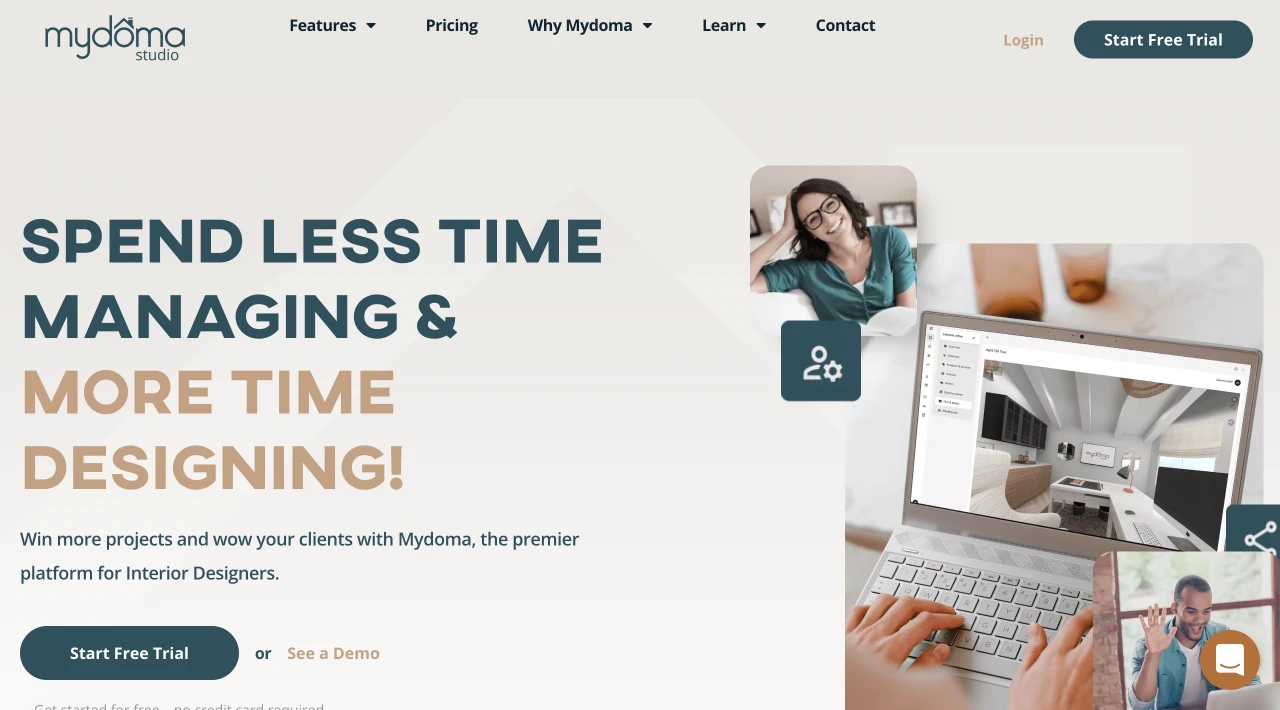 Image from Mydoma Studio

"Spend less time managing & more time designing" explains why project management exists and why should every design use one. Mydoma Studio has features to let you create invoices, track time, organize mood boards, manage purchase lists, etc. Mydoma also integrates with QuickBooks, Zapier, Calendly, and Stripe, and can generate customized reports that help you understand your conversions, accounting, and more.
Operating System: Web, iOS, Android
Pricing:
Mydoma Visualizer: US$20/mo
Solo: US$59/mo
Team: US$79/mo
Agency: US$129/mo
---
4 Essential Equipment for Interior Designer Daily Uses
1. Face Mask & Helmet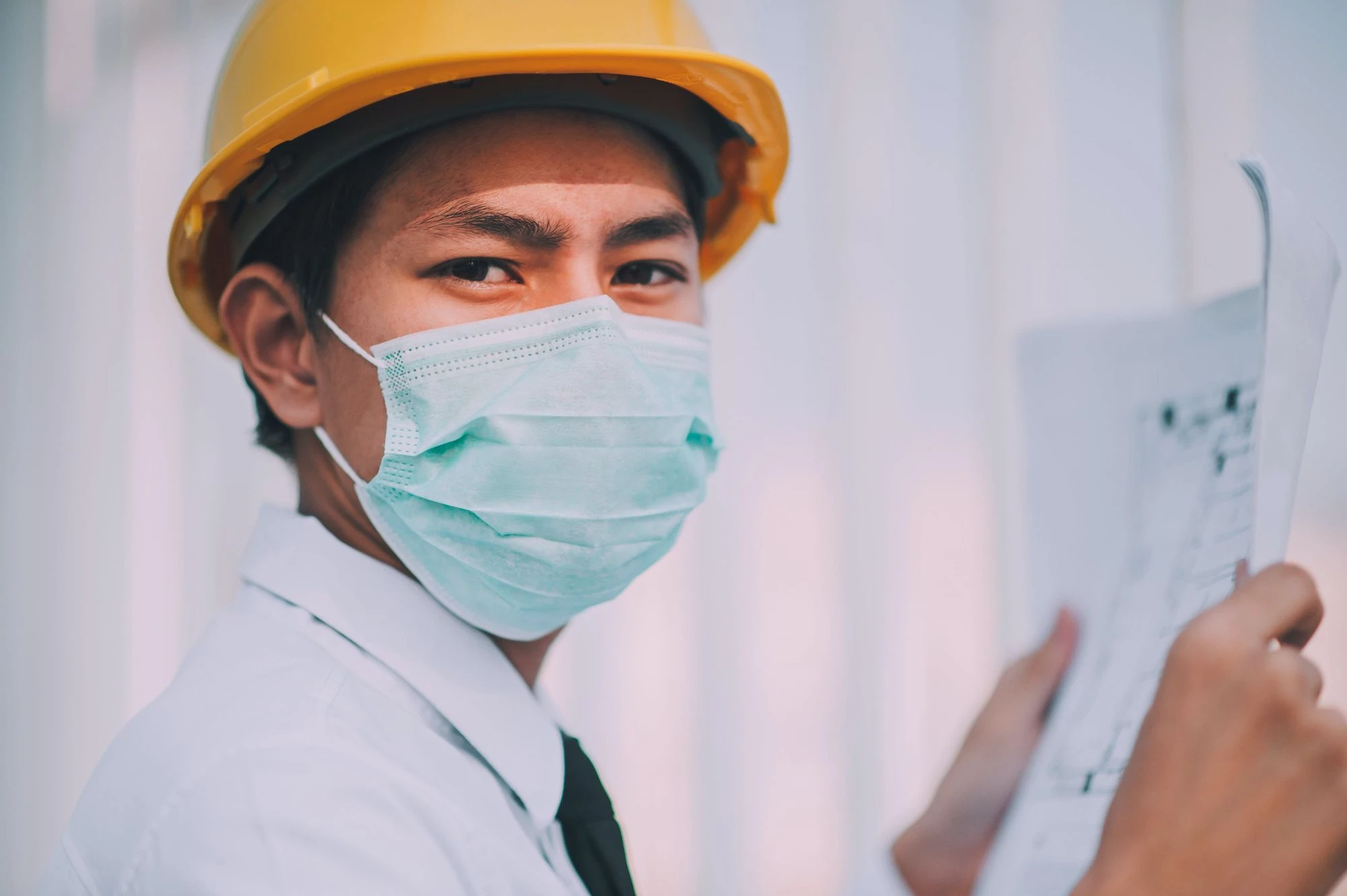 Image from Pexels

Besides designing, interior designers must supervise the construction sites. Therefore, it is essential to prepare face masks and helmets in case of an emergency. They will help avoid dust or toxic fumes and prevent you from illness.
2. Measuring Tape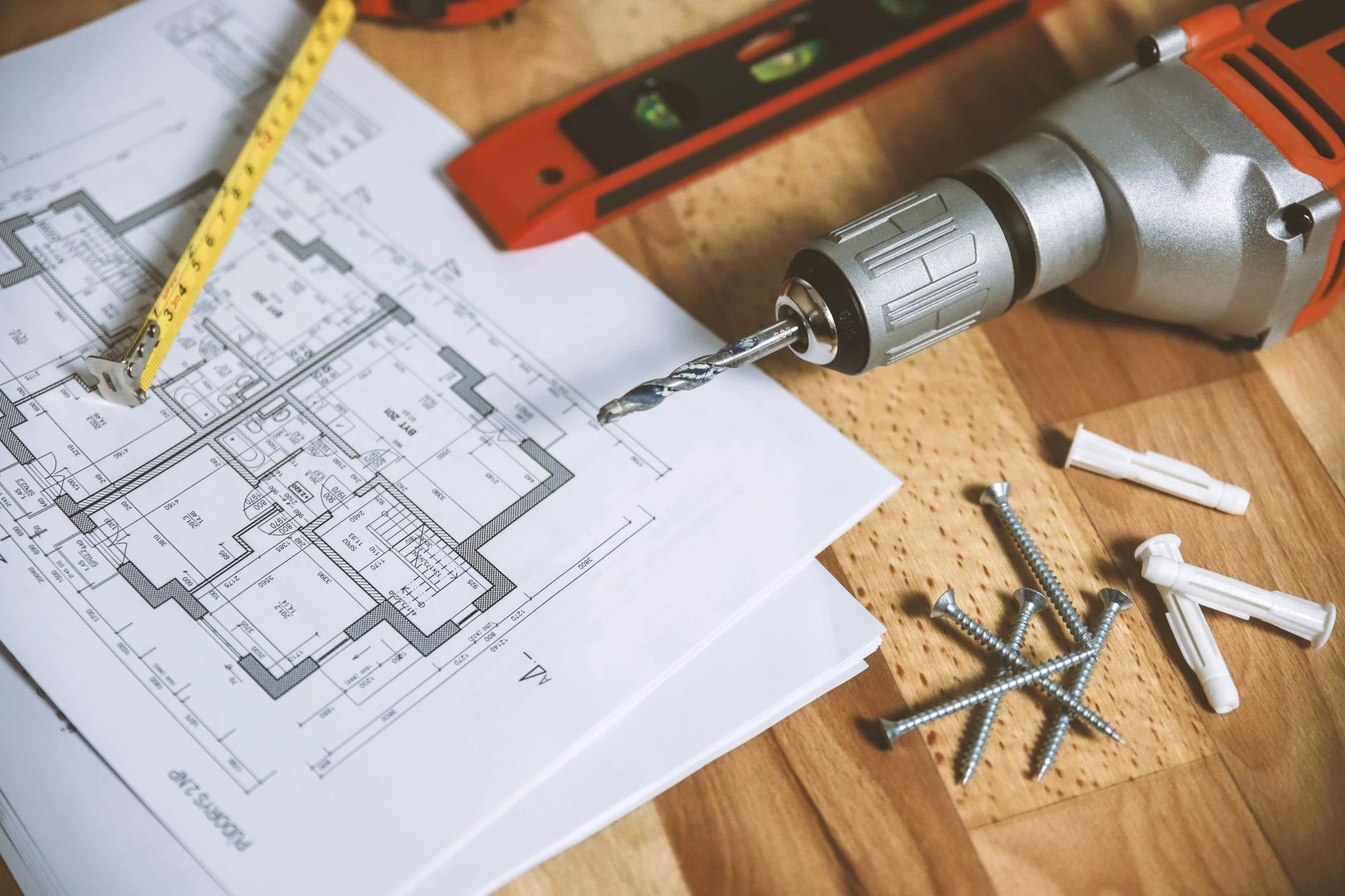 Image from Pexels

The second tool for your daily use is the measuring tape or other tools that help you get precise measurements of your projects. They make sure the design and decoration are compatible with the house and that all of your imagination can bring to life.
3. Sketchbook & Color book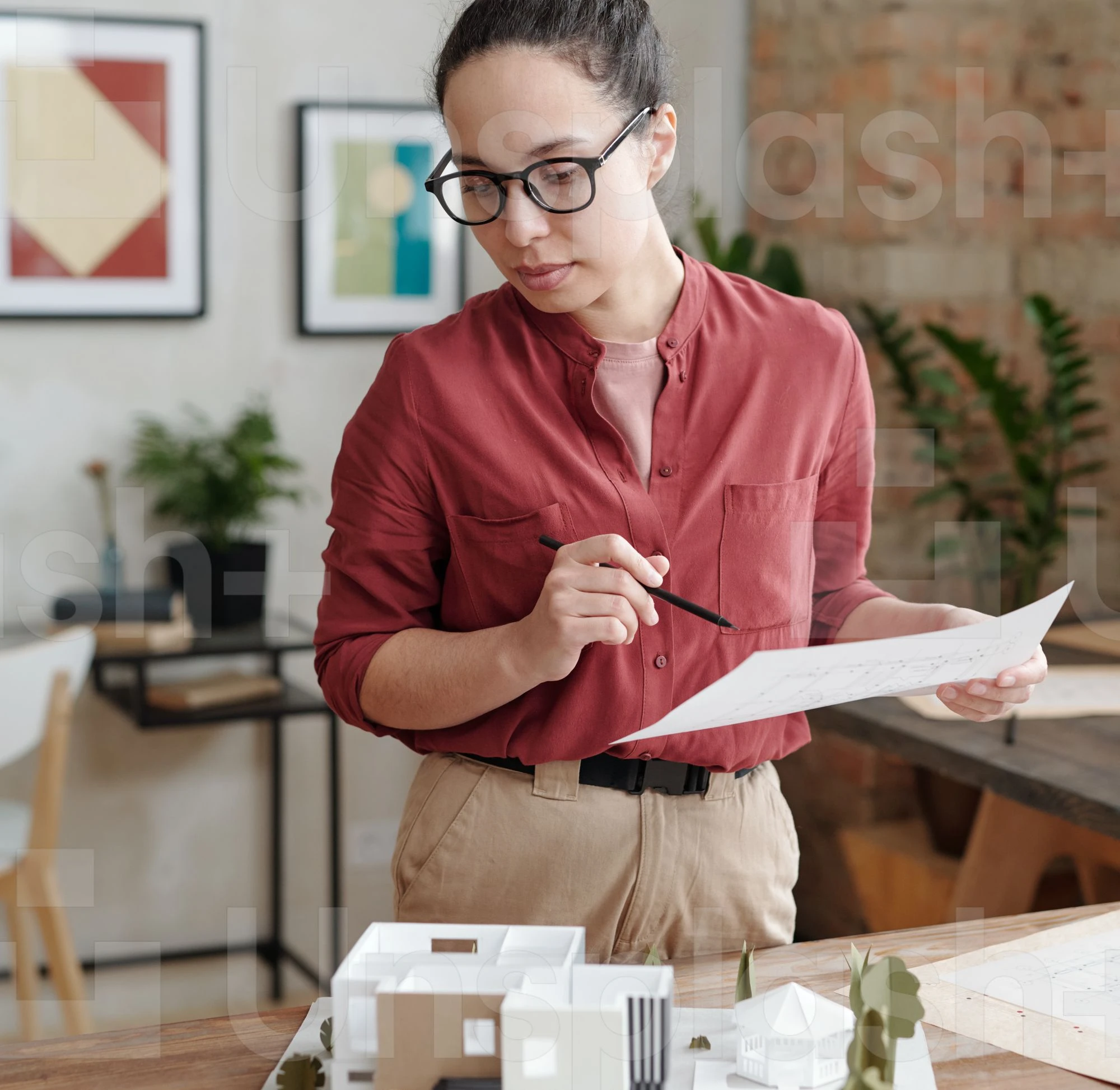 Image from Unsplash

You need to memorize your client's needs and so to keep track of your thoughts. That is when the sketchbook and color book come in handy! These tools make you look professional and you can provide great suggestions when communicating with your clients since most of the time, the client's failure to visualize or instead recognize the color may lead to discord during executions.
Read also: 48+ Best Color Tools for Designers to Improve Your Workflow
4. Connections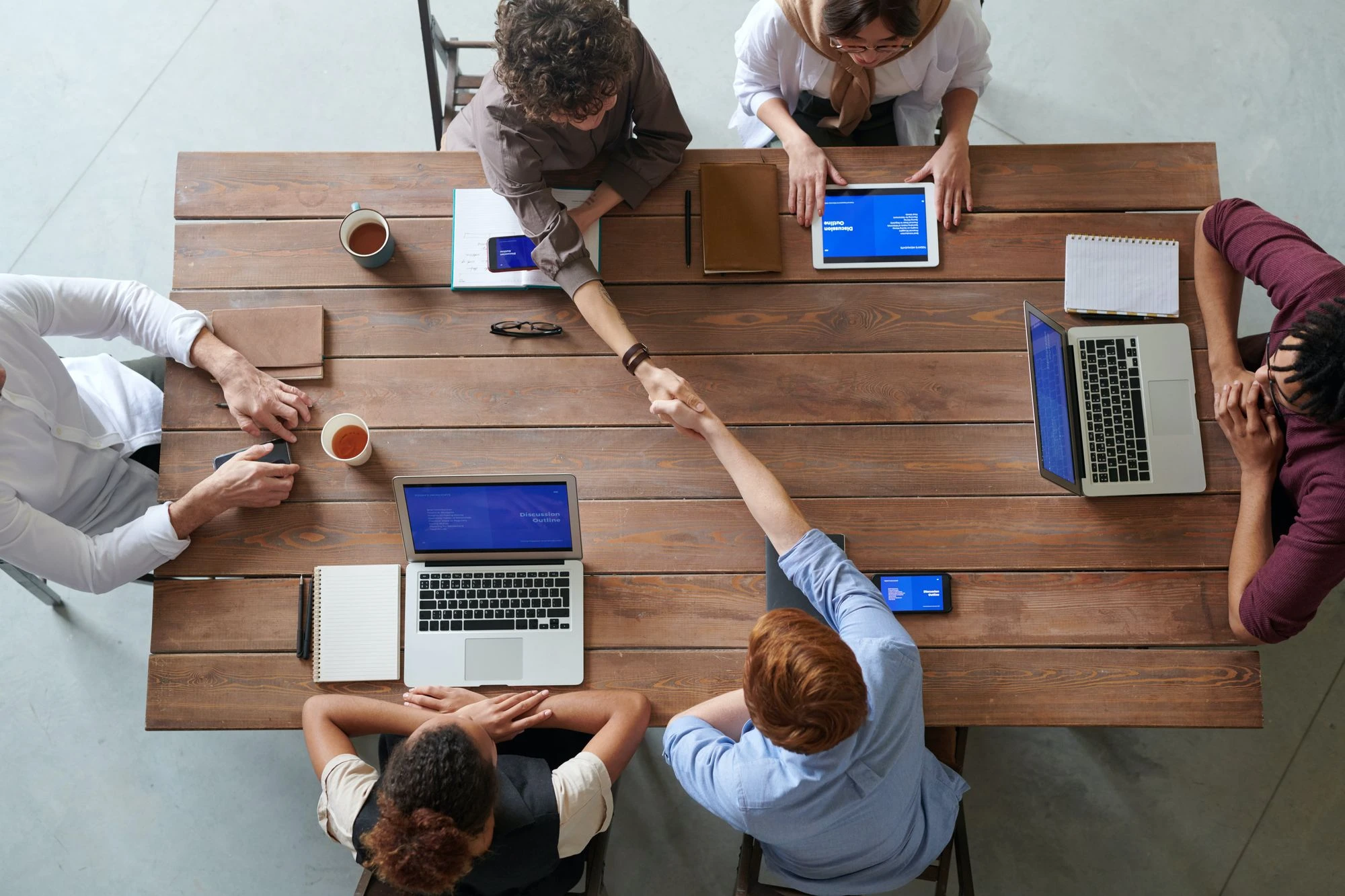 Image from Pexels

No matter what profession you are, connections are important, and not to mention nowadays the power of word of mouth is thriving especially in the real estate and interior design industry. Hence, you can participate in design communities or take online courses like real estate photography to build connections as well as enhance your abilities. May you shine in your career!
Read also: Which interior designer's community should I join?
---
FAQ
What is Interior design?
Interior design is the art and science of understanding people's behavior to create functional spaces from drawing up the initial floor plans to placing the last decorative accent. They usually pay more attention to enhancing the function of a room, not just the look.
You might be interested in: What is Interior Decoration on the other hand?
How to boost my interior design skills?
You can visit this page to explore curated online resources to help you become a pro!
My budget is tight, where to find free interior design tools?
You can visit this page to find more free interior design equipment that is free to download.
---
Conclusion
Designers in all fields have their unique side to expand, for interior designers, you need to be experts in gathering thoughts into the virtual plan, converting the 2D design into 3D models, controlling the costs, taking care of your clients and the construction team, etc. We hope this article is helpful to you and you will be happy with this software as much as we do!
Lastly, if you are eager to learn more design information and resources visit the Eagle blog to become a better creative professional!
If you are still lacking inspiration and incentives to create something new, feel free to dive into Eagle Community to explore stunning assets shared by thousands of designers worldwide. Let Eagle be your best design assistant!