Image from Unsplash
If you're a digital marketer, you know how important it is to understand the relationship between UX design and SEO. These two disciplines can work together effectively to create a comprehensive, user-friendly digital experience. However, knowing how to properly merge UX design and SEO strategies to maximize their potential can be challenging. In this guide, we'll discuss the best practices for strategically integrating UX design and SEO to create an effective digital experience that will draw in more potential customers. By understanding both disciplines, you'll be able to optimize your website's performance, post your content wisely, boost your SEO rankings, and deliver a better user experience to your visitors. So, get comfortable and have a look!
What Is UX design?
Let's cover the basics of UX SEO first. UX design is a discipline that focuses on the creation of digital experiences. It encompasses the visual design of web pages, mobile apps, and other digital marketing materials. The UX design process also includes researching and analyzing audiences to determine how best to engage them.
UX design aims to create an environment that engages users with the product or service. This may include visual elements like colors, fonts, and designs, as well as the experience of navigating the website and interacting with the content. Successful UX design relies on various factors, including the market you're competing in, your product or service, and your target audience's needs and preferences.
Read Also: An Ultimate Guide to UX Metrics & KPIs to Grow Your Business
What Is SEO?
SEO stands for "search engine optimization." When someone types a keyword into Google, the search engine will display a list of optimized websites for that specific term. Unfortunately, Google isn't the only engine that content goes through when being discovered online. SEO is the process of optimizing your website for different keywords and phrases so that when a user searches for those terms, your website appears on the first page of the SERPs (search engine results pages).
For your site to rank well for a particular term, it must be found for that keyword. SEO is important in digital marketing because it helps you rank higher in the SERPs. When people search for specific key terms, having a website rank for those terms is crucial. SEO is vital because when Google faces many pages of content, they must choose only a few to display on the front page of their results. If you want to get leads from SEO traffic, you can always ask experts from LeadGen for help. This company has many years of field experience and knows how to get the most out of your SEO strategy.
Strategic SEO is about more than just getting traffic and rankings. It's about aligning your efforts with overall business goals and seeing results that are valuable to both user experience and the business. This can be done by looking at your website as a place for gathering information, communication, or entertainment.
How UX Design and SEO Can Work Together?
UX and SEO are two powerful digital marketing disciplines that can work together to create an effective digital experience. UX design focuses on your website's visual design and the experience users will have while navigating it. SEO focuses on the keywords you'll use on your pages, the algorithms that Google and other search engines use, and the types of content you create to drive traffic and build your online presence.
Many businesses struggle to integrate these two disciplines successfully. However, with a strategic approach, it's possible to create an effective digital experience that will draw in more potential customers. When users land on your website, you can use UX design to guide and structure their journey. This can happen through page layouts, navigation elements, and other visualizations. With each page your users navigate, you can use SEO to further enhance their experience with relevant, enticing content. This content can include blog posts, white papers, guides, and other informative materials that focus on your industry.
---
Integrating UX Design and SEO: What You Need to Know
As mentioned, UX design and SEO are two powerful digital marketing disciplines that can't exist without each other. UX affects SEO and to maximize their potential, they must be used strategically in conjunction with one another. This can be challenging because if one of them isn't used strategically, the chance of achieving success is significantly lowered. To maximize their effectiveness, both UX design and SEO need to be integrated into your digital marketing strategy.
To master UX Design and SEO in 2023, let's run over the most effective ways and some tips that can help you get the most out of your website's performance.
Optimizing web page designs for SEO
Utilizing website analytics to measure success
Always build an SEO plan before you start
Research your keywords, and then prioritize them
Build a strong content strategy
Cater to mobile
1. Optimizing web page designs for SEO
The content you create will be crucial in improving your site's SEO. That's why every page on your website needs optimized content to drive targeted traffic and build your online presence. If you're unsure what kinds of content you should create, you can use Google Analytics to track the search terms that drive traffic to your site. You can also use Google Keyword Planner to find the best keywords to target.
Once you know what type of content you'll be creating, you can design your pages for optimal SEO. This means including these elements on every page:
Keywords - Optimize your page content so that it includes keywords relevant to your industry and product.
Headings - Headings should be separated by between 2-6 words, with the first word being a verb and the second being a noun.
Images - Include relevant, high-quality images on your pages that are relevant to the topic.
Alt tags - Add the title of each image to the ALT tag to help your readers understand what the image is.
Internal linking - Link internal pages to one another and external pages to your home page to increase the chances of your pages ranking for relevant keywords.
2. Utilizing website analytics to measure success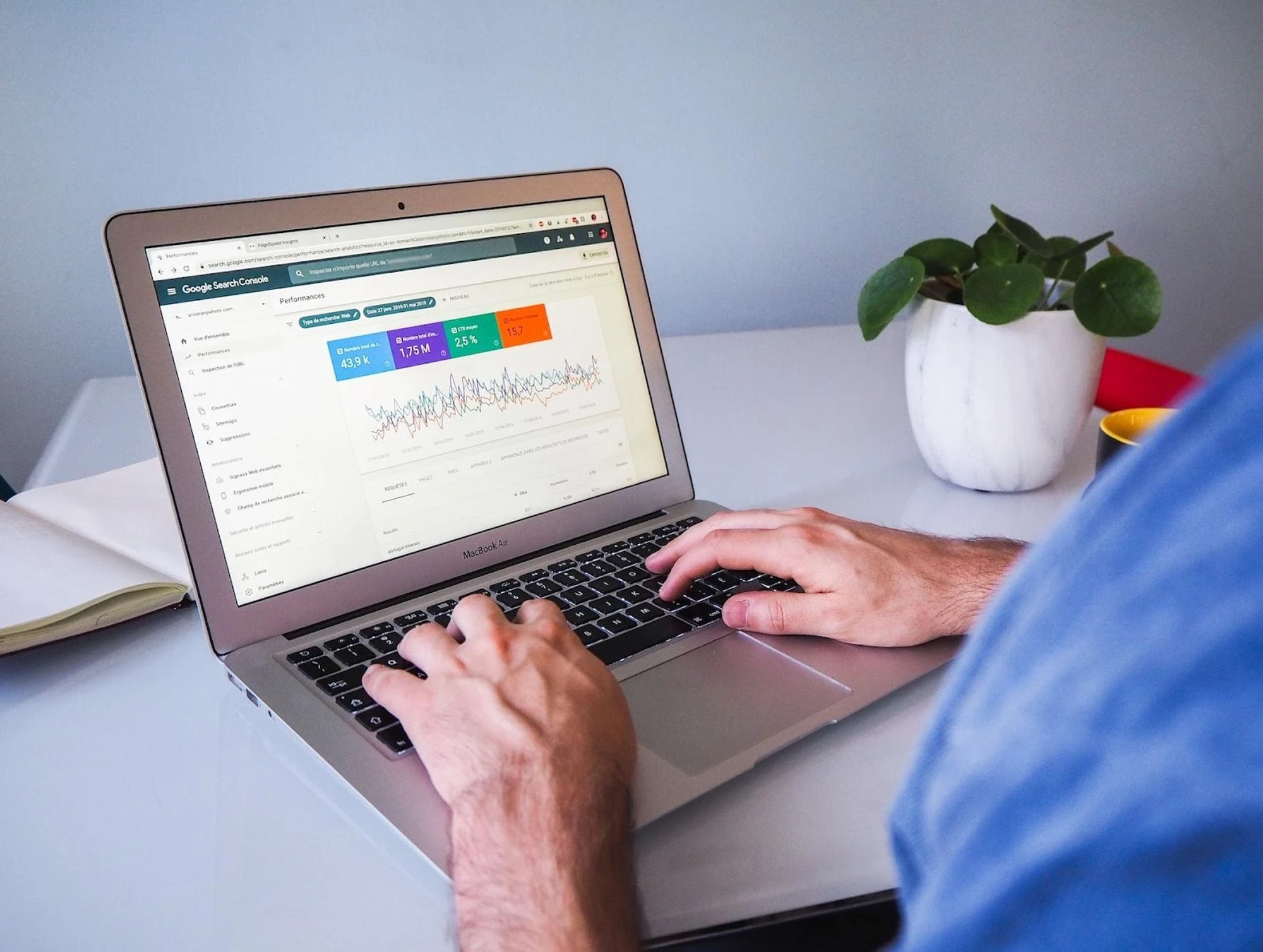 Image from Unsplash

Website analytics are must-have tools used to measure the success of your digital marketing efforts. This can help you understand the types of content your readers are clicking on and how these pages are being used. In addition, you can use website analytics to see where and how your visitors are engaging with your content. For example, you can see where your users are leaving your pages, where they're clicking after leaving your site, how long they stay on your site, and where they search for keywords that lead to your site.
With website analytics in place, you can use these measurements to improve your digital marketing strategy. For example, this can help you learn what types of content your readers prefer, where they're clicking after leaving your site, and what keywords they search for before arriving at your site.
3. Always build an SEO plan before you start
Before you start, it's important to define the problem. What are you trying to achieve? Are there existing problems in your website or product preventing users from finding what they need?
If so, how can UX design help solve those problems? How will user experience design improve conversions and revenue for your business--and by how much?
4. Research your keywords, and then prioritize them
The first step to integrating UX design and SEO is researching your keywords. You'll want to start by identifying the words and phrases people search for when they're looking for a product or service like yours, then prioritize them based on their value relative to each other.
Once you've done some keyword research, consider how it can inform the creation of content on your website: will this be something that needs frequent updates (e.g., blog posts)? Will it only need occasional updates (e.g., FAQs)? How important is accuracy versus efficiency in terms of writing style? Do we want our writers' voices heard in these documents? What kind of tone should our writers use?
These are all questions that will help guide your decision-making process as you choose which types of content work best for each type of page within your website structure.
5. Build a strong content strategy
The foundation of any digital marketing strategy is the quality of your content. Create relevant, high-quality content, and then target it appropriately.
Use keywords in your page titles, headings, and subheadings. The more you can use the same keyword phrases repeatedly throughout a page or post of content (without making it sound unnatural), the better your chances of ranking for those keywords in search results.
Include images throughout your site where appropriate. You don't want to overload graphics because this can make it difficult for users to read through text comfortably on their devices. However, including one or two images per page will help draw attention to certain points while increasing engagement with readers who might otherwise skim past that particular section without stopping long enough to absorb its message fully before moving onto another part of their journey through this particular piece of writing!
Include videos whenever possible too! They're great tools for explaining complex concepts quickly without having viewers lose interest halfway through reading all those boring paragraphs full of technical jargon they've never heard before.
When searching online for the fundamentals of SEO, you can find many informative articles and blog posts. However, not all of them are truthful. Read more about top myths about SEO and find out why they are false!
6. Cater to mobile
Mobile is a growing platform, and people use mobile devices more than ever. Mobile users expect a good user experience, so it's important to cater to their needs when designing for the small screen.
Mobile users want to be able to find what they are looking for quickly, so make sure you're using relevant keywords in your site's metadata and title tags (and don't forget about image alt text).
Mobile users also want to be able to complete tasks on your site easily, so make sure any forms or checkboxes are easy to use while holding a phone with one hand!
---
Tools and Resources for Integrating UX Design and SEO
Regarding integrating UX design and SEO, you can use many helpful tools and resources to help improve your digital marketing strategy. SEO for designers is also important. Here are a few tools that can help you integrate these disciplines more effectively:
Google Keyword Planner - This keyword research tool enables you to find keywords and create long-tail content that includes keywords. The main goal of this tool is to help you find keywords that your business can use for SEO. Overall, it's a powerful SEO tool widely used by SEO specialists from all over the globe.
Yoast SEO WordPress plugin - This WordPress plugin helps you create and optimize content for SEO. This tool's primary goal is to help you enhance your website's rankings on search engines. This tool works automatically, but manual input and some planning are sometimes needed.
Google Analytics - This website analytics tool helps you track the traffic and engagement of your pages and identify any issues with their SEO. This platform gathers information about your website and provides insightful reports about your business. All in all, if you run your business online, you simply can't do without this tool.
---
Conclusion
As digital marketers, we must keep our eyes open for new SEO and UX design trends. In addition, we're always looking for new ways to increase the effectiveness of our digital marketing strategies. These two disciplines can work together to create a more immersive digital experience for your readers. Therefore, collaborative work between two departments is required. Remember that your business success is contingent on how effectively you use SEO and UX design. Both are significant entities in the digital marketing strategy of your business. Remember that search engine marketing, design, and user experience are crucially important modern marketing skills. Therefore, if you don't pay much attention to these entities, it's time to change your approach.